19th February 2019, Jyväskylä
Spinnova to collaborate with textiles expert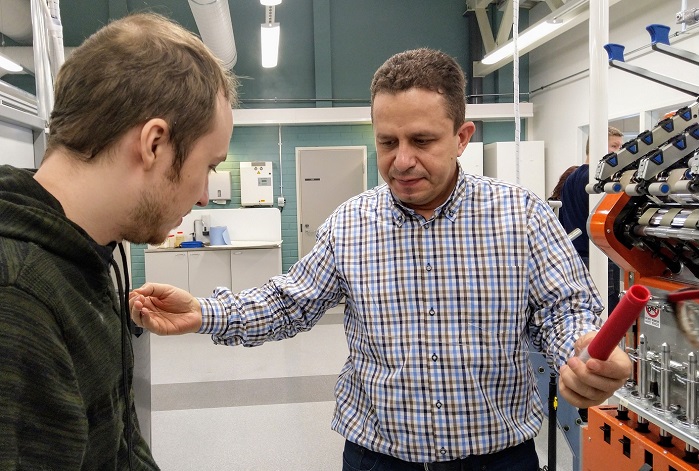 Dr Kadi has agreed to assist Spinnova's product development as a private consulting expert. © Spinnova
Spinnova, a developer of a sustainable textile fibre, has started collaboration with textiles professor Nawar Kadi, of the University of Borås in Sweden. Dr Kadi's involvement will significantly help the development of the Spinnova fibre to suit commercial applications, the company reports.
Dr Kadi is a professor in the field of textile technology. His work at the university focuses on issues such as textile recycling, fibre, yarn, textile structures and composites. Before joining Borås, Kadi worked at the faculty of Mechanical Engineering at the University of Aleppo, in Syria. Dr Kadi has a PhD degree from the University of Metz in France.
"The kind of technical and industrial textile expertise that we need in commercializing our fibre is not easy to find in Europe. With Kadi we found a highly professional expert in his field, one who can really help us speed up bringing our first products to the market," commented Janne Poranen, Spinnova's CEO.
Dr Kadi has agreed to assist Spinnova's product development as a private consulting expert. The collaboration includes training and consulting in various topics around developing this novel fibre. "It is a tremendous opportunity to collaborate with a great team who is determined to translate this creative, innovative and revolutionary idea into a new technology to produce sustainable fibre. This eco-friendly fibre will cause a stir in the textile market," said Dr Kadi.
Spinnova will be focusing on end product development with partnering brands this year. The company's new, industrial scale pilot production line in Finland was completed in December. Production will be ramped up in the first quarter of this year, after which sufficient amounts of fibre can be produced for customer trials.
Spinnova is also in the process of recruiting an in-house textiles expert, to be the liaison between the company and partner brands in joint product development projects. Spinnova has invested in fibre processing and finishing technology that can be utilised in the upcoming trials.
Spinnova is a Finnish wood fibre company that develops ecological technology for manufacturing pulp-based textile fibre. Spinnova's patented technology is said to save water, energy and chemicals, making wood-based textile fibre significantly more ecological than cotton or the current man-made fibres. Spinnova's objective is to globally commercialise pulp-based textile fibre. Based in Jyväskylä, Central Finland, Spinnova employs 10 experts.
This article is also appears in...