Interview
Circuitex: working on tomorrow's smart solutions
Innovation in Textiles sat down with Bennett Fisher, Senior Vice President of Sales, Noble Biomaterials, to discuss the innovation behind the brand.
12th June 2019
Innovation in Textiles
| Frankfurt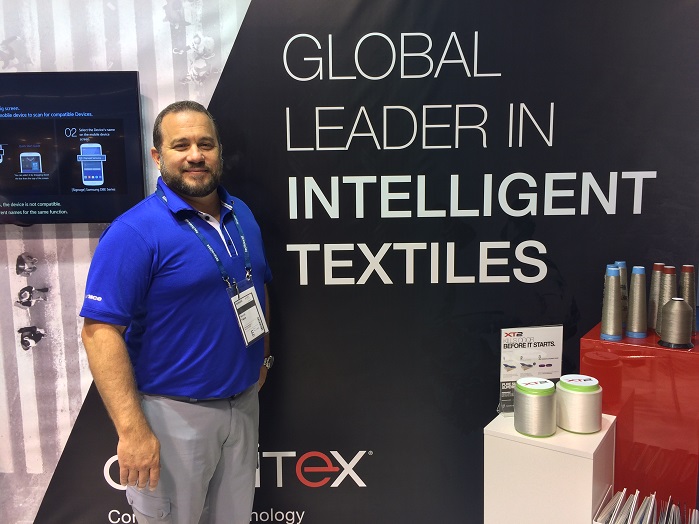 Bennett Fisher, Senior Vice President of Sales, Noble Biomaterials. © Innovation in Textiles
Noble Biomaterials, a leading US based company specialising in conductive solutions for smart textiles applications, has exhibited its latest developments and innovations at the last month's Techtextil trade show, which took place in Frankfurt welcoming a record 1,818 exhibitors and 47,000 visitors from 116 countries.
Among other products representing its X-Static and XT2 brands, the company was highlighting its Circuitex smart-fibre technology, with a number of products and interactive displays at its booth, testing the technology and how 'it hears your body talk'.
Innovation in Textiles sat down with Bennett Fisher, Senior Vice President of Sales, Noble Biomaterials, to discuss the innovation behind the brand and the potential for further uses in commercial, healthcare and military markets.
What are you exhibiting at this edition of Techtextil?
Bennett Fisher: We have a lot of different products here today. Highlighting our Circuitex brand, we, for instance, have a pressure sensing mat, which is based on the transfer of electrical current and it measures the percentage change of electricity going through the grid pattern that is in this particular mat. As a result, it can not only tell you where it's being touched, but it can also measure the pressure.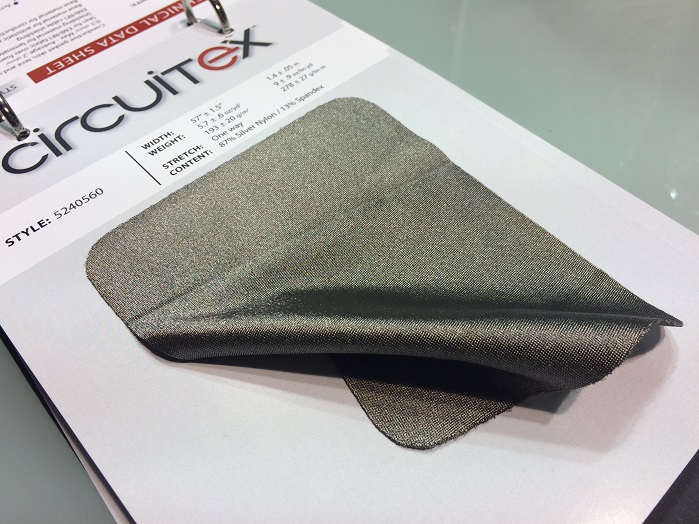 Spandex fabric incorporating Circuitex yarn technology. © Innovation in Textiles
What sets it apart is that it weighs only a couple of pounds, whereas a traditional pressure sensing pad of the same size utilising a different technology would have to be a big metal plate – several hundred pounds of capacitor loading. Our mat also runs on a battery the size of your cell phone, and it will last all day, so the energy usage is very minimal.
How big can you make it?
BF: We can work with customers to make them as small as a golf mat, we can also produce a pad that you can put in wheelchairs to measure the pressure and how long they've been sat on. A brand called ReST uses our technology for bedding products, where it can sense your body throughout the night and make adjustments – raise the bed, blow up or decrease the pressure – to provide a better experience.
What are other products with Circuitex on show this week?
BF: One popular trend that we see in Europe now is workout outfits with smart sensors. Here we have a mannequin wearing a suite, integrated with sensors that activate and stimulate certain muscle groups by sending an electrical current through it to intensify the workout.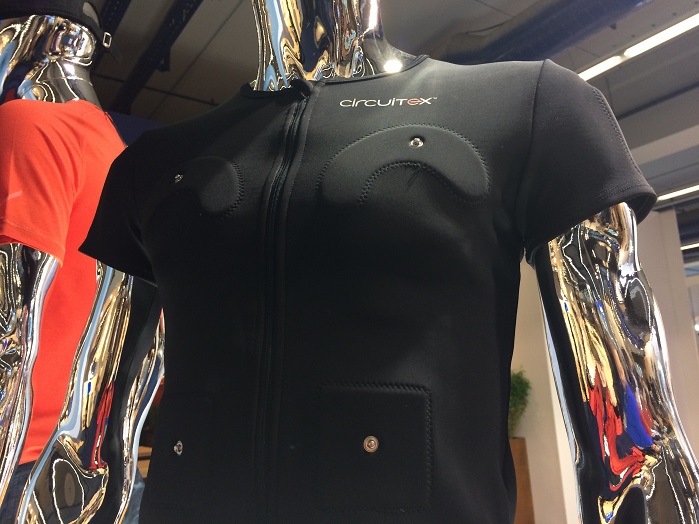 Mannequin wearing a suite, integrated with sensors. © Innovation in Textiles
Because all our fabrics are highly conductive on both sides, flexible and are very lightweight, there are many other applications in this area – sports sector is where the innovation is right now. We've worked with a great number of companies that wanted to integrate a heart rate sensor into their product, for example, Ralph Lauren polo shirts they released for the US Open, and all of the adidas miCoach smart training devices.
What about the healthcare sector?
BF: Circuitex is doing phenomenally in healthcare. We sell more products in the healthcare markets than any other for Circuitex. These include smart fabrics for bio monitoring and defibrillator vests. These are ECG vests capturing electrical signals from the body surface, prescribed by doctors for the patients to wear outside hospital while they wait for the micro heart surgery, for instance. This type of vest will constantly monitor the heart rate, detect a heart event, offer defibrillator functionality and even call an ambulance, saving costs to the healthcare providers and providing a safe solution to the patients.
So how would you map the demand for your technology?
BF: Healthcare is where there is more traction, because you're not as restricted by price, and we are constantly working on developing systems that provide benefits and is cost-effective.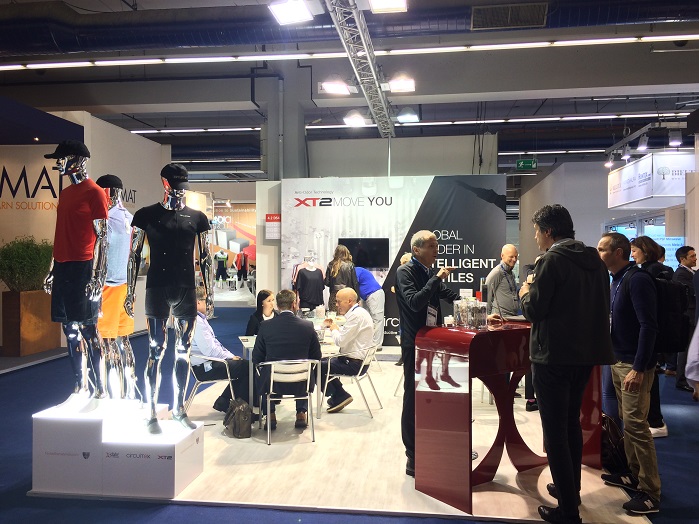 Noble Biomaterials exhibited its latest developments at the last month's Techtextil trade show. © Innovation in Textiles
As the technology becomes used in increasing number of applications, especially sports, it becomes more and more affordable. Also, the smaller the sensors get and as the technology catches up, offering ways to connect and use the signals and the data collected by the sensors, the more demand there will be – in the more commercial market segments too. Right now, we are still gaining a lot of product knowledge and learning more about the functionalities and different possibilities.
Please tell our readers more about how it works.
BF: Circuitex products can detect and monitor human physiological signals for fitness or healthcare applications. It is able to be incorporated into and throughout the clothing itself. The silver yarns move the data – whether its heart rate variability, EKG, breathing rate, activity intensity, or force of impact, among others – to a "module" or other component that collects that data and sends it elsewhere, such as to a smartphone.
What are some other exciting applications of Circuitex?
BF: Electro-magnetic interference or radio-frequency interference – or shielding – is where this technology started. Companies like Verizon, a telecommunications company, use the technology to shield the room, so they can test the transmission units without frying up every computer in the same building.
We work with a lot of defence contractors, like Lockheed Martin, L-3 Communications, on products like tents that block out signals from the outside or protect the communication from being intercepted.
We're working now with a number of companies on battlefield heat and electro-magnetic signature management by developing a garment that would not allow a soldier to be detected or seen on the non-visible spectrum. We've been able to manage this task for years, but now we are aiming to integrate a system that will be more comfortable and functional than current solutions.
Finally, there is some exciting interest in the area of the underwater sonar equipment – from signature profile management, to shielding of electrical components – the possibilities are limitless, and we are here, at Techtextil, to encourage questions and develop further interest.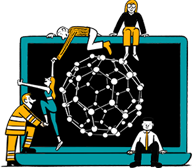 Business intelligence for the fibre, textiles and apparel industries: technologies, innovations, markets, investments, trade policy, sourcing, strategy...
Find out more