Dyeing/​Finishing/​Printing
Pigment inks pay quick dividends for BFP
Early market success for internet digital fabric start-up with CMYUK equipment.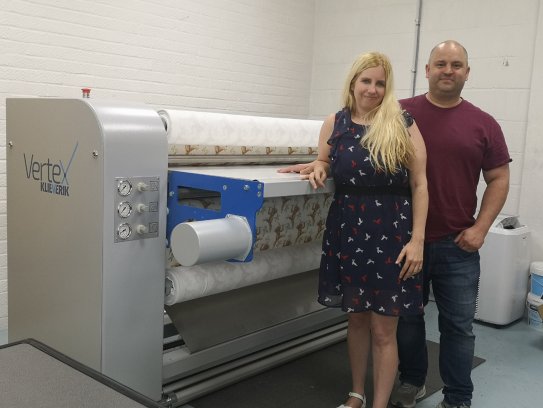 28th June 2021
Innovation in Textiles
| Woodley, Berkshire, United Kingdom
British Fabric Printing (BFP) has installed a Mimaki TX300 pigment ink printer and Klieverik Vertex calender press supplied by CMYUK. The enterprising start-up has been trading online for the past five months and in that time has output over 650 orders.
"We'd never had a decent experience with a pigment ink printing company and we've never liked the finish but when we saw the Mimaki pigment inks on the TX300 – it really wasn't like anything we'd ever seen before," says Stuart Kettridge, co-founder/owner. "The way they felt too was really nice – you could hardly feel anything on the fabric surface,"
We've only really been up and running since February but it feels like we've been doing this forever. It's an entirely different ballgame with pigment inks
The company specialises in printing stretch jersey fabrics.
"We set-up the company due to the fabric inconsistencies across the globe," Kettridge explains. "There's nobody in this country that prints the stretch jersey that we do. Everyone was crying out for a UK printer to do it,"
Four years ago, his business partner Lisa Bence set-up an online children's clothes store selling her own designs and as a result of its popularity, as well as lockdown uncertainties, the pair decided to concentrate on the business. Bence had been buying materials from outside the UK but was disenchanted with the process due to the number of issues she experienced with fabrics.
Bespoke services
The initial idea was to purchase a fabric printer that would primarily be used to output her own designs and offer a bespoke fabric printing service to other online digital stores as a secondary activity.
After researching equipment online, it became apparent that a Mimaki printer would be the perfect choice, which led the two of them to Brett Platt, textile business manager at CMYUK.
"We had a very clear idea of what we needed to do," says Kettridge. "We worked everything out before we bought the Mimaki. Investing in this piece of equipment was not something that we would enter into lightly, but we knew the demand was there."
Initially, the pair had chosen to use reactive inks, involves hot steam fixation and extensive washing after printing. This ensures that dyes penetrate the actual strata of the fabric resulting in high colourfast and washfast prints.
"Right from the start we were in trouble with the reactive inks, but CMYUK helped us so much," says Kettridge. "We were having so many problems with the fabrics. The coatings were causing real colour headaches and it was impossible to speak to our usual suppliers because of furlough issues. It really was a nightmare."
After throwing away 800 metres of material and closing the website down to avoid letting any customers down, the pair decided to change direction and embrace the pigment ink process.
Heat press
They had been somewhat surprised and impressed by the look and feel of Mimaki's pigment inks but had shied away from them, partly due to pre-conceptions, and also because of the cost of a calender press.
CMYUK distributes Klieverik heat presses in UK and Ireland. It had identified a real need for a compact, more affordable calender designed for a growing new customer demographic – smaller creative entrepreneurs, and lone surface designers looking to expand into high-growth applications within décor, soft furnishings, fashion, sportswear and apparel.
The Klieverik Vertex hybrid transfer press was launched in the autumn of last year. With a working width of 1,650mm, this versatile machine handles both single pieces and roll-to-roll fabrics. It features robust build-quality, low operating costs, an oil-filled heat drum that facilitates consistent brilliant colour reproduction and high print definition. It also includes an ingenious belt tracking system for right-first-time production.
"It's an amazing piece of kit," says Kettridge. "It does exactly what it says on the tin. It's solid and robust, warms up very quickly and holds its heat unbelievably well for a smaller drum. Energy-wise its very good too. I've learnt lots of new little tips by using it. The combination of the calender with the Mimaki pigment inks has reduced my contact time by half. We plan to do sublimation work in the future, and I'm looking forward to seeing how it copes then."
Switch to pigment
BFP had its Mimaki printer flushed to take pigment inks in January but as the Vertex is a new piece of equipment there were no pre-built customer units available.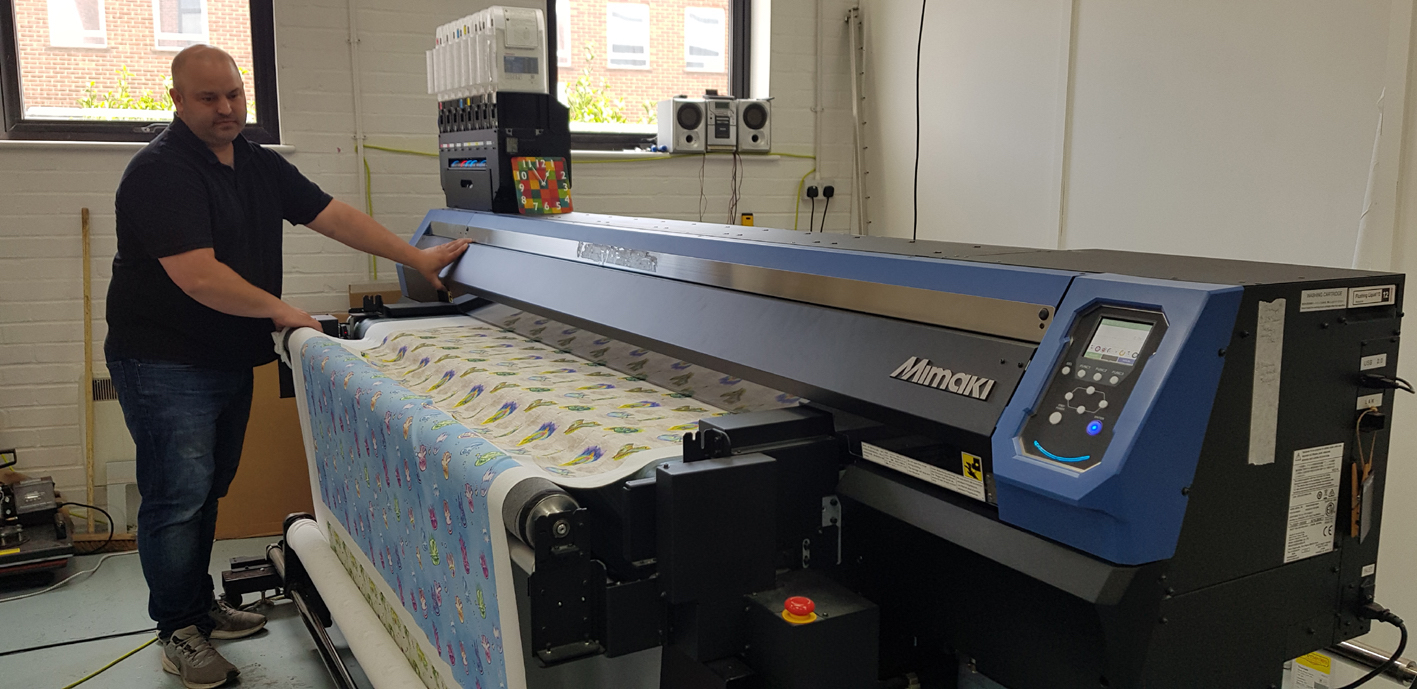 "I made a phone call to CMYUK asking if they knew of anyone who could rent out a heat press for the time being and they offered us the use of their current in-house Klieverik and the newly installed demo unit until our own Vertex was built," Kettridge says. "I couldn't believe it – no one would do that. So, for the last three months, I've been up at Shrewsbury on a Friday pressing our fabrics.
"We've had no other dealings with any other printing companies and to be honest, I wouldn't go anywhere now. I just ask Brett if I need something. The trust is absolutely there."
Once the pigment inks were set up and the calender press organised, BFP once again reactivated its website – and hasn't looked back.
"It's an entirely different ballgame with pigment inks," Kettridge says. "The sharpness is brilliant. Everyone comments about the detail especially when you're using lighter or neutral backgrounds. In the short time I've been printing, I realise that with reactive inks you're prone to bleeding. Even when you're steaming, you get a minimal bleed that changes the detail.
"Even though working with the reactive dyes was difficult, I'm glad I did because it's really helped me to understand so many things. I've now got the Mimkai up from printing seven metres per hour to 12 metres. It's absolutely my playground and it's in my nature to build and improve upon things."
Sign of the times
As well as revising its production methods, the original business model has also slightly changed. The demand from other smaller digital shops for printed fabric has meant that BFP's in-house designs have been pushed to the back of the queue.
In years to come Covid may well be regarded as a watershed moment for business. While there are stories of boom and bust, those businesses that have kept abreast of technological change and reacted quickly to market demand have thrived – natural selection albeit under unprecedented acceleration.
"We are not going to be complacent – if something needs to change and we need to move into a new direction then that's what we'll do," Kettridge concludes. "We initially thought we didn't want to print polyester-based materials, but the colour is so vibrant, there's such a large market for it and you can't do everything on natural bases. They now produce polyesters from recycled plastics which, for us at least, is something that is very important in helping keep something else away from landfill.
"Kid's clothing is our core business but there are so many décor opportunities associated with it. We're now actively looking at dye-sublimation. We've only really been up and running since February, but it feels like we've been doing this forever."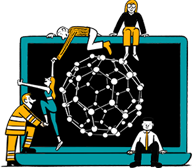 Business intelligence for the fibre, textiles and apparel industries: technologies, innovations, markets, investments, trade policy, sourcing, strategy...
Find out more