The biggest ever edition of Techtextil, the leading international trade fair for technical textiles and nonwovens, concluded in Frankfurt this month, hosting 1,477 exhibitors from 55 countries. More than 47,500 visitors from 114 countries, an increase of around 14% compared to 2015, made their way to Frankfurt this year, where it took place in parallel with Texprocess.
As innovative materials for future applications took centre stage at the special Living in Space exhibition area at the event, the topic of sustainability and environmentally friendly solutions also dominated the trade show, evident both from the wide range of green products on display and from the Techtextil Symposium programme, discussing latest trends in technical textiles.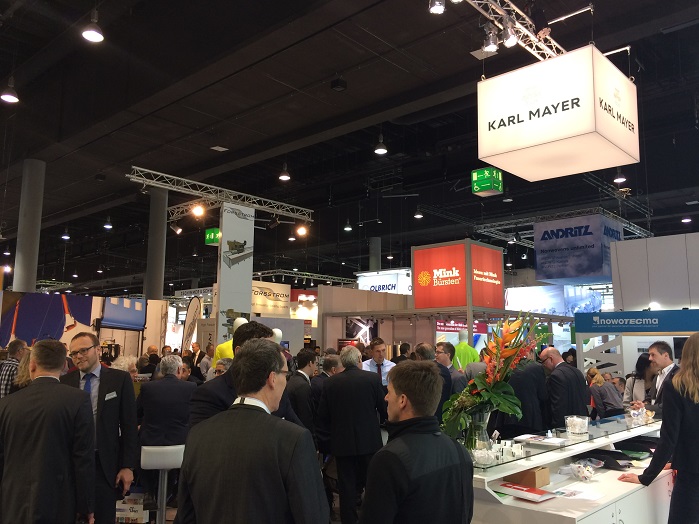 "Connecting the future is the motto for Techtextil 2017. When that slogan was devised, it was already clear that two years after the last event, Techtextil would again be showcasing a multitude of different, highly innovative, fibre-based materials, recent research findings and new areas of application; the likes of which are hardly going to be found at any other trade fair in such profusion," commented Olaf Schmidt, Vice President, Textiles & Textile Technologies, Messe Frankfurt.
Techtextil Symposium
At the 19th edition of the Techtextil Symposium, an expert forum taking place during Techtextil, international experts presented the latest research results, products and technologies for technical textiles, nonwovens and functional garment fabrics, focusing on topics like Industry 4.0, circular economy and sustainability, health and protection, and smart textiles.
On the first day of the event, the Dornbirn Man-made Fibres Congress organised for the first time a block on the theme Fibre industry geared to sustainability and resource management, led by Friedrich Weninger, Dornbirn MFC. The session starting with discussion of the benefits of using Tencel cellulose fibres, before moving to the topic of sustainable product design and bio-based fibre materials. The issue of recycling and upgrading synthetic polymers back to fibres was also discussed.
During the second day, a block titled Circular Economy and Sustainability took place. The lectures discussed valorising the textile and polymer waste streams by compatibilization, removal of extraneous fibres from recycled carbon fibre material by use of laser technique, evaluation of eco-friendly fire-retardant additives in textile extrusion processes, and more.
Biodegradability of textile products
The Hohenstein Group promoted the subject of the biodegradation of textiles as the key focus of its presentation. Its experts held five specialist presentations as part of the Techtextil Symposium and Texprocess forum. The company highlighted the important role biodegradability of textile products has in assessing their sustainability, focusing on what happens at the end of its life cycle.
At the show, the Group presented an internally developed test procedure for assessing the biodegradation of textiles. Hohenstein scientists are also currently working on a project to develop a protein-based water and dirt-repellent finishing agent to provide an alternative to PFCs.
Sustainability in agriculture
At the exhibition, Lenzing discussed the problem of plastic products in agriculture, which include agricultural films, wraps under layer, silage films, stretch films and steel, which generate a considerable amount of waste if not recycled. The company presented a botanic solution for agriculture avoiding plastic, featuring its Tencel biodegradable and compostable lyocell fibres that are tested according to the EU criteria for food contact use and are high-strength and durable.
"At the moment, only several products, such as support strings, ropes and nonwovens, are in use. However, Tencel fibres have great potential in agriculture. Mankind faces a plastics problem if we consider that plastic takes up to 400 years to decompose," said Marina Crnoja-Cosic, head of Technical Textiles, Lenzing. "Any reduction in the use of plastics helps to protect our environment. In agriculture in particular, sustainable materials should be used. This is good for us humans and for the environment. We are continuing to work to firmly establish Tencel fibres in this field."
Green coating technology
Trans-Textil, Europe's leading laminating, coating and printing specialist, showcased its natural fibre laminates and environmentally-friendly Topaz Dots coating technology aqueous formulations at the fair. Topaz Dots coating technology has been recently used by Puma. According to the company, it has been successfully used as a spacer system in high-quality fire service clothing. The technology is based on environmentally-friendly aqueous formulations and is said to offer a wide range of possibilities in function and design, the company reports.
Belgium based Europlasma, presented its latest generation of resource saving nanocoating solutions under the Nanofics and PlasmaGuard brands. Nanofics 110 coatings, for example, are highly water and oil repellent fluoropolymer type of nanocoatings, completely free from PFOA and PFOS. PlasmaGuard coatings are durable water repellent coatings completely free from halogens. Compared to traditional wet chemical methods, the company says its coating technology offers 80% reduction in use of coating chemicals, 100% reduction in water waste, and 50% reduction in energy consumption and emission of CO2.
Sustainable finishing
Baldwin Technology Company, a leading manufacturer of process-automation equipment, showcased its state-of-the-art Spray Applicator for textile finishing at Techtextil. Designed to increase productivity by generating cost savings, reduced downtime and healthier working environment due to the minimised exposure to chemicals, Spray Applicator is said to reduce water and chemistry consumption by up to 50%.
Launched back in 2015, the demand for Baldwin Spray Applicator has been slowly growing, said Lee Nanney, Product Line Spray – Textiles, Sr. Sales Executive – The Americas. The contactless spraying system is suited for applying fabric softeners for water repellency or any other low viscosity water-based chemistry, making it ideal for wet-on-wet application, the company reports.
Fibres made from non-food milk
Germany based Qmilk, a producer of 100% natural casein milk fibres and renewable raw materials made using a patented, specially designed up-cycling process, promoted its message at the fair. The company, founded by Anke Domaske, aims to provide an alternative to the use of conventional plastics or phenolic resins in textile products. Compostable and lightweight, Qmilk fibres are made from milk that cannot be used for food and is currently expensively disposed as unused secondary waste, resulting in 2 million tonnes thrown away each year in Germany alone.
The company offers a range of products for technical, home and fashion applications. The Qmilk film has Qmilk barrier properties due to the casein and thus is particularly suitable for applications in the food industry, the company reports. Qmilk biopolymer is also said to be naturally anti-bacterial, flame retardant and skin friendly.
Optimised dyeing process
DyStar promoted its econfidence programme with Cadira Polyester and Cadira Reactive dyeing process optimisation concepts at the event. With Cadira Polyester, the company offers environmentally friendly exhaust processing of polyester fibres, offering reduced energy, water and chemical consumption. With Cadira Reactive, the company offers an optimised dyeing process of cellulosic fibres with improved dye fixation, resulting in reduced costs and waste water pollution.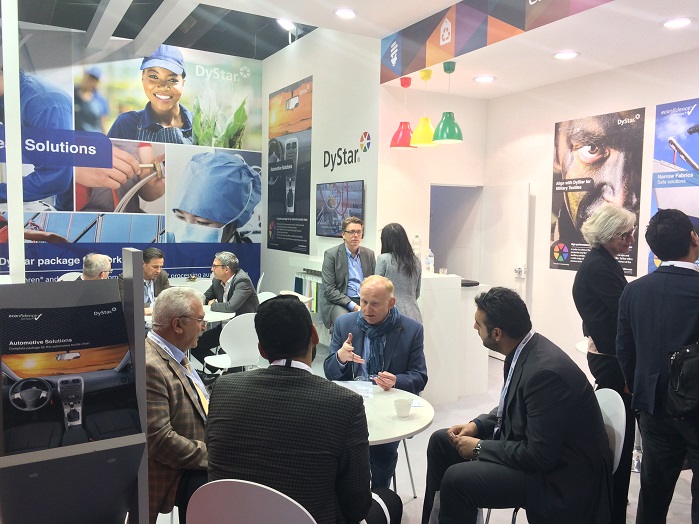 There has been an increased demand for sustainable dyeing solutions and processes in recent years, coming from global apparel brands, said Hartmut Behnke, Director Global Marketing Auxiliaries, Dystar Group. According to Mr Behnke, the trend is surely establishing itself globally, following the suppliers and the producers who are sourcing in various parts of the world.
Eco-friendly water-repellency
The Swiss textile innovator HeiQ launched its new volatile odour source sequestering product HeiQ Fresh NKU from its durable odour control HeiQ Fresh Tech technology family at Techtextil. The company also promoted its HeiQ Eco Dry environmentally sustainable product family of non-PFC treatments.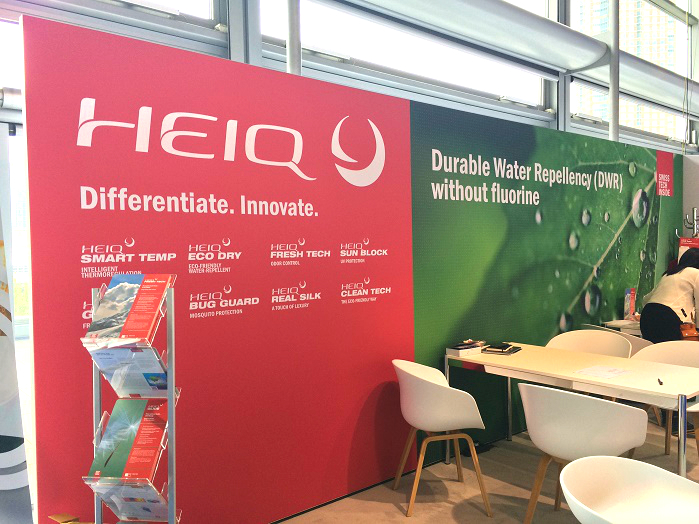 Suitable for a number of applications in outdoor and home markets, HeiQ Fresh Tech technology is said to alter the surface energy properties on the textile fabric, strongly lowering surface tension and providing a reduced adhesion of the water droplet.