With the global apparel industry touching climate change, limited resources, lost biodiversity, water scarcity and other important environmental topics, sustainability and eco-friendly materials and production technologies became one of the main focuses at this year's Intertextile Shanghai Apparel Fabrics. The 2016 autumn edition concluded in China last month, with a 10% increase in buyers.
Particularly in China, sustainability is gaining in importance, with the government announcing recently that it will promote clean industrial production, low-carbon development and energy conservation to ensure sustainable growth over the next five years.
According to proposals released by the government in its 13th Five-Year Plan, traditional manufacturing will be steered along an environmentally friendly path, a low-carbon production system will be established and businesses will be encouraged to upgrade their technology.
All About Sustainability
Continuing to cater to the industry's ever-growing demand for sustainability products and services, the All About Sustainability zone returned to the show with a 10% increase in scale compared to the 2015 edition. Formed by three main components – Educational Zone, ecoBoutique and a new dedicated seminar area – the All About Sustainability zone demonstrated products and services from 24 exhibitors coming from China, Germany, Hong Kong, Korea, Switzerland and the UK.
The zone also included the return of the Oeko-Tex Pavilion. Recently, Oeko-Tex launched a new certification system Sustainable Textile Production (STeP) for brands, retail companies and manufacturers within the textile chain who want to communicate their path to more sustainable production conditions to the public in a transparent and credible manner.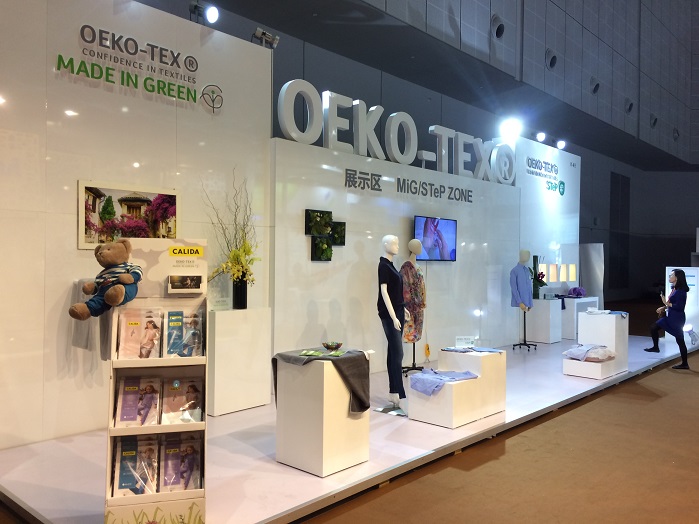 To highlight this new certification, as well as its Made in Green by Oeko-Tex textile label, a new concept area Made in Green / STeP by Oeko-Tex shop featured nine companies – Esquel, Jiedong Paris Thread, Shenghong Group, LOFTEX, Tianjin Tiange, Zhejiang Huafu, Lutai, Lufeng and CALIDA – introducing their sustainable manufacturing achievements.
Sustainable services
Part of All About Sustainability zone, this year's ecoBoutique displayed eco-friendly outfits from Lenzing, Redress, Unifi and VCARE. The area also featured a newcomer, Nature Purest Textile, from Beijing. Anna Jiang, the company's sales manager, highlighted a series of naturally coloured organic cotton products sold under the manufacturer's brand Simply Simple, to illustrate the domestic organic textile production chain.
Leading Swiss testing and certification company bluesign technologies ag introduced various service systems tailored to different needs. Testing service provider Intertek highlighted its main services in China, as well as restricted substances testing services. German technical services provider TÜV Rheinland presented its testing and quality control services for fibres and yarns, fabrics, garments, accessories and more, while TÜV SÜD, also a German company, highlighted the company's one-stop services, including product quality testing, supply chain detection and international standards certification.
Asahi Kasei
Occupying the biggest booth in the Japan pavilion, Asahi Kasei, a leading textile chemicals and fibres manufacturer, was exhibiting its smart range of premium fibre brands at the fair, with a special focus on the eco-responsible innovation – ROICA Eco-Smart stretch range, which uses more than 50% pre-production industrial waste material in its manufacture. This eco-elastane is said to offer contemporary stretch to sustainable fashion collections.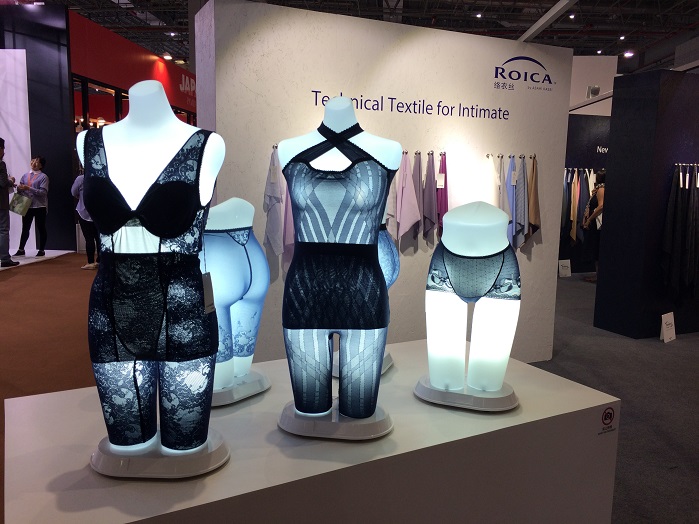 The smart and innovative material is designed to help clothing and knitwear manufacturers deliver a more responsible high performance, while lowering the environmental impact of the production and appealing to the modern consumer's desire for better value. ROICA Colour Perfect, a dyeable family of yarns, was also on display, available in different blends and options, including the more sustainable, measurable ROICA Eco-Smart function.
Freudenberg
Freudenberg debuted several new products, including the new Comfortemp Thermal Insulation, a range of advanced technology materials that are designed to combine perfect comfort with high thermal insulation properties. The portfolio covers a wide range of applications, with a focus on outerwear for fashion apparel and active sportswear. Three advanced technology product ranges were highlighted at the booth – Comfortemp Fiberball, an advanced technology insulation layers made of clusters of extra fine fibres, Comfortemp Stretch, and Comfortemp Down Feel.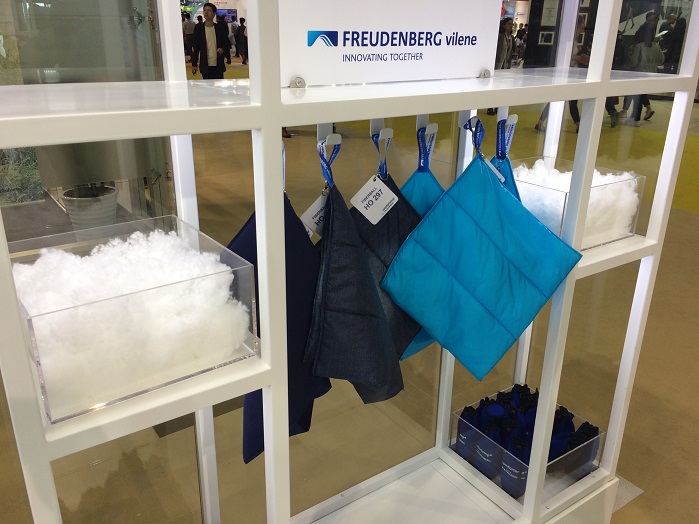 According to the company's representatives at the booth, the non-absorbent polyester warmth solutions are a more responsible alternative to down in jackets and other outdoor gear, made from 100% recycled polyester. The material is also said to allow the faster production, which in turn, helps save resources.
Unifi Textiles (Suzhou)
Unifi Textile (Suzhou), a subsidiary of Unifi, exhibited a range of branded technologies made with Repreve, a brand of fibres made from recycled materials, including plastic water bottles, focusing on fabric solutions for environmentally friendly apparel, combining performance features with recycled yarns.
"Consumers can appreciate earth-friendly products made to perform, not just in the sense of high-performing products they can count on, but performance made better for the environment," commented Ed Wickes, President of UTSC. "Adding Repreve to our branded technologies provides all of the use functional benefits consumers expect in athleisure wear with the added advantage of recycled."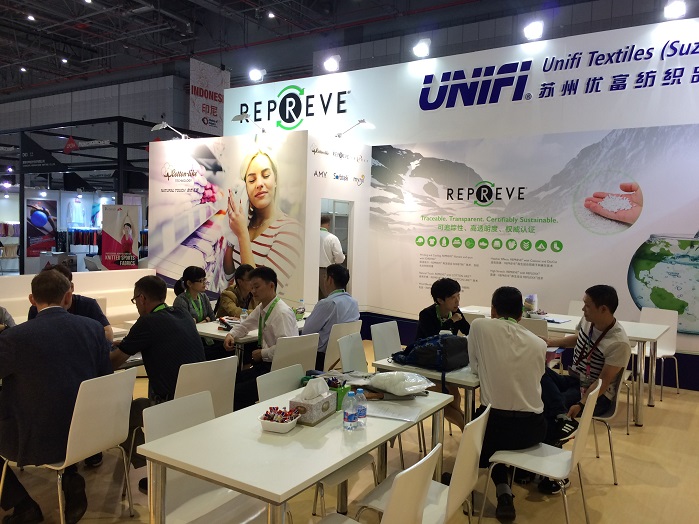 The company presented its technology recycled with Repreve, including Sorbtek moisture management, Reflexx stretch, Softec high resiliency technology, Repreve Staple Fiber for use in spun yarns, and Cotton-Like natural touch polyester yarns.
In addition, Repreve brand presented as part of the All About Sustainability zone, featuring the company's recycled yarn solutions, including the ENO Billow Air Lounge, an inflatable lounger made with recycled plastic water bottles. China is a large market for sustainable solutions like Repreve, said Hongjun Ning, Vice President, UTSC. According to Mr Ning, recycled yarns can replace polyester in a number of applications, including sportswear and outdoor applications.
Lenzing Fibers
Lenzing Fibers also participated in the All About Sustainability zone, promoting eco-friendly production of Viscose, Modal and Lyocell wood-based cellulose fibres. According to Coco Yi, Marketing Apparel – Knit, China, Lenzing Fibers (Shanghai), the company sources wood and wood pulp from certified forests and pulp suppliers, and uses pulp bleaching that is totally chlorine free (TCF). The company exhibited items made with Lenzing botanic fibres by the Chinese fashion apparel brand Miidii.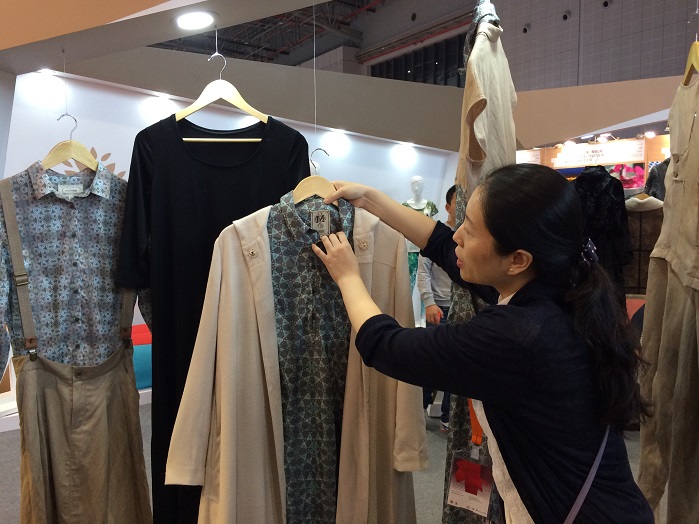 Lenzing's Peter Bartsch, Head of Global Sustainability, participated in the panel discussion called Holistic Sustainability Performance Measurement: The Higg Index Driving Transparency & Continuous Improvement, where speakers shared their perspectives on utilising Sustainable Apparel Coalition's Higg Index. Mr Bartsch shared his vision of the company's role in saving the planet's resources by responsible sourcing of raw materials for its botanic fibres, recycling waste and implementation of the circular economy, which requires collaboration and transparency.
Thermore
Thermore, a leader in the research, production and marketing of thermal insulation for apparel, also promoted its extensive product range for fashion and outdoor at the show, which includes Classic, Ecodown, EVOdown, Rinnova, Pro, Stretch and ARIA down substitute solutions.
The company's new Ecodown, a synthetic thermal insulation product made from 100% post-consumer plastic bottles, is a sustainable alternative to down feathers, often plucked from live animals. The technology allows the reuse of a considerable number of bottles, which would have otherwise ended their useful life as waste in a landfill. Depending on the application, outerwear insulated with Ecodown can save up to 10 bottles per garment, according to the company.
Another down alternative, Thermore ARIA, is a voluminous and light thermal padding, made of 98% air. The product uses certified Oeko-Tex raw materials. Test results showed that the product is non-allergenic, highly breathable and non-toxic. It also proved it to be free of PFOA and PFOS (perfluorooctanoic acid and sulfonate).