Most believe the Industrial Fabric Association International (IFAI) got it right in Charlotte, NC, October 17-21, the heart of the textile country in NA. IFAI is over 100 years old and continues to evolve, survive, and thrive. Huge crowds, registering or picking up pre-registrations on the first day forecast a major show – and it was.
The official attendance was announced as 5023, surpassed only by the 100th anniversary celebration a couple years ago. "We couldn't be happier with this year's Expo," IFAI President/CEO Mary Hennessy said. "Interest in the event has rarely been higher and that's proven by a record-setting number of exhibitors and huge interest in the event from the industry at large."
Education Program
This year's educational program was outstanding. A good balance of speakers from academia, industry, and government, covered a range of topics mimicking the diversity of interests represented by IFAI. Multiple presentations were presented simultaneously under the Advanced Textiles umbrella.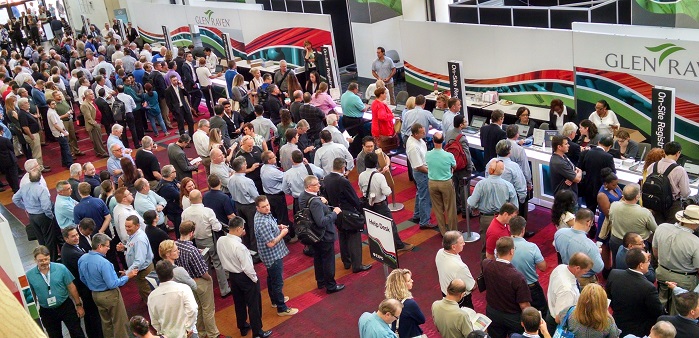 Divisions included Testing, in which offered a course for receiving certification in Testing Essentials; Automotives, the largest single area for technical fabrics; Materials/Business grouping of talks; and Shade & Weather Protection. In addition, there were on-the-floor learning opportunities. Technical Textiles 101, was presented for those desiring to learn more about the industry. Hands-on workshops were offered for specialty textile fabricators.
Matt Williams of Haartz Corp. (www.haartz.com) a global leader in coated fabrics for automotives, focused on use of sustainable alternate polymers. By switching to TPO (thermoplastic olefin) from PVC (polyvinylchloride) based bi-laminates can yield up to 40% lighter materials, due to the lower specific gravity of olefins. Overall, switching throughout the car or truck with recyclable TPO can yield weight savings of coated parts up to 72% vs PVC - about 488 kg (10.7 pounds) in a typical pick-up truck.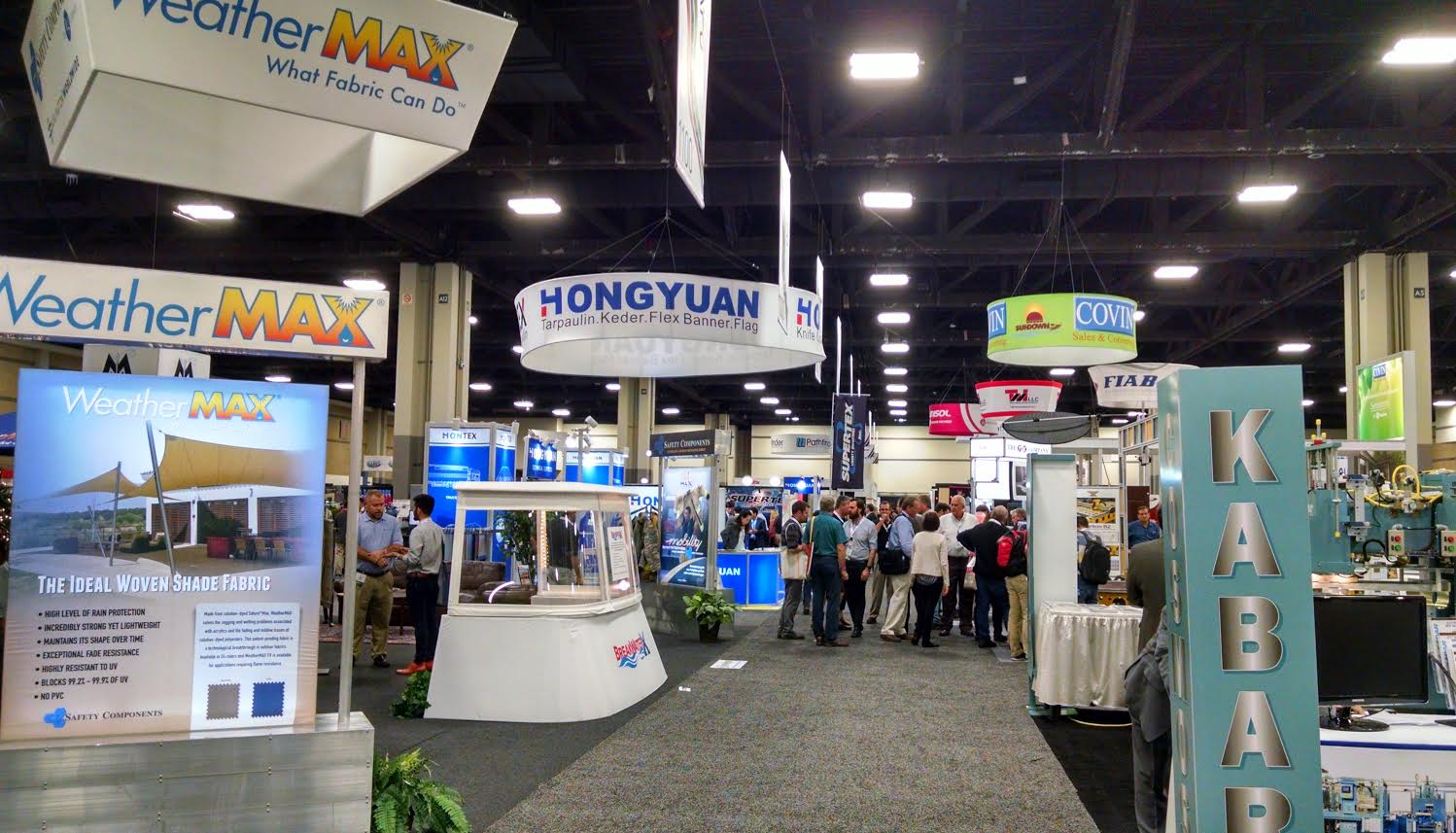 Dr. Barbara Pause, President, Technical Testing and Innovation LLC (www.textile-testing.com), discussed the potential for phase-change materials (PCM) for automotives. PCMs are used in many consumer and commercial products. Due to unique chemical structure of certain molecules, heat can be absorbed/stored/released as needed, aiding cooling and warming. Though not yet widely used in automotives, data was shown where use of PCM in certain adhesives and fabrics could actually reduce temperature over 60o F in a car parked for 2 hours in the sun; from as high as 180oF down to under 120oF, and otherwise create energy savings as much as 35% in A/C.
Several speakers, including Dr. Behnam Pourdyhimi, North Caroline State University, (www.NCSU.edu) outlined the many growing applications where nonwoven fabrics (NW) fabrics play an important part. The largest users of NW are flooring, followed by insulation, trunk, headliners, filtration, and a number of other areas. Filtration alone, air and other, accounts for $1.5 billion market for air and cabin, with engine filtration at $460 million. What is next? He said expect greater usage of composites.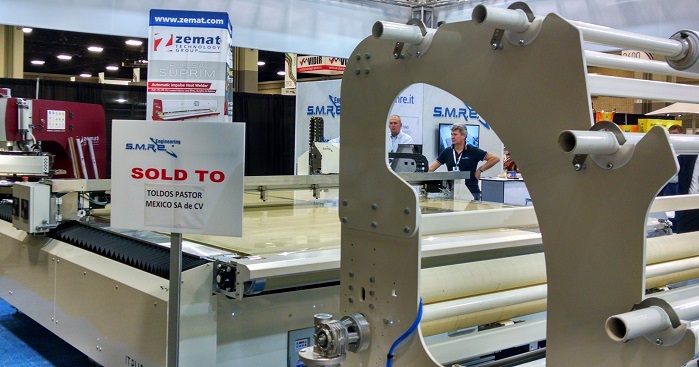 Dr. Srikanth Pilla of Clemson University (www.clemson.edu) discussed bio-based foams for automotives to make the vehicle lighter. Motivation for this research, he says, comes from new CAFÉ (combined fuel efficiency) standards required by the government, CO2 emissions, and end of life concerns for the vehicle (95% of the automobile is already recyclable). Advanced materials manufacturing, with functional integration and design optimization, he says, can help meet the criteria defined by performance, environment/greenhouse gas, and cost.
The Floor
IFAI located exhibitors in several specific areas of interest: Specialty Fabrics, Advanced Textiles, Shade/Weather, for instance. Not a perfect grouping, but an effort to have the more technically oriented high-performance fabrics in a separate area from uses such as signs, banners, marine, etc.. One could save time by focusing only on areas that of greatest interest.
Most of the major players in the industry exhibited, alongside many smaller companies, the heart or core of this diverse, mostly unheralded industry. Looking beyond those obvious product lines shown, there were many innovative and creative ideas, concepts likely to impact the industry. One needs the right "frame of mind" to see and appreciate some of the new products/ideas, but if you are to have future success, such thinking is vital. Off-shore companies were present in force, including Taiwan, Korea, China, Germany, France, etc.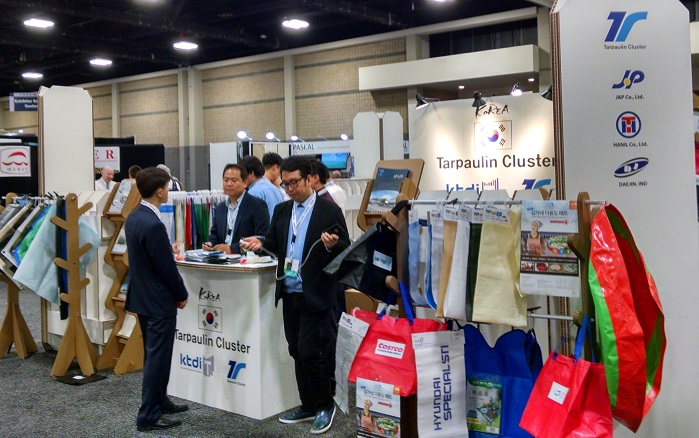 Many PR pieces went out about who was showing what, many were reported in Innovation in Textiles, so an overall "who showed what" listing will not be attempted, rather a sampling of products that seemed to be innovative enough to make an impact on the industry follows.
One product with a constantly high number of attendees at their booth was SuperFabric (www.superfabric.com) from HDM, Inc. Possibly getting inspiration from nature (armadillos), they apply a tight array of minute epoxy armor plates, or "guard plates" to the fabric, in various designs and colors, to make a flexible fabric that has a high degree of cut, abrasion, and stain resistance, among other properties. The gaps between the plates allow for breathability and flexibility.
According to Doris Runa (formerly of IFAI), Director, the fabric is said to endure 5000 cycles in the Tabor abrasion test, and has a cut-resistant of level 5 – high numbers. The geometry and size of the guard plates and base fabrics can be altered for specific properties. Even the fashion world is targeted fashion shoes with high durability and scuff resistance. A highly creative and innovative product.
Sustainable fabric processing with atmospheric plasma treatment, has been a major goal for over a decade. Vacuum deposition has been used for specialized metal coated fibers/fabrics, for many years, an expensive process. Volume production with atmospheric plasma fabric treatment (no vacuum) to improve adhesion and add other properties, efficiently run at commercial production rates, and low energy cost is highly desirable.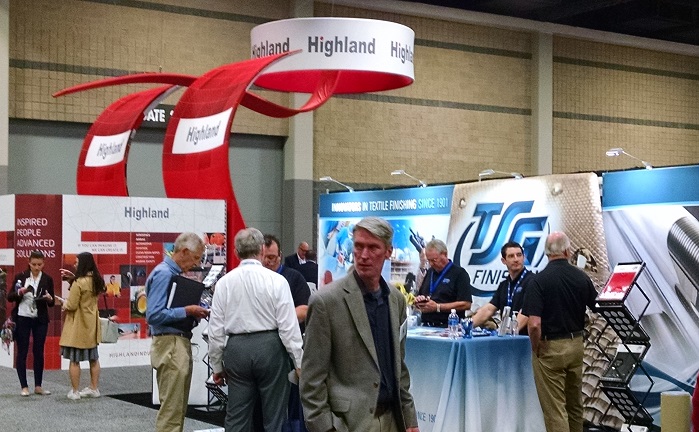 The subject of decades of efforts, private companies and universities, no one has been able to successfully place machines for efficient commercial production. Martha Miller, VP Business Development at ApJet (www.apjet.com), the leader in the field, says ApJet now has such a machine in place in their facility in Morrisville, NC to treat 64-inch fabric.
On the other end ARACON metal clad aramid fibers from Micro-Coax (www.araconfiber.com) has refined their highly sophisticated and expensive product to provide promise for specialty fabrics. Often braided with copper wire for electronic shielding of highly specialized cable, mainly for aerospace, where cost is less important than performance.
Originally developed by DuPont, it was acquired and improved by Micro-Coax in 1990. There is growing demand for conductivity in "smart fabrics" and specialty textiles. Aracon, being metal plated (e.g. silver, nickel) onto high strength Kevlar aramid fiber, has impressive properties. It is stronger and lower weight than copper wire used elsewhere. While not for every use; Micro-Coax says to achieve the return required when using such a yarn, the end use must be of a high-value nature where cost can be recouped, something technical textiles have done for many years.
Many machinery producers were at the Expo, including a large number for computer controlled cutting, sewing, bonding, and the like for often to handle high-end technical textiles, such as aramids used in protective clothing. Automation and new techniques, such as using lasers, has lowered cost and improved efficiency.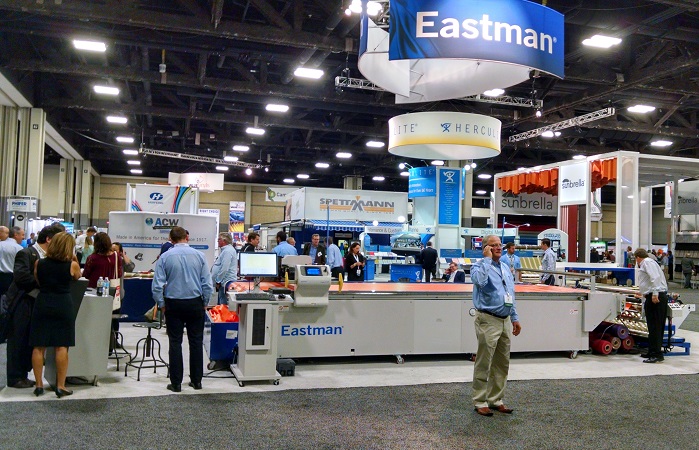 Eastman Machine (www.eastmancuts.com), among others, had major displays of sophisticated cutting equipment. Miller Weldmaster (www.weldmaster.com), had a busy prime location at the entrance. Several new machines/systems for bonding fabrics were shown to eliminate sewing, often making the bond air and water tight. Featured was said to be the industry's only dual directional hot air welder (heat melting and fusing polymers), a high resolution camera system for the engineer to evaluate production in real time, and Dropstitch a new improved welding solution to produce air and water tight seams. Machinery improvements allow more efficient and less costly production, major factors in the success and cost competitiveness of specialty fabrics.
Alexium (www.alexiuminternational.com) is an innovative company that stands out and represents the difficulties getting into the industry with a revolutionary product, then switching gears to other areas. Begun in Australia and the UK, after acquiring Reactive Surface Treatment (RST) from the US Air Force in 2009, and receiving a large contract, they built a plant in the US for that work. The machinery and system, while highly successful, was ultimately deemed too costly for wide acceptance. Shelving that product, they shifted gears in 2012 to focus on FR techniques and other products. They showed a newly-developed embossed FR knit spacer fabric containing phase change (PC) materials to moderate temperature.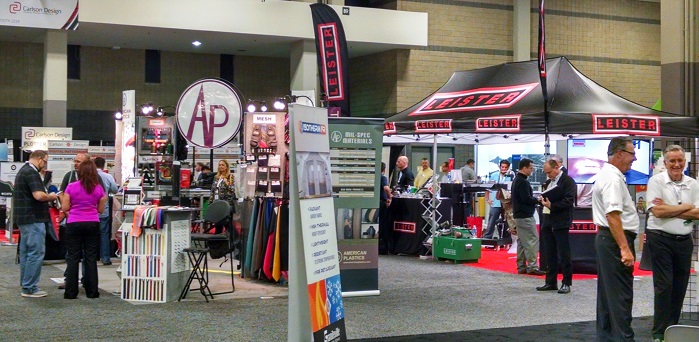 There is room for the large and small producer in the industry, each serving a particular constituency or niche. Illustrating that: Twitchell (www.twitchellcorp.com), a long-time leader in extrusion coated polyester yarn fabrics (Textilene) for a variety of uses, including porch/lawn furniture, was on-site with a busy booth. A short distance away was first time exhibitor Bo-Tex America (www.botexsales.com) an "under the radar" small company in the Atlanta area, producer of dipped coated yarn, open-mesh scrim fabrics. A lot of big/small businesses were at IFAI Expo.
The 2017 Expo will be September 26-29 in New Orleans.