European Commissioner Elżbieta Bieńkowska visited the company's headquarters. © Manteco
European Commissioner on the Internal Market, Industry, Entrepreneurship and Small and Medium-Sized Enterprises Elżbieta Bieńkowska has been welcomed in Prato by the mayor Matteo Bittoni and by the Councilor for Productive Activities Daniela Toccafondi, together with the economic categories for a meeting organised by the Department of Economic Development.
The meeting was followed by a company visit to the headquarters of Manteco, an Italian fabrics producer. Manteco has been a leader in the production of wool and recycled fabrics since 1943. Led by Matteo and Marco Mantellassi, the company prioritises sharing economy, sustainability, internationalisation and the use of renewable energies – not only as an investment policy but also as a distinctive element for the company's identity.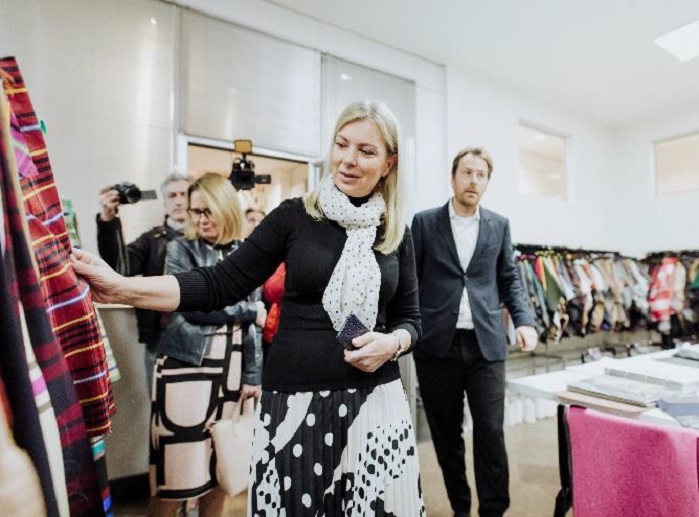 Manteco is a leader in the production of wool and recycled fabrics. © Manteco
The company visit was attended by European Commissioner Elżbieta Bieńkowska, Justina Morek, member of the Commissioner's Cabinet, Beatrice Covassi, director of the Representation of the European Commission in Rome, Slawomir Tokarski, director for advanced and innovative manufacturing in the general direction of the internal market and European Commission industry, MEP Hon. Nicola Danti, Dr Alberto Biginelli, Councilor Daniela Toccafondi, the Mayor of Prato Matteo Bittoni, and the Mayor of the Municipality of Montemurlo Mauro Lorenzini.
The key topic was the circular economy, which, along with some others, explored the value of Made in Italy, the importance of a responsible approach to the reuse of resources and the need for a traceability system. The participants also paid a visit to the Manteco Archive, during which the focus has been on raw materials, with reference to the tradition and experience that today are combined with the strong innovative drive and creativity.
The key topic during the company visit was the circular economy. © Manteco
"I visited a textile company that recycles or reuses waste materials to produce wool of the highest quality: this is an excellent example of circular economy," commented Elżbieta Bieńkowska.
"The circular economy is an extremely interesting subject everywhere in Europe, because we are leaders in sustainability, and we want our children and ourselves to be able to live in a country that is livable in the future, so that's why it is worthwhile to show stories in Europe of success like this, which is a good practice that we are putting into practice, starting with the big industries and the energy-intensive ones."
This article is also appears in...