Industry Talk
TITAS 2019 focuses on sustainability and innovation
The event hosted 423 exhibitors from 12 countries, plus 20 trade organisations representing Taiwan's range of suppliers and manufacturers.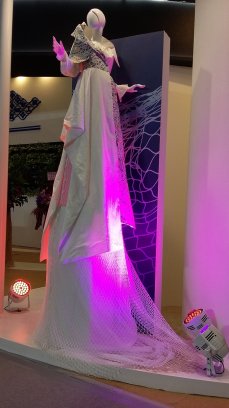 11th October 2019
Innovation in Textiles
| Taipei
Belinda Carp reports
Songbeam: Tempwiser bedding with collagen. © Belinda Carp
Taipei Innovative Textile Application Show (TITAS) 2019 took place from 7-9 October 2019 in Taipei – organised by the Taiwan Textile Federation. The event hosted 423 exhibitors from 12 countries, plus 20 trade organisations representing Taiwan's range of suppliers and manufacturers.
Key themes at the event were functional applications; sustainability; smart textiles; and intelligent manufacturing.
The event also featured a Solution Provider section, which showed visitors how the use of digital transformation will help to create value for the textile industry, and a Micro Factory area, which demonstrated the concept of automated manufacturing in four stages: design; pre-sew; sewing; and finishing.
A highlight of the event was the one-to-one business meetings, which were arranged between vendors and brand representatives. In addition, there was a programme of seminars and product presentations.
Next year's event will take place from 6-8 October 2020.
General industry trends
Athleisure is a trend which continues to grow, as consumers enjoy the benefits of functional apparel and comfort in their day to day clothing. But athleisure is made using synthetic materials which contain microfibres – and it is well known that laundry of these garments allows tiny particles of plastic to enter our oceans and harm marine life.
Comfort is a key benefit of athleisure and apparel in general. As well as being incorporated into clothing, it is also receiving attention from the home textiles sector. Songbeam is a Taiwan-based company, which produces bedding, pillows, mattresses and furnishings for shops and franchises within department stores in Taiwan, Singapore, Malaysia and Japan. The company also supplies a number of hotel chains in Taiwan, including the Sheraton Hotel and the EX-Grand Hyatt Taipei.
One of Songbeam's latest product innovations is Tempwiser, a range of bedding made from Tencel Lyocell and Modal cellulosic fibres and using nanotechnology to apply fish oil collagen into the fibre. The company claims that the bedding is soft to the touch and has moisture management and temperature regulation properties which keep the skin cool, smooth and comfortable.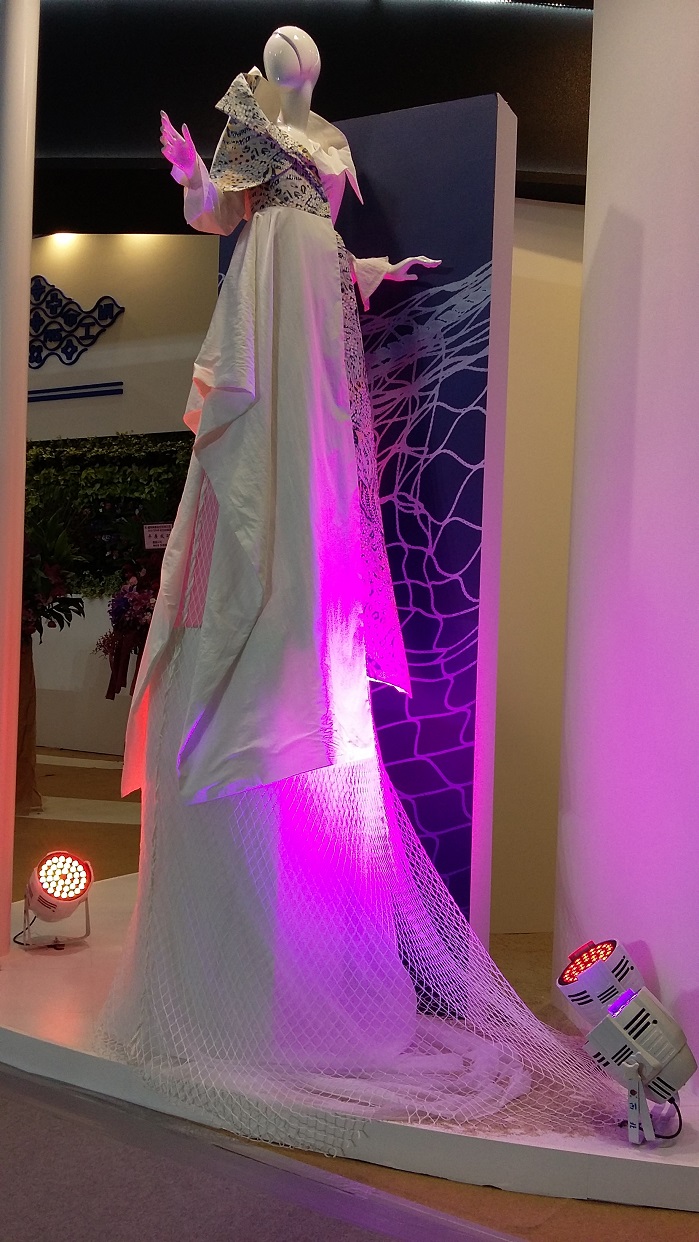 Formosa Plastics Group: recycled fishing nets. © Belinda Carp
The company also offers bedding which contains Iceland seaweed material that provides minerals and vitamins – used in cosmetics because they contribute to skin beauty. It also has a range of mosquito-repellent bedding which uses materials that were originally intended for military and mountaineering products.
Durability is an equally important quality when considering textile products. Taiwan Textile Research Institute (TTRI) has been working with Taiwan-based company Niching to develop a range of abrasion-resistant fabrics, for use in socks and workwear.
Niching designs and prepares nanoparticles to create nanomaterials which have high functionality. The nanomaterials are used on a carbon material with a 3D nanostructure. The material structure is designed to enhance the abrasion-resistance of a fabric. It is an eco-friendly process because it is halogen-free, phosphorus-free and nitrogen-free. The product is suitable for melt spinning.
Niching's product, created in collaboration with TTRI, uses C4 carbon powder, and meets ASTM international testing standard D3884-2009. Niching claims that the durability of its product is 2.5 times that of a standard equivalent fabric.
Natural ingredients in fabrics is driven by the shift towards a more sustainable textile supply chain, and companies such as 3C Tex, a fabrics manufacturer based in Taiwan, offers a sustainability range of fabrics which include natural materials such as fish oil, oyster shells and seaweed. The company offers fabrics ranges which are categorised as eco-friendly, recycled, and biomass, and claims that the natural materials provide the fabrics with moisture management and cooling properties which do not wash out. However, the percentage of natural materials blended with synthetic fibres are low, at only 3-5%.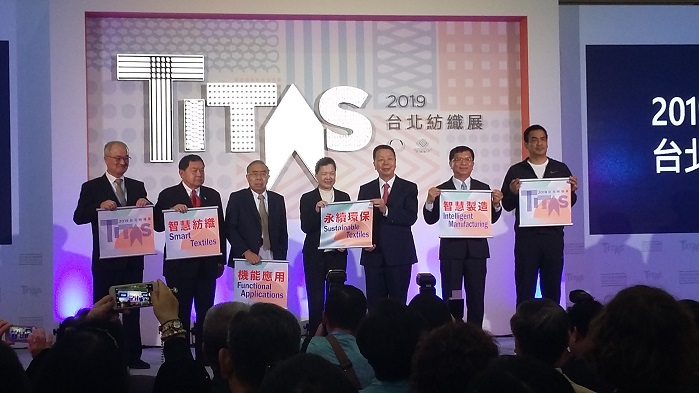 TITAS 2019: the opening ceremony. © Belinda Carp
Transparency in the industry is increasingly recognised to be important as brands seek clear information about their choices – but it is challenging because of the long and complex supply chain. During a presentation about dyeing polyester for athleisure applications, Anish Paliwal, of Huntsman, explained the need for brands and manufacturers to be well informed to help them choose the most appropriate ingredients for their products – taking into consideration the specification, quality, and environmental sustainability of the dyes they select. He also commented on the company's challenge to produce dyes for waterless printing and the adaptation of Huntsman's chemicals which address customer requirements while also reducing their impact on the planet.
Water consumption is an area of concern for the industry because many processes – including dyeing – consume vast quantities of water. Solution dyeing (dope dyeing) is offered by a number of companies - where the pigment is applied at the masterbatch (plastic chips) stage and therefore no water is required for dyeing and subsequent processes – and therefore the amount of energy, resources, time and cost – are reduced. Solution dyeing is an eco-friendly process, because no additional chemicals are required compared with other dyeing processes, and the functionality is permanent because the pigment is applied at the masterbatch stage of creating the spun yarns.
Grande-Tex offers solution dyed recycled yarns in 120 different colours. It also offers piece dyed standard yarns which are offered in many thousands of colours, and in smaller quantities.
Sustainability trends
Biodegradability is an important element in sustainability. Yi Jinn Industrial Co is a vertically integrated group, producing POY (partially oriented yarn) and DTY (draw textured yarn), which it sells to manufacturers who supply garment manufacturers and brands. One of its products is BioPro, a collaboration with BioSphere to create biodegradable yarn. The masterbatch contains enzymes which enhance biodegradability in polyester DTY.
The product usage is similar to that of virgin grade polyester filament and can be applied to all types of knitted and woven fabric. It enables degradation to occur not only on the surface, but throughout the BioPro polyester filament. It also allows microbes to consume carbon-carbon (C-C) bonds within the polyester filament structure at the macromolecular level and enhances the biodegradability of the polyester filament by increasing the amount of hydrophilicity.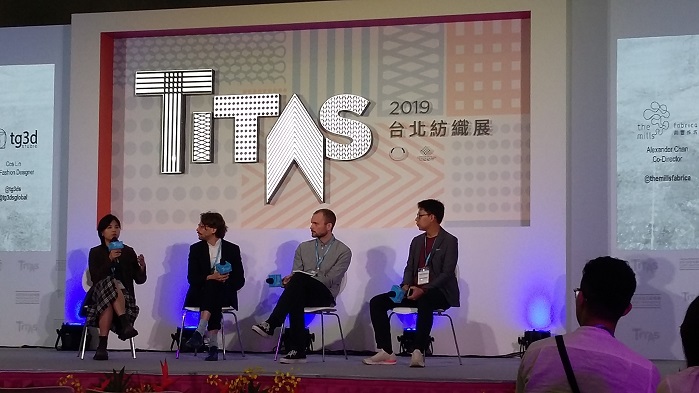 Techstyle for Sustainability presentation L-R: Cos Lin, tf3d Studio; Cedric Vanhoeck, Resortecs; Harald Cavalli-Bjorkman, Re:newcell; and Alexander Chan, The Mills. © Belinda Carp
Another company in the same group as Yi Jinn Industrial is Hung Chou Fiber Industrial Co, which was also exhibiting its Graphene Hunvira product at TITAS. Graphene is a very stable carbon molecule which is arranged in a hexagonal shape and connected by carbon atoms, which are extremely thin nanomaterials. Graphene Hunvira offers high electrical and thermal conductivity.
Circular economy is key to the sustainability of the garment industry. It is important that products are designed with circular economy in mind - in order to reduce waste, and re-use materials in new products. Companies are turning their attention to disassembly and recyclability.
Re:newcell, based in Sweden, has developed a recycling technology which reuses chemicals and transforms high cellulosic waste into pure, natural dissolving pulp, called Circulose.
The company takes in used garments which have high cellulosic content – including cotton and viscose. The garments have their buttons and zips removed, and the textiles are shredded, de-coloured and turned into a slurry. Contaminants and other non-cellulosic content are separated from the slurry, and the slurry is then dried to produce the Circulose pulp. The company produces 7,000 tons of biodegradable Circulose pulp per year, which is packaged into bales and fed into the textile production cycle.
Resortecs, based in Belgium, has developed a thread, which melts at a low temperature and enables the disassembly of unsold garments and removal of buttons and zips etc for recycling.
Recycled fibres were in evidence on many booths at TITAS 2019 – the most prominent of which was that of Formosa Chemicals. The company explained that there are currently more than 8 million tons of plastic waste in the oceans, 640,000 tons of which come from discarded fishing gear – and this type of waste product is four times more harmful to marine life than other types of plastic waste in the oceans.
Formosa Chemicals is working with footwear brands such as Adidas, Nike, Puma, and other performance apparel brands such as Colombia, North Face and Patagonia, as well as Taiwanese company Far Eastern New Century (FENC) – to create recycled fabrics made from discarded fishing nets. According to Kelli George, Senior Material Manager for Footwear Materials at Adidas: "We actually just came up with this concept; we didn't know how it would turn out. In the end, Taiwan got the job done. In the future, such technologies will become Taiwan's competitive advantage as consumers and manufacturers favour more sustainable products."
Bureo, an innovative company which is based in Chile and the USA, rescues plastic fishing nets before they reach the ocean and recycles them. The organisation works with South American communities and incentivises fishermen to collect the used fishing nets, as money is paid into the local community for each pound of material collected. Each pound of material collected is turned into the equivalent weight in raw material pellets for reuse.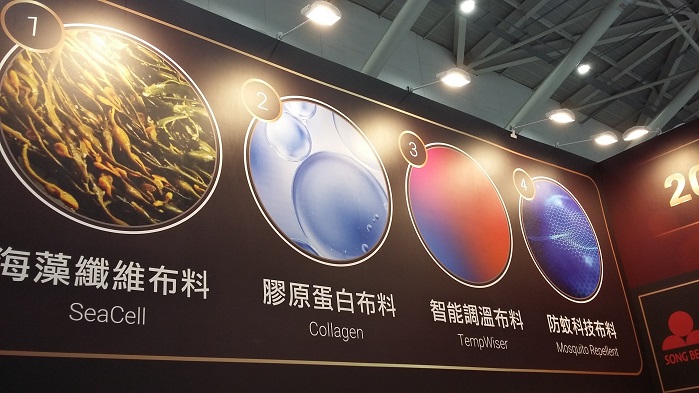 Songbeam: bedding ranges. © Belinda Carp
Another recycling initiative which also positively impacts on local community life is The First Mile, part of Thread International, which is partnering with New Wide Group. The First Mile operates waste reclamation processes in Taiwan, Haiti and Honduras. Individual collectors are paid for the plastic waste which they bring to the collection sites, then the waste is separated and sorted at the centres and transported to the recycling facility where it is washed, ground, and turned into flakes. The flakes are melted and extruded into pellets which, in turn, are melted and spun into yarn. Yarn is knitted or woven into fabric by partners, such as New Wide. The initiative focuses on the welfare of the people involved in the waste collection, to the extent that waste can be traced back to the individual collector. As a result of the initiative, many communities and families have benefited from the employment opportunities that The First Mile represents. Stories of the people concerned are shared with the brands, so that the brands can use the information in their communications with consumers.
Taiwanese company Grande-Tex manufactures Rich-Y yarns which are antimicrobial (odour-free), anti-UV, and cooling and wicking. They are made from synthetic nylon and polyester - and the latest innovation is a version which is rich spun to make the fabric much softer. The eco-friendly version of Rich-Y yarns is made from recycled fibres – using the company's own factory waste and that of Formosa Yarn - and this version is solution dyed which reduces the water consumption by up to 80%. The yarns made from recycled fibres are 30% more expensive than the standard yarns, and therefore currently represent only a small share (about 5%) of the company's sales.
Technology can help to reduce the need for sampling – saving time, money and environmental impact. USA-based Swatchbook is a cloud-based platform which can be used to explore, visualise and share information and the look/colour of materials. It helps users to address real issues in real time relating to design and product development. It also reduces the number of samples that need to be made and transported, so reducing cost and time – estimated at up to a 25% reduction in time, energy and resources.
Brands and fabric manufacturers can access the platform via a browser or app. They will also find stored data, including cost and sustainability data - so improving transparency. Features of the technology include the ability to view fabrics in 3D and to use augmented reality (AR) to show how the scanned material would drape on real shapes and in real locations.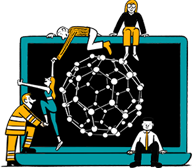 Business intelligence for the fibre, textiles and apparel industries: technologies, innovations, markets, investments, trade policy, sourcing, strategy...
Find out more