29th January 2020, Munich
From optical storage to performance membranes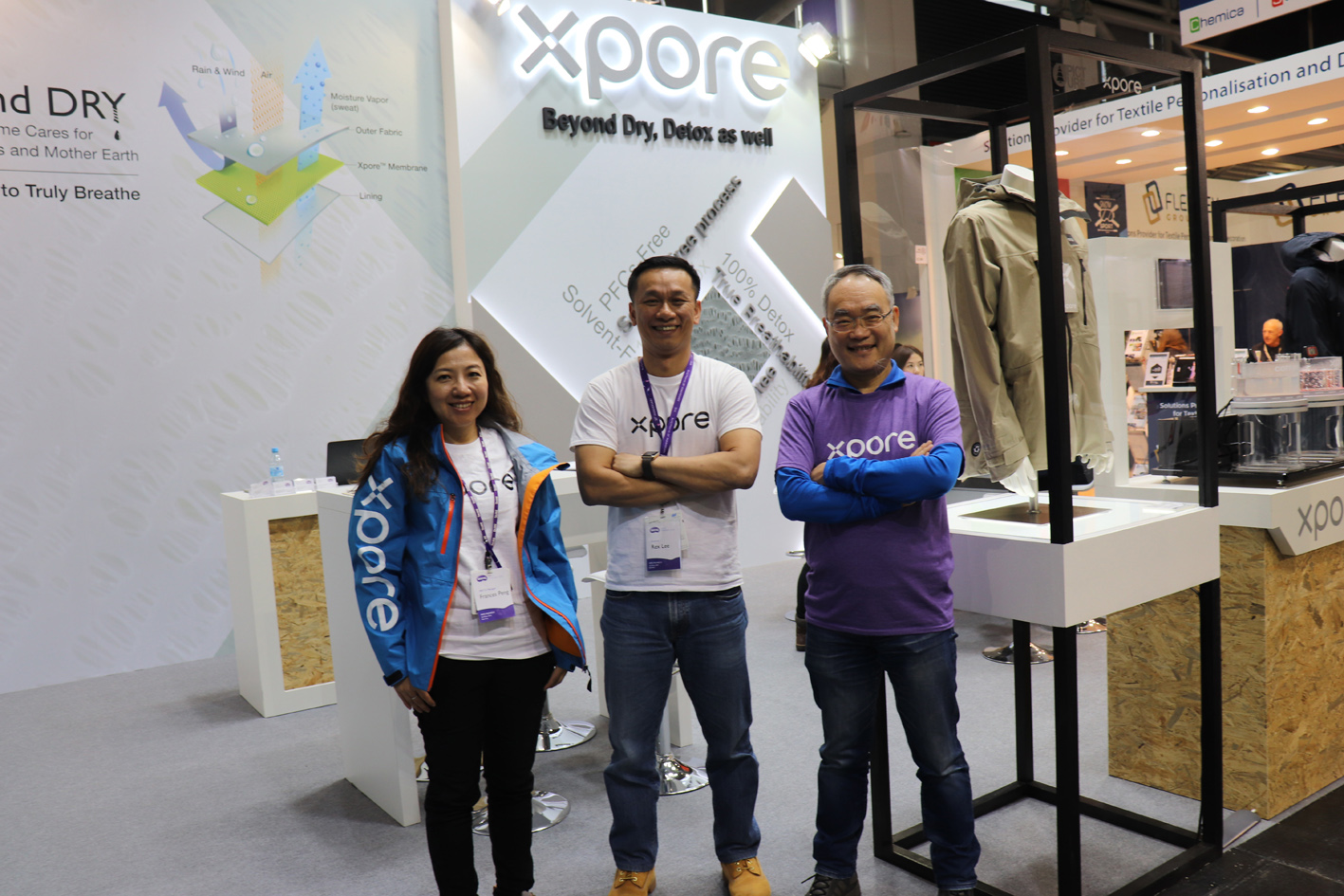 Pictured at ISPO 2020 is Dr Chen (right) with BenQ Materials colleagues Frances Peng and Rex KW Lee.
Innovation in Textiles talked to Dr ZC Chen, chairman and CEO of BenQ Materials at the ISPO 2020 sports show in Munich.
IIT: Please tell us a little about the background of the company and the group.
Dr Chen: BenQ Materials is a member of Taiwan's $20 billion BenQ Group consisting of more than 20 high-tech companies involved in a wide range of fields, with key expertise in the area of all kinds of electronic displays, as well as solar energy, fine chemicals and advanced materials, LED lighting etc. BenQ companies are involved in the development of key components, technology and system integration and solutions and services.
BenQ Materials, with annual sales of $371 million in 2017, initially began as an optical storage system manufacturer, but gradually shifted its core business to the materials science field. It now has four business divisions – Functional Films, Advanced Battery Materials, Healthcare and Performance Textiles.
When did you first enter the Performance Textiles field?
It was around three years ago that we realised we could exploit our expertise in various areas of materials know-how to develop something new for the market. There is a lot of fibre and textile expertise in Taiwan and we worked with our customers with the research institutes on a number of development projects. So here at ISPO we are able to officially launch the new Xpore nanoporous membrane, as a refinement of our AirySektor concept.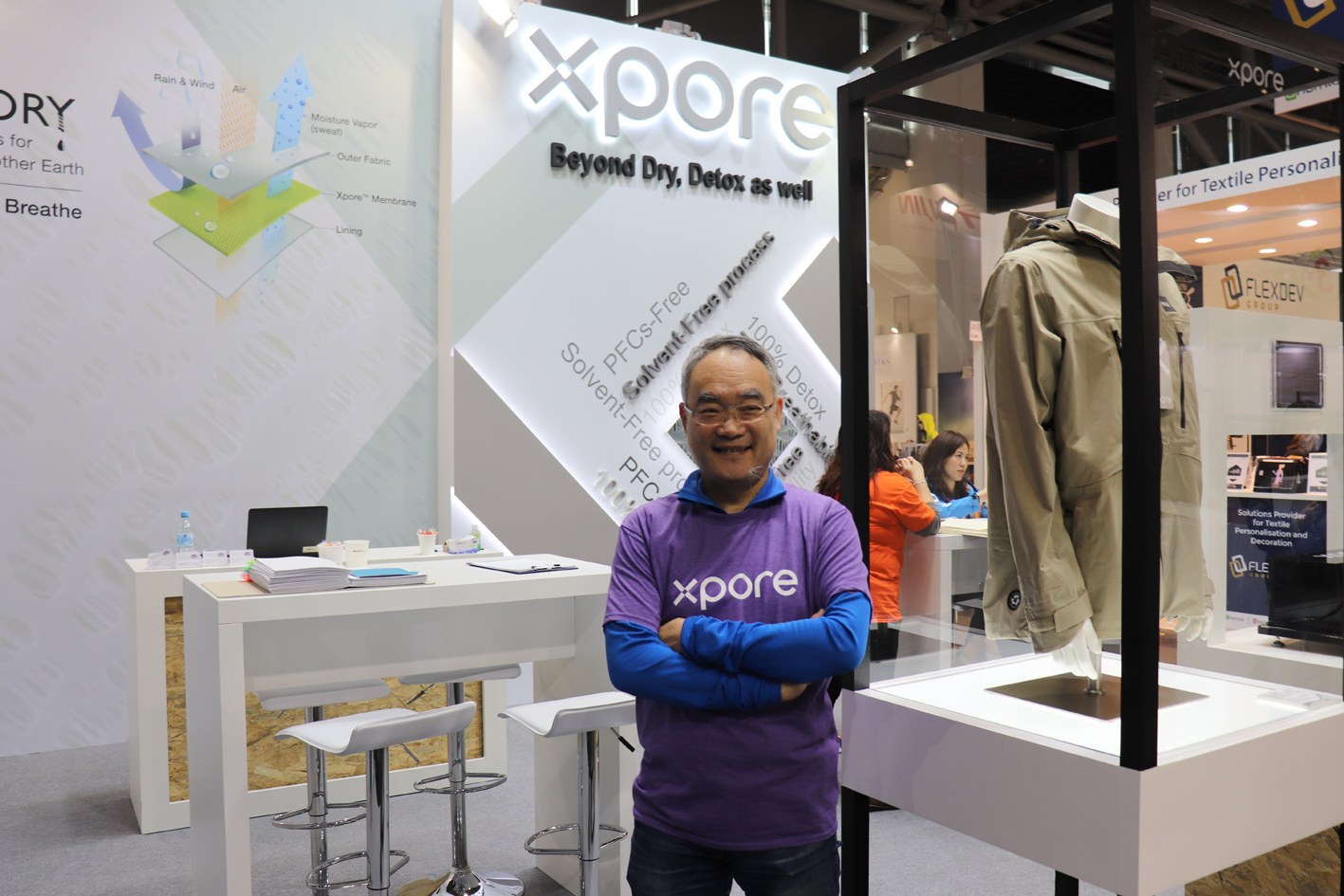 Dr ZC Chen at ISPO 2020
What are the key benefits of the Xpore nanoporous membrane in terms of performance?
This membrane controls moisture with 10 billion nanopores per square inch – each 20,000 times smaller than a water droplet and 200 times larger than a water vapor molecule. As a result, it offers better moisture vapor transmission, breathability and durability than competing products, with lighter and faster drying. It is also impenetrable to bacteria and mites.
And from a sustainable perspective?
Most importantly, Xpore is safe and free from harmful PTFE (polytetrafluoroethylene) and PFCs (perfluorocarbons). It is also manufactured with a process that uses no chemical solvents. This sets a new standard for eco-friendliness, from the production process to the final product, but with no compromise on its true breathability, together with waterproofing.
The BenQ Materials stand at ISPO 2020.
Xpore is ideal for combining with natural fibre fabrics such as silk, wool, and cotton, and even with leather, and we have already received critical SGS and ITS certifications, with Bluesign, Oeko-tex and TAF laboratory approvals now in process.
Are branded products containing Xpore already on the market?
Yes, three of the membrane constructions of our customers benefiting from Xpore already feature in the ISPO Textrends guide for Autumn/Winter 2021/22, which has been produced for this ISPO show. By the time of the next show, we anticipate that many more companies will be using it, because the market really has been waiting for a more effective and totally sustainable alternative in membrane technology.
This article is also appears in...