A leading nylon manufacturer Nilit welcomed journalists, international media, their customers, specialists, opinion leaders and celebrities to attend an event organised by the company on 29 January in the Brandnew Village at ISPO Munich.
The company introduced the audience to Marie Lang, the twelve-time undefeated world champion in kickboxing, who is also a fashion designer and fashion model, as well as a role model for young women. The label royal thirteen designed by Marie Lang powered by Nilit is produced by Edmund Lutz, a specialist in circular knitting and functional sports underwear.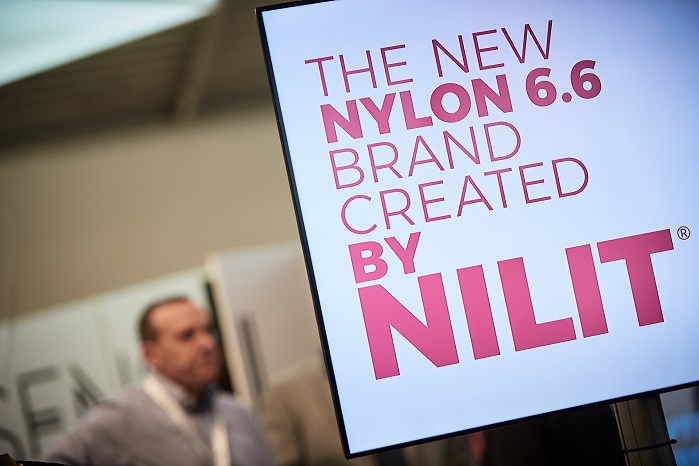 Nilit was founded 1969 in Israel by Ennio Levi, an Italian entrepreneur. It now has three plants – one is in Brazil, one in the US, another is in China. The company is one of the biggest Nylon 6.6 producers in the world. Nylon 6.6 is a manmade fibre, originally created in 1930, which now can be found in apparel, sportswear, ready-to-wear and many other applications.
International broadcast journalist Bernd-Uwe Gutknecht led the interview with Ms Lang, who was also joined onstage by Pierluigi Berardi, Nilit Vice President of Global Marketing.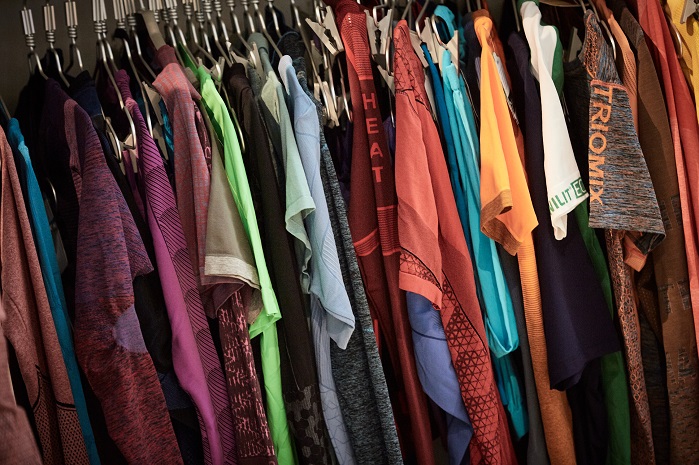 Bernd-Uwe Gutknecht: We probably see a lot of Nilit's products here, at ISPO, without knowing. I guess Nilit nylon fibres are in shorts, shirts, jackets, everywhere, but they carry another brand on the label?
Pierluigi Berardi: Absolutely. We have many partners exhibiting here. We are very proud every time we see a garment at ISPO, the most important international global exhibition for the sports industry, bringing out the very best in our fibre products.
BG: What I heard from all the experts and sales persons is that there is major development going on in the apparel scene and in the world of fashion, that the consumers are more and more defining what they want, what they need. Some people are calling a consumer revolution. From your perspective, is that a good development or a bad one?
PB: This is a challenge, a big challenge. More than talking about customers, we need to talk about consumers. Until a few years ago, all power was in hands of brands, or in hands of fabric manufacturer. Today it changed totally to the consumers. Why? This happened a bit through the Internet, social media, a bit from their changing habits. They know what they want, and the way they want to be served. This is the big challenge for us. On one side for us as a fibre producer, as well as for our partners, like brands and retailers, or the fabric mills.
But, within these challenges, we need to be ready to capture the opportunity presented by the fact that consumers know more and more what they want, they know more and more how they want to dress and, we are able to intercept these demands. That's where we will make our success.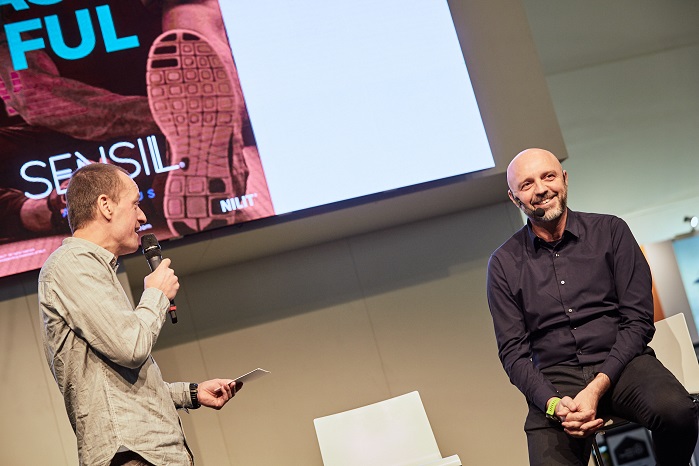 BG: Who is this new generation of consumer? How are they? How old are they? What impact do they have?
PB: I myself belong to Generation Y. The consumers we are talking about are Millennials and Generation Z, 35 years and under. These consumers are very knowledgeable, they exchange though social media, they enjoy the experience of wearing certain garments, because wearing garments is for them not only to cover the body, it's also an occasion to share a picture, to share a selfie across social media. On top of it, they are very demanding about the garments they wear. They are looking for garments that deliver more than simply dressing, they are really looking for performance.
BG: Probably, social media changes the habits of the consumers as well. They can check out immediately the good ones, the bad ones, what is fashionable and what is not. Is this another challenge for you?
PB: Yes, there is a single word that can be used — transparency. Transparency is key. We can't lie to the consumer. They know what they want. We need to be there and really catch the opportunity they are offering to us. Social media, on the other hand, offers a tremendous opportunity, because you can get to know your consumers better than ever, you can identify your target. You can identify what your brand stands for, what position it has in their minds. If done in a proper way, for me, that really the crucial part of adopting the right social media strategy.
BG: Ladies and gentlemen, now please watch out! I call to the ring: 176 cm tall, 60kg light, 31 years young, 31 fights done, 31 fights won! The undefeated world champion in kickboxing from Munich, in Munich, Marie Lang! Marie, what does it feel like to be the best in what you do, in kickboxing?
Marie Lang: It's incredible, it's a big dream for me and it was such a big moment at my first fight, at my first world champion fight. Yes, unbelievable.
BG: What makes exactly the difference between you and the others? Is it mental, psychological, your kind of training?
ML: Naturally, all these are very important. My opponents are very good, otherwise, they are not allowed to challenge me to fight. They also must have a certain rank. In the fight, in that moment, I just have to be stronger. When I realize, okay, I've discovered a weakness with my respondent, I have to be better. This strategy has always worked out well. But, the difference between me and the other is not just about being strong in body, it's also about being strong in my mind, always having the right tactic and strong will to win at the end. It's a mixture between body work and mental strength.
BG: These mental abilities, do you also profit from them in your daily life and in your professional life as a fashion designer?
ML: Yes, of course. In 2003, when I started kickboxing, I was 16 years old. At that time, I was a very shy girl. During the years, I learned so much from sports in general, especially from kickboxing. That changed my life. On the other side, there is my job as a fashion designer. I love it! I love to work with fabrics since I was a very young girl. I always created and stitched my own clothes. Then when I studied in Munich, I had to be focused to get both training and study "under one head". Today I am a professional kickboxer and a fashion designer.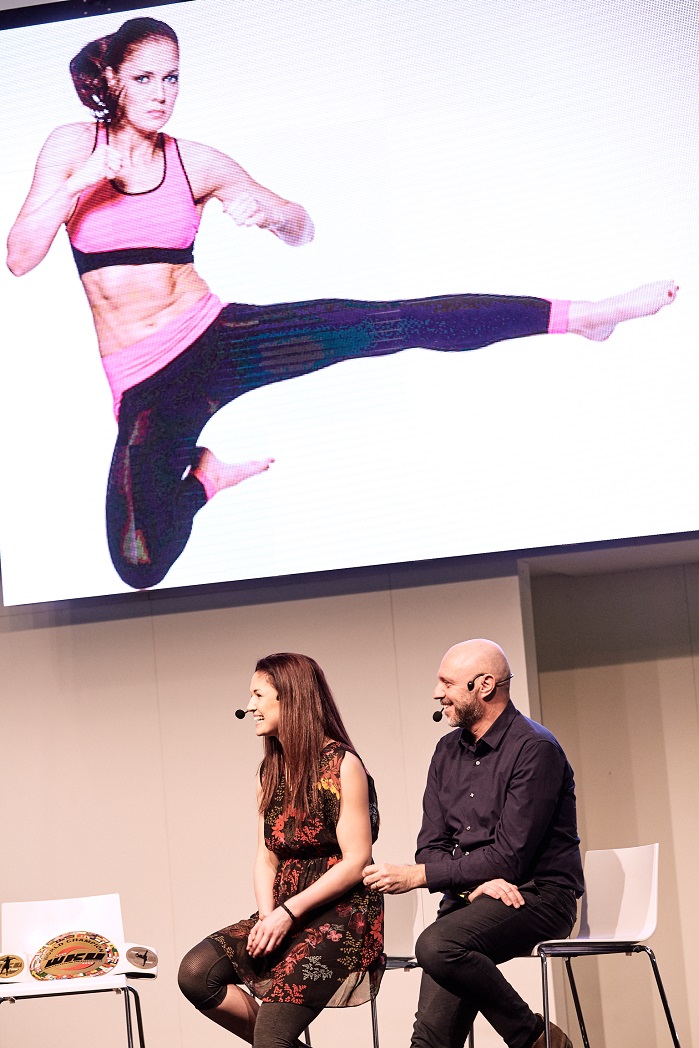 BG: Marie is working as a fashion designer with her own sports collection made of Nilit fibres. How did you both get together?
PB: It was through a common business partner. For years, we have worked closely with Thomas Lutz and his company Edmund Lutz, who just developed and launched with Marie her first women´s sports collection Royal 13. Nilit is the official yarn supplier. We provide a series of special fibres which deliver a certain level of performance that makes these garments really unique from a performance point of view.
BG: Marie, you mentioned that you were interested in fashion already as a child. You were sewing, playing with dolls, and then eventually the boxing gloves came along?
ML: Yes, I sewed things with needle and thread that I wore. Later, when I was 16, the boxing came into the picture.
BG: Is it important for you to look good while you fight the girls and demolish them?
ML: Yes, it's really very important for me to wear nice clothes, when I'm in the ring, or in training. I'm a professional kickboxer, but I'm also a woman. I love nice clothes, they are necessary to feel good.
BG: Your first collection is called Royal 13, partly in collaboration with Nilit fibres. How is that working?
ML: I had the first contact with the company Edward Lutz about a year ago. They have been working with Nilit for years and years. My intention was to bring out my first women´s sports collection, Royal 13. To realise my dream made me very happy, especially because Lutz and his team are very experienced in stretch base layer active wear. For me as both, a fashion designer and an athlete, it's very important to have great partners and work on a high reliable level. It fit perfectly that Nilit worked with the Edwin Lutz company. They both are market leaders. I, as a world champion, am a leader too.
So, it's great for me to work together with such incredible companies and create my collection on a high-performance level with both of them. From sports I know how important performance fibres are and that´s what I want to add to my collection.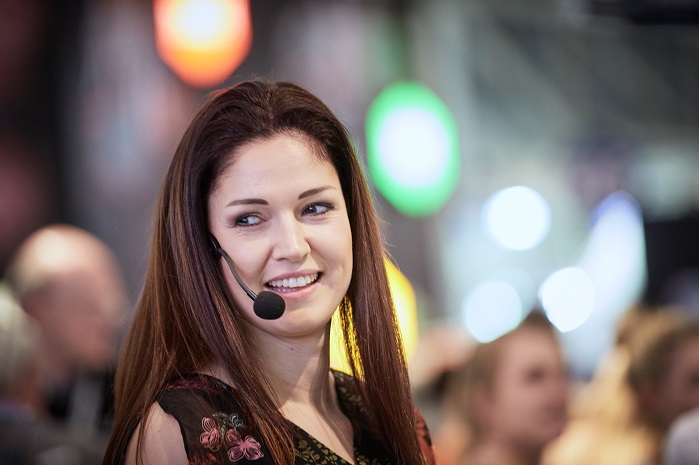 BG: In this context, the expression "It fits like a glove" is appropriate here. Is your collection mostly for active women?
ML: Yes, active women, not necessarily just for kickboxing. I address women who love all kinds of sports.
BG: Twenty or 30 years ago, parents would not encourage their young daughters to do fighting sports, martial arts or kickboxing. Clearly this has changed, because kickboxing has an amazing popularity now. How do you explain that?
ML: Kickboxing has become very popular, for both men and women. There are more and more women who really enjoy what were traditionally "male sports". It is a great sport to keep fit, for the whole body, as well as to build self-confidence and inner strength. Since I started at 16, I have developed a very different charisma through kickboxing. That has been very important to me, and the appeal of this sport, too.
BG: Would you recommend to everybody here at ISPO to start with kickboxing, or at least to try it?
ML: Yes, of course. It's a great thing. All of you are welcome to pass by my training centre at Frankfurter Ring, Munich. It is a great sport for everyone, no matter what age you are. Everybody should definitely try it. Also, I think it´s a great sport for girls and young women. They become stronger, physically as mentally. I realized I became a role model in the last few years when girls started asking me what to do to feel stronger in their life and decisions. Often, they feel resistance from their environment and a kind of head wind because kickboxing is still a "male" sport. I show them they it´s possible to do a tough, strong male sport and still be a feminine woman.