6th February 2019, Miami, FL
ATSM 2019 sets stage for new era in retail ecosystem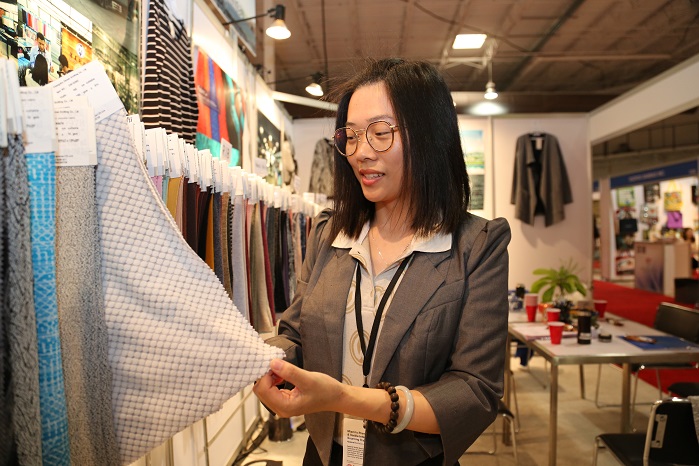 ATSM connects attendees with a wide variety of sourcing partners, product categories and service providers. © ATSM
The US and Latin American apparel industry professionals — from buyers to sellers throughout the B2B and B2C supply chain — will converge at the Mana Wynwood Conference Center in Miami from 28-30 May for the industry leading Apparel Textile Sourcing Miami (ATSM) show.
Launched in 2018, ATSM is returning to Miami double in size, connecting attendees with a wider variety of sourcing partners, product categories and service providers, and delivering a world-class seminar speaker roster. With ATSM and Miami Fashion Week now occurring on the same dates just a few blocks away from each other, it is expected that more than 12,000 industry professionals will be in South Florida during this time.
"The overwhelming response of the show is a reflection of the success of last year's event as well as a market need for apparel and textile professionals to adapt to changing trade realities and keep up with the future of the industry," said Jason Prescott, CEO of JP Communications, producer of the show and publisher of North America's leading of business to business trade platforms TopTenWholesale.com and Manufacturer.com.
Attendees will have opportunities for Q&A with speakers and panellists. © ATSM
Applauding ATSM for filling a market gap in bringing global opportunities to Miami, celebrity designer Rene Ruiz, Miami's leading fashion innovator and ambassador of solidifying South Florida as a global fashion talent magnet, explained that "our region has been in need of infrastructure and access to production for a very long time. The debut of ATSM 2018 was very successful, providing designers and sourcing professionals global reach to manufacturers. Designers and many more of us who participate in Miami Fashion Week, now can seek new production partners during the same week in close proximity. ATSM also attracts many more buyers and brands, giving us designers to source and sell."
Apparel and textile trends
In addition to experiencing the latest fashion production trends first hand, ATSM visitors will learn about the key role cyberspace is now playing in the sourcing ecosystem and how eCommerce, which was once a topic confined to retail businesses, must now be understood and implemented by suppliers and SAAS businesses throughout the entire sourcing supply, show organisers said.
Attendees will have opportunities for Q&A with speakers and panellists on the subjects of B2B omni-channel marketing, dropshipping, B2B2C software solutions, near-shoring and reshoring, cross-border eCommerce for factories and online retailers, and more.
Microbrands to take centre stage
Digital disruption from brands with cyber incubation such as Bonobos, Glossier, Everlane and Casper are shifting consumer habits with innovative new store concepts to meet market demand.
ATSM visitors will experience the latest fashion production trends first hand. © ATSM
As microbrands increasingly define consumer buying habits, ATSM 2019 will focus on the future of retail and demonstrate how microbrands are expected to change the face of the industry's transactional infrastructure from raw materials to retail.
"The apparel businesses throughout the supply chain that will succeed in the future will be those with a magnified understanding of their sourcing and selling algorithm. These factors include quality, minimum order quantities (MOQ), skill of sewers and mill knitting/weaving, logistics costs, tariff vs free-trade supplying countries, eCommerce sales and the numerous intangibles fostered through interpersonal global trade relationships," commented Chase Vance, ATSM International Director.
New show sections announced
ATSM 2019 has announced the launch of a dedicated Footwear Pavilion, a Technical Textiles section and live demonstrations of state-of-the-art machinery. As robotic automation in manufacturing is increasingly adopted, the ability to produce merchandise at lower cost will allow microbrands to add more design seasons to their collections and new designers to enter the market.
This article is also appears in...