12th February 2018, Kortrijk
BMS hardware connects machines to digital Cloud
Belgian Monitoring Systems (BMS), a leading supplier of turnkey MES solutions for the textiles and plastics industries, offers a new family of data collection hardware (data units), which now allows full disclosure of all data collected from the machines.
The BMS Manufacturing Execution Systems (MES), being a combination of data collection hardware and application software, enable managers to achieve operational excellence and to rapidly respond to changing conditions. Until lately, this all happened locally in the plant, with some pre-configured access to the information from outside the company or from third party applications.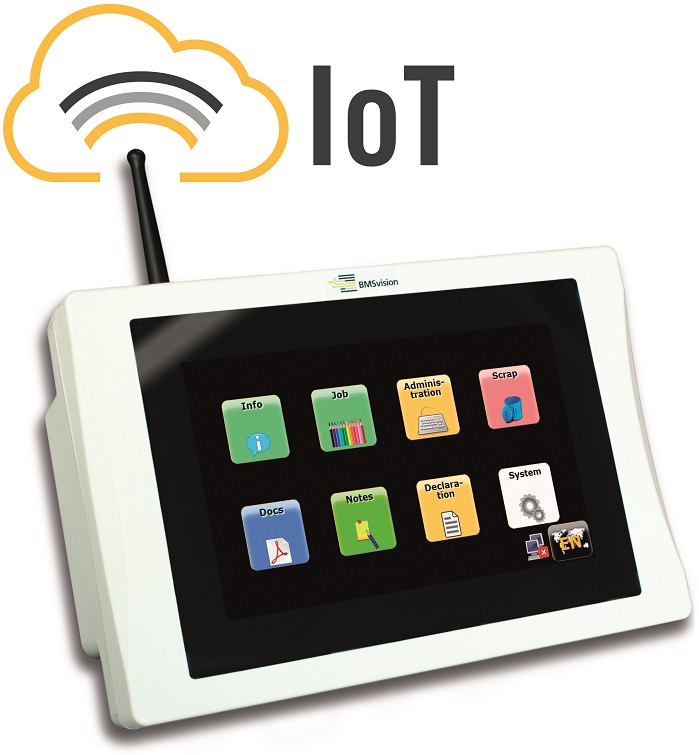 The company's latest generation data collection hardware (data units) includes an IoT broker, allowing direct access to real time information from any remote location or external IT applications. Using standard IoT (Internet of Things) protocols, the data collected from the machines is published in the Cloud. As such, this information is not only available for managers and employees wanting to access plant data from anywhere in the world, but also for non-BMS applications, such as ERP systems or third party developed Apps.
Furthermore, all data units offer a uniform web-based HMI, allowing easy use at the machine or from any remote mobile device, such as tablets or smartphones.
BMSvision, established in 2007 as a carve-out from the Barco group, is a leading supplier of Manufacturing Execution Systems (MES) for discrete manufacturing, with focus on the textiles, plastics and pharmaceutical industry.
Under the brand name BMSvision (formerly BarcoVision) and with over 30 years of experience as a former division of the Barco group, BMSvision offers a wide range of systems. BMSvision is present at key locations around the world, either with own branch offices or through a worldwide network of agents and service centres.
This article is also appears in...