Technology/Machinery
Merz launches new medical compression hosiery machine
Specialist German producer of circular knitting machines for medical stockings Merz launched a new four feed machine with reciprocating heel and toe movement at last month's ITMA. The Merz CC4 II replaces the company's tried and tested CC4 MED model for the production of medical compression stockings in classes I to III. The four feed CC4 II high-efficiency circular knitting machine is also suitable for the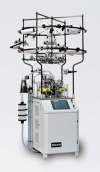 13th October 2011
Innovation in Textiles
| Barcelona
Specialist German producer of circular knitting machines for medical stockings Merz launched a new four feed machine with reciprocating heel and toe movement at last month's ITMA.
The Merz CC4 II replaces the company's tried and tested CC4 MED model for the production of medical compression stockings in classes I to III. The four feed CC4 II high-efficiency circular knitting machine is also suitable for the production of made to measure anti embolism stockings, knee braces, ankle protectors and fine ladies pantyhose with reciprocated heel and or toe.
The reciprocating movement of the CC4 II allows the knitting-in of the reciprocated heel which is a prerequisite for medical hosiery and optionally a reciprocated toe can be knitted. Merz' positive feeders allow the feeding-in of inlay yarns to produce the compression effect with controlled feed-in yarn tension in each knitted course.
The CC4 II's integrated double-welt device allows the knitting of double-welts, elastic welts and double-toes and the machine's diagonal stitch cam movement allows improved plating.
Notable differences between the CC4 II and its predecessor are: moving stitch cam instead of moving cylinder; more possibilities with 8 yarn finger per feed instead of 6; dial movement now controlled by step motor; each feed now has two clampers for fixing elastane yarns; in heel needle selection a new cam selects for start and stop in heel; and the picker is electronically controlled.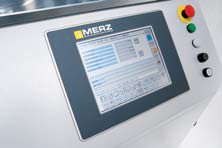 The CC4 II is also fitted with a new 10.4 inch touch screen colour display which allows easy operation of the machine.
"The higher performance and easier handling of the CC4 II in comparison to the CC4MED is helping Merz' customers to improve their production efficiency in every day operations," explains Merz' Sales Manager, Martin Rein.
"The simplified operation and programming with the big 10.4 inch touch screen and the improvement of the programming software as well as the easier access to the new machine allows significant time savings with the result to save labour costs," Mr Rein added.
On show in Barcelona was a 4 ¾ inch, 360 needle, gauge E24, CC4 II machine. The CC4 II is available in diameters from 3 ¾ - 6 inches and in gauges E16 to E41 and gauge changes are possible. Running speed varies according to yarn and knitting conditions but as a guide a 6 inch diameter machine is quoted as being able to run at 270 rpm and a 3 ¾ inch diameter machine at 400 rpm or a speed factor of 1600. The CC4 II is said to be able to run at speeds of up to 20% higher than its predecessor yielding an overall productivity gain of approximately 8%.
The focus for Merz as a company is definitely machines for compression and other medical hosiery, although the company does still manufacture body size machines for medical applications. Although the first CC4 II was constructed about one year ago, ITMA was its first public outing after being thoroughly tested at a customer's factory.
Merz specializes in single-jersey circular knitting machines with small diameters and is a leader in the field worldwide. The company was founded in Hechingen in 1900 as a mechanical workshop by Carl Merz for the service and repair of Singer sewing machines. Shortly afterwards Merz began to build circular loop wheel knitting machines.
After the Second World War, Merz started to produce double-cylinder circular knitting machines for the production of socks, with the first machine being delivered in 1948. At the beginning of the 1950s a circular knitting machine for the production of nylon stockings was developed and these machines were delivered to customers from 1955 onwards.
In 1962 the company moved to its current location on Haigerlocher Straße in Hechingen and from 1970 onwards Merz has specialised in machines for the production of medical stockings.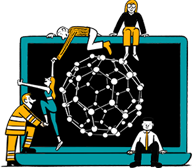 Business intelligence for the fibre, textiles and apparel industries: technologies, innovations, markets, investments, trade policy, sourcing, strategy...
Find out more