Interview
Tech start-up leads way for global customisation in fashion
Innovation in Textiles spoke to YR co-founder Tim Williams about the company aiming to redefine the way we shop for clothes.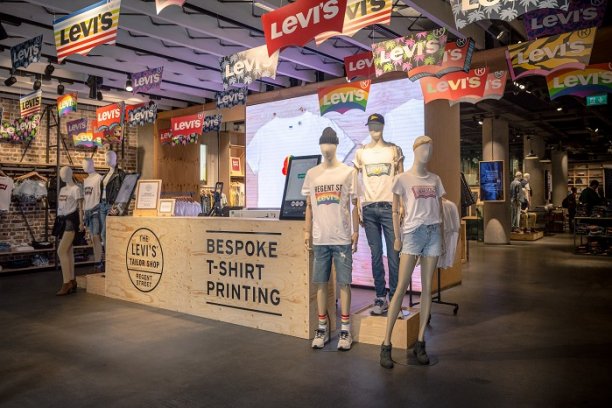 4th April 2019
Innovation in Textiles
| London
YR worked with Levi's to roll out an innovative print bar across Europe and US stores. © YR
YR combines innovative design software with 27 inch screens and state of the art printing technology, which enables consumers to create and print bespoke designs on apparel and accessories – live in store. The London based fashion tech company are attracting the attention of big global brands including DKNY, Ralph Lauren, Nike, L'Oreal and Levis.
Innovation in Textiles spoke to YR co-founder Tim Williams about the company aiming to redefine the way we shop for clothes.
Please tell our readers more about your start-up. What sets it apart from other technology companies offering printing services to brands?
Tim Williams: YR is a global customisation partner for brands. We help brands and retailers come up with incredible experiences and then deliver them through our innovative software and amazing global services team. YR is much more than a company offering printing services. What sets us apart is our vision for customisation and on demand printing from end to end – so at the start of the journey our unique software gives consumers an exciting and fun way to create designs, then we seamlessly create print ready files and automatically link in to a brands payment system or online platform.
The production can then be in store, or at a fulfilment centre. And, YR works in much more than just print – we enable multiple print technologies, embroidery, heat print and 3D printing and cutting to name a few. We can work with almost any digital output.
Can you walk us through the process of creating a bespoke garment using YR services?
TW: It does depend on the brand and the type of design and activation, everyone is different but in general there are similar steps, how long it takes can vary depending on how quickly you want to move people through the experience.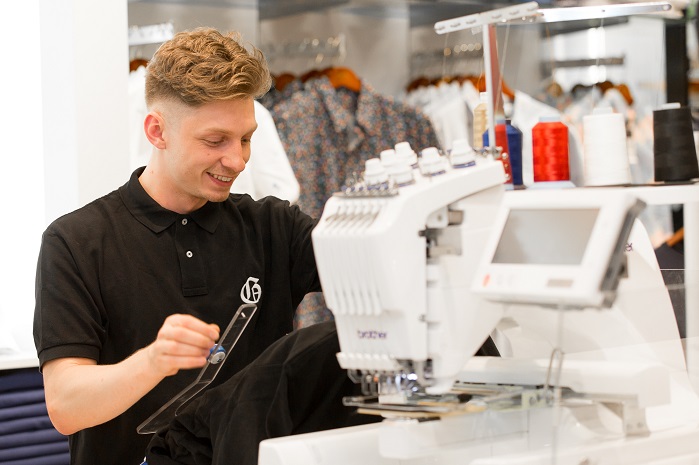 The company attracted the attention of big global brands including DKNY, Ralph Lauren, Nike, L'Oreal and Levis. © YR
Firstly, the consumer would approach the design studio and usually start using a large touch screen - these have great visual impact and are a great attractor as well as being great to use. They then use the YR software to create their design in a variety of ways – from simple adding text to more detailed design, changing colours and really getting creative. This can be a couple of minutes upwards, then they are guided to the next steps of the process and make payment.
The production is automated as much as possible, so the print or embroidery takes between 2 and 10 minutes depending on the complexity. The YR software can collect a mobile phone number so the customer can carry on shopping and get notified as soon as its ready.
What has been the response from the brands that you partnered?
TW: Response has been great! We are very lucky to have worked with some of the world's great fashion and lifestyle brands, as well as a huge number of other clients across all industries.
We have worked with Levi's to roll out a highly-innovative print bar across Europe and US stores, and the feedback has been super positive. As we move into new technologies and also offer our platform online now, we expect to carry on exciting our customers and innovating in this space.
How does this new era of customisation technologies and on-demand manufacturing change the fashion industry? Is it a change for the good?
TW: YR has focused on experience at the heart of our business – we can drive people into customisation and on-demand production by creating a fantastic experience end to end. When customers create a custom print in-store or online they are actually buying an on-demand item made just for them. Our platform manages that process from end to end and its possible to extend that to on-demand, so the customer can just choose a design without customising it and its made on-demand.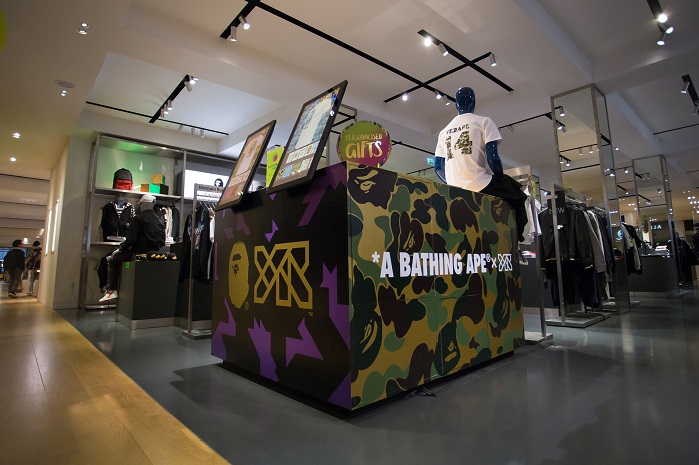 Taking place on the menswear floor of Selfridges, Oxford Street, the YR x A Bathing Ape collaboration offered exclusive prints and patterns designed specifically for the collaboration. © YR
This move to a more demand driven model is a huge change for good in the fashion industry, on-demand reduces oversupply and wastage. It means a move towards brands investing more in blank goods and producing the final printed item closer to the consumer, eventually this will be a super quick, hyperlocal service. It's an exciting time for the industry and will help to make fashion more sustainable as a business.
Do you think this kind of customisation in fashion will remain a niche market for brands to engage with consumers and offer a fun experience or does it have a bigger role to play?
TW: It really is both of those things. First off customisation at event or in-store is experience led – it's a way to drive customers into the store, engage with them and give them an amazing take away – it is not niche, but it will be limited in scope as a market.
If we take that experience and apply it to on demand where customers are buying online and then having it delivered very quickly to their door – this really does show that customisation is the tip of a much bigger industry. We are working on some exciting projects with brands which will show you can do both – experience led, but with all the benefits of on-demand mass production.
What collaborations that you did with fashion and apparel brands are most memorable to you and why?
TW: For me the most exciting collaboration was Bathing Ape – for the first time ever consumers were able to customise their Bathing Ape tees and the response was phenomenal. I have to say I have a very big soft spot for our work with Levi's as I have always loved the brand, the heritage and the product. Working with them and rolling out stores was a hugely proud moment. Most recently, our collaboration with DKNY was extremely innovative and exciting, where we actually 'popped-up' online for a fixed period of time with limited availability.
What are your plans for the future?
TW: The future for YR is super exciting, not least because of the shift to on-demand we are seeing happen at a rapid pace. This year we will showcase some of our newer projects with our great customers as we strengthen our global coverage. Along the way this year we have some exciting innovation particularly around earlier stage manufacturing and new production technologies. Our vision for YR is to be the global customisation and on-demand partner of choice for brands, retailers and content owners. We are building the team and our tech platform to enable this.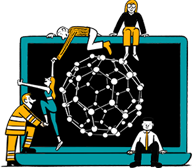 Business intelligence for the fibre, textiles and apparel industries: technologies, innovations, markets, investments, trade policy, sourcing, strategy...
Find out more