Like its parent show in Frankfurt, Techtextil/Texprocess 2016 North America, which finished its three-day Atlanta run on May 5, offered visitors an overwhelming array of textile-related developments geared primarily—but not entirely—to technical markets.
According to the organisers, the combined exhibitions enjoyed a 13% growth in square footage for 2016, with a total of 519 exhibitors, and over 7000 visitors pre-registered. The shows were held in conjunction with the JEC Americas Composites Show.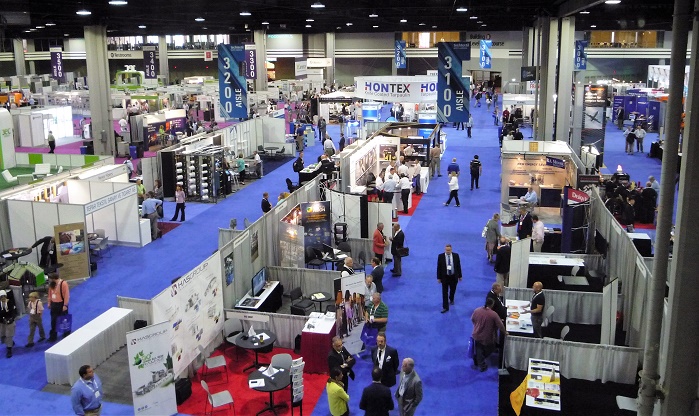 Unlike the Frankfurt show, however, exhibitors and visitors at the Atlanta edition were mostly focused on doing business in the western hemisphere, where potential customers include 40% of the world's consumption (by volume) of personal protective equipment (PPE), and a military budget of US$1.5bn (according to OTEXA) for clothing and equipment which by law must be sourced domestically.
US textile mills are also finding opportunities in the market for nonwovens used in automotive and building insulations, as well in bedding—components which are too bulky to ship long distances economically. In addition, several of the major apparel brands are developing increasingly technical product and emphasizing manufacturing in the West, utilizing automation and robotics to compete with less expensive offshore labour.
"US brands and retailers want production close to the market, and advanced technology is essential," stated Dave Gardner, managing director of the Sewn Products Equipment & Suppliers of America (SPESA), which co-produced Texprocess N.A.
New developments in PPE
According to Mary-Lynn Langraf, senior international trade specialist for the US Department of Commerce/OTEXA, the market for PPE is expanding beyond military, first responders, and oil/gas/electrical workers to now include general industrial workwear and apparel for recreation and sports. Comfort is a major issue, driving demand for light weight layers and better styling.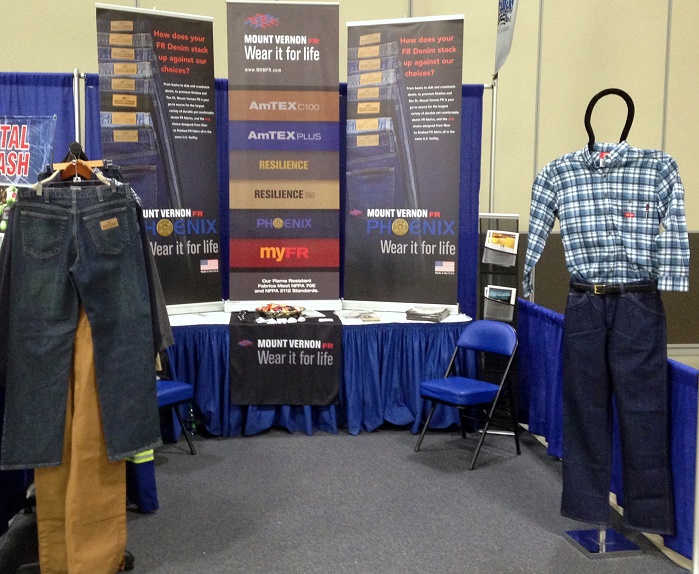 Fabric mills have responded with blends of natural and inherent FR fibres, and new technologies that wick and breathe as well as protect. Mount Vernon Mills' portfolio included AmTEX™ TC woven shirtings in blends of cotton/TENCEL®; PHOENIX FR cotton denims in a wide range of weights; and inherently FR RESILIENCE™ fabrics in blends of cotton/Nomex®. The company is vertical from yarn spinning through weaving, dyeing, and finishing.
Safety Components' patented Filament Twill Technology™ enabled lighter weight fabrics with improved protection. The twill weave, combining filament Kevlar® with a spun Kevlar® blend yarn, is said to be more comfortable and flexible than the traditional rip stop fabrics used in firefighters' turnout gear.
At SSM Industries, Pro-CFR® flame resistant cotton fabrics featured Cotton Incorporated's TransDRY™ moisture management technology, and an anti-odour treatment. The latest development at the company, which knits, weaves, dyes, and finishes its own products, is a line of soft, wickable, no melt/no drip filament knits called Pro-FilFR®.
Glen Raven Technical Fabrics (GRTF) has added Hi-Vis and Hi-Vis Anti-Stat modacrylic blends to its GlenGuard FR fabric line. "In general, we are seeing an increased demand for the traceability and peace-of-mind afforded by US-sourced FR materials," commented Rich Lippert, marketing director at GRTF.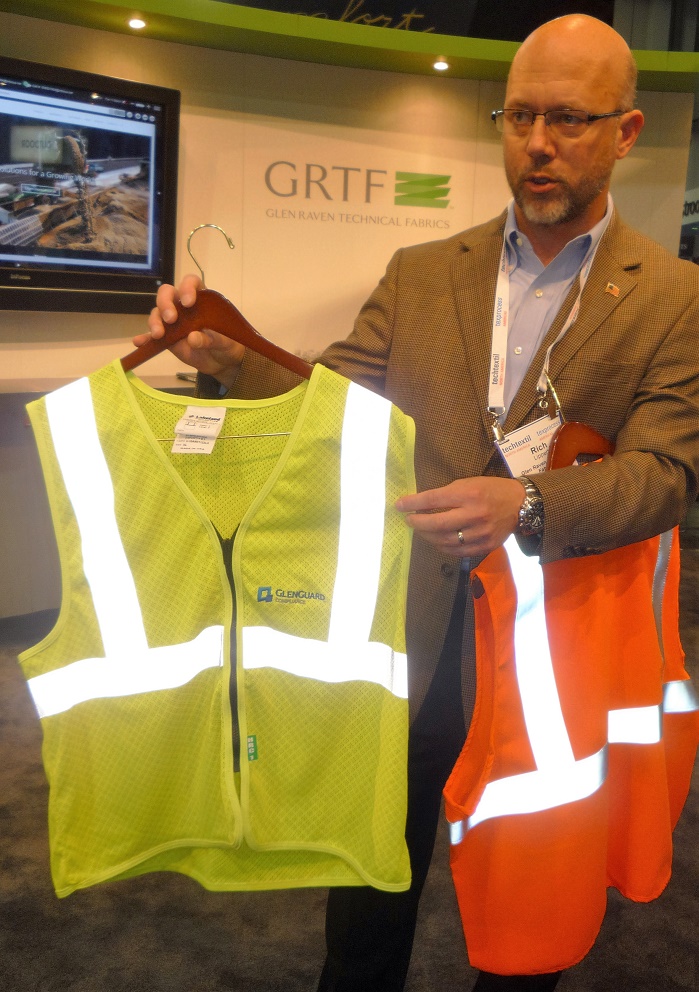 Knitters of traditional apparel fabrics, such as Coville, Minnesota Mills, and Draper Knitting, were in agreement. "Our biggest market segment is fire service," concurred Dave Wedge, technical fabrics product manager for Draper.
Yarn spinners such as National Spinning and Pharr Yarns are increasingly focused on the PPE market. At Buhler Quality Yarns, known for their super-soft Supima®, TENCEL®, and MicroModal® yarns, the push is on to develop "hybrid" yarns that will "make pima cotton more technical," confided VP of sales David Sasso.
Advancements in sustainable options
The necessity to produce product in a more sustainable way is driving innovation in all aspects of textile manufacturing, and there was a range of sustainable options presented at the show for industrial textiles as well as in the apparel segment.
Some 85% of the colourful nonwoven insulations and bedding materials at Carolina Nonwovens, a division of National Spinning, were created from recycled textile materials. Leigh Fibers, a 100-year-old textile recycler in South Carolina, utilises everything from denim shoddy and spinning waste to Kevlar. "Nonwovens is the biggest aspect of textiles in the US," confirmed Uwe Deligne, Leigh senior account executive.
Poole Fibers' EcoSure® BioBlast™, a biodegradable polyester fibre made from 100% recycled PET bottles, targeted the nonwoven wipes industry. The soft, durable fibres were shown to biodegrade twelve times faster in landfill conditions, over a year, compared with traditional petroleum-based fibres.
The controversy regarding durable water repellent (DWR) finishes containing perfluorinated chemicals (PFCs) is one of the biggest challenges for manufacturers of performance and protective apparel. While the chemical suppliers were mostly absent from the show, Massachusetts-based Bolger & O'Hearn took a stand to promote their F3 fluorine-free finish, said to outperform many C6 DWR chemistries.
"Our fluorine-free product stands out for its performance past 20 washes," explained sales manager Shawn Honeycutt. "The adoption rate for fluorine-free DWR is not as high as it should be. The European brands are much further along."
Another synthetic application under fire, polyurethane (PU), can now be replaced by Covestro's INSQIN®, a waterborne technology processed without solvent; eliminating harmful substances and saving up to 95% of water normally used to wash the solvent out.
The magic of the machine
It's hard to surpass the dramatic impression made by the textile finishing machinery at the show. Jeanologia's sustainable technologies for finishing denim combined laser spray and nano bubbles to eliminate the use of damaging chemicals and conserve water; and the onsite demonstration of its laser technique drew a crowd.
While ApJET's plasma-based textile finishing machine was not on display, the company has "made a lot of progress," in areas such as FR and DWR chemistry, said director of sales, Martha Miller. Because the technology uses no heat or water, which can degrade aramids or high-tenacity fibres, performance and PPE materials can potentially be lighter in weight. The company has also developed a unit to recycle the helium used to generate the plasma, which reacts with the textile finishing chemistry to form a covalent bond.
Digital ink-jet printing, used to print paper for sublimating prints on synthetic fabrics for the athletics market, has been widely accepted as a more sustainable printing option. Gerber Technology's Z1 cutting machine handles a whole roll of pre-printed individual garment pieces, eliminating wasted ink and the need for pattern matching. The pre-printed, laser-cut pieces can go right to the sewer.
From 2001 – 2013, the US textile industry invested US$20.5bn in new plants, equipment, and recycling centres, according to OTEXA. SPESA's Gardner believes that the trend is continuing. "China and India are now seeing the advantages of manufacturing in the US," he pointed out.