Digital coating
What is going on in the production area that will affect the C&L industry? Marc Van Payrs, Head of Textile Department and Research Group, University College, Ghent (Belgium) commanded attention with his presentation on digital coating – essentially using variations of the highly developed ink jet process not only to decorate and print graphics on fabric, but to actually put down coatings.
The system shows promise for greater use due to its flexibility. While most of the work is being, total coverage or in patterns. Work is now in the "standard" to "mid-range speeds of 20--75 m2/hour with speeds to 170-450 m2/hour "high speed" being developed with promises of speeds up to >4000 m2/hour. Researchers and producers are working on key issues such as nozzles, inks, wider machines and fabrics, improving fabric treatments for accepting the inks, while enhancing production and specialized applications.
Why digital for coating? Van Payrs cites efficient use of resources, linking functionality and creativity (not always possible with current systems), pattern coating on demand, possibility of digital printing and conventional coating on same line, use of printheads on commercial coating machines, less inventory needs (print/coat on demand), no set-up costs, and minimal waste, among others. Digital has the potential to revolutionize the business models of the coating industry. Digital printing has evolved into a major market – digital coating is a logical next step.
Green Theme
Gary Selwyn, president of Green Theme Technology (USA), made an impact on the audience with a dry, non-plasma finishing process that shows great promise. Previously a pioneer involved in efforts to commercialize atmospheric plasma, Selwyn has moved away from that field, feeling plasma is so expensive with too much work involved to commercialize, his new thermal dry cure technology accomplishes the same goal; that of being environmentally friendly and sustainable without using fluorocarbon technology (coming under attack by environmentalists).
He feels his technology will develop the best-performance water repellence and laundry durability, while being cost competitive with wet padding. Using what he considers a superior newly developed hydrocarbon based chemical technology, which he claims is superior to the best fluorocarbon finishes. Demonstrations with videos showing his treated samples versus fabrics with CA6 and CA8 (carbon short and long chains) conventional fluoropolymer systems now in use.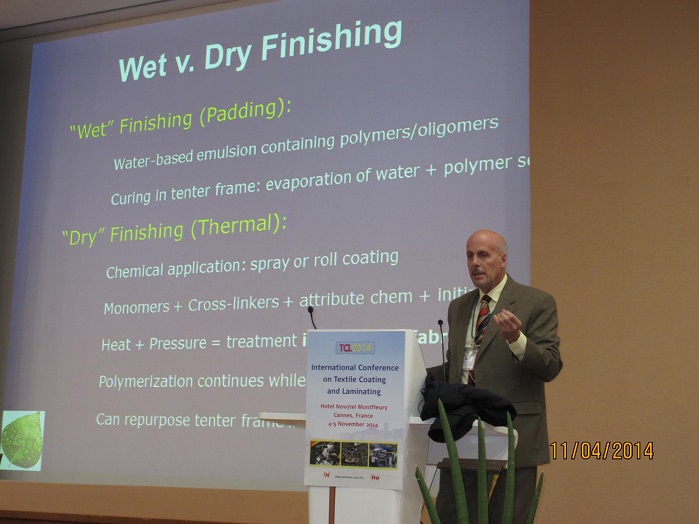 The process involves proprietary chemical solution of monomers and cross-linkers requiring less than 30 second of heat and pressure treatment with plasma or thermal curing for the polymerization process. Heat treating on a tenter is much less expensive than plasma, Selwyn said, and can be easily integrated into most existing finishing plant. Polymerization conversion is inert, biodegradable and provides no waste stream, thereby being environmentally responsible.
The new approach is said to be suitable for all fabrics, has much lower capital and operating costs. Several patents have been filed. Fabric and evaluation treatments are currently available in their full-width treatment pilot plant. Green Theme is looking for license partners as well as equipment builders. Based on the crowds meeting with him after his talk, it may not take long.
From wet to dry finishing
Prof. Marc Van Payrs did "double duty" by presenting a second paper on changing wet to dry finishing with his talk on UV curing. Van Payrs emphasized needs for new production technologies for more versatile systems, suitable for shorter runs, reduced impact on the environment, lower costs, and no/less need for inventory.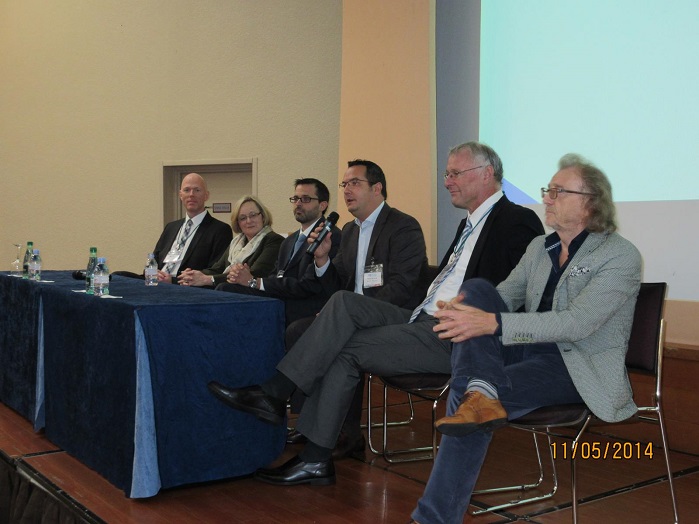 Water availability and low cost heating costs have become critical issues in many areas (Europe). With new chemistries, choices of monomers and oligomers as well as UV source, and system tuned to the materials being coated, all play a part in the success of UV curing. Challenges involve a number of issues, including odor/smell, possible eye and skin irritation, monomers not always curing properly, some adhesion concerns and some shrinkage problems. Yet, he feels UV curing will gain hold to provide a more friendly process, turning a traditional wet to a dry process.
India potential
With discussions of the growing and dominate market in China, Barry Goodwin, Managing Director of Amber Projex Ltd (UK) outlined the potential in India, a rapidly growing supplier of coated fabrics for internal use and for export. With the world's second largest population, India had an overall textile market in excess of US$223 billion in 2012, with a 10.1% CAGR. Yet only 10% was said to be in technical textiles. While growing some 11.2% over five years, some 30% of its needs are imported.
India is a complex country, Goodwin says, making it difficult for outsiders to penetrate. A jumble of specifications and often government regulations and questionable activities has made things difficult. Amba Projex itself, successful at supplying coating machinery, has a unique business model of utilizing collaboration partners, inside and outside India. Amba has extensive experience, knowledge and entre into the Indian market with its long-time relationships and well-placed Indian partners.
Who is buying coating machinery? Start-ups, entrepreneurs who see the potential, and several of India's large, well-known companies. Goodwin says the Indian government plans to train over 3 million workers in the next 5 years which will supply a significant work force. Funds for start-ups in certain fields, including technical textiles, will be provided.
How to succeed penetrating India? Goodwin says appoint a first class agent who has credentials, visit often and do the homework, build relationships, references are valued, detect professional operations from the start, and value your offerings, and demonstrating added value and guidance you can provide. Sounds like a good plan for doing any business anywhere.
Nanotechnology
Several speakers addressed the current favorite topic, that of nano-textiles. Andreas Leson, Department Head, Fraunhofer Institute (Germany), summed it up thus:
1) There is no single nanotechnology, rather there exists many different nanotechnologies – it is important to understand that.
2) Nanotechnology has influence on almost every industrial sector.
3) Most applications are evolutionary and not revolutionary.
4) Many products of our daily life already rely on nanomaterials, nanostructures, and nanocoatings.
There are a lot of opportunities not yet explored, he says. A graph showing a growth of virtually zero to some 3000 million dollars for manufactured products by 2014 was presented, though Leson says that global market estimates miss the point as they address the complete value chain, not specific with respects to branches and products (similar to Smith's "leaves on a tree"). Nanotechnology contributes significantly to the functionality of many end products.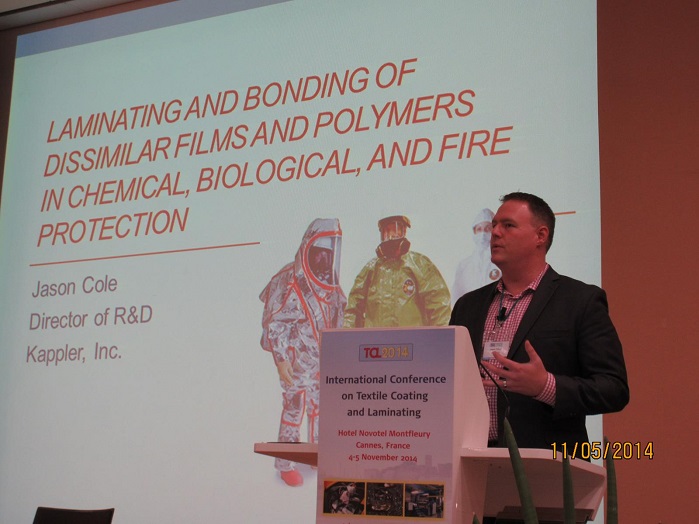 A number of other well received topics included special spinning of nano fibers, thermoplastic urethanes (TPUs), antimicrobials in coated fabrics, silicone in C&L, a unique way to use plasma in surface preparation, bonding of dissimilar polymeric films for chemical protection garments, cross laminating of nonwovens for C&L, new aspects on of integration of nanotextiles in textiles to produce various functionalities, along with several talks on various environmental efforts in textile coating and laminating machinery.
CDs of the conference proceedings are available at www.intnews.com/tcl