Opinion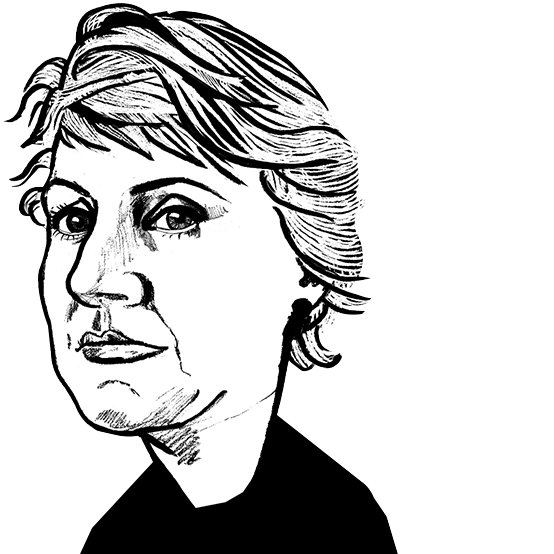 The dynamic relation between humans and clothing
Marie O'Mahony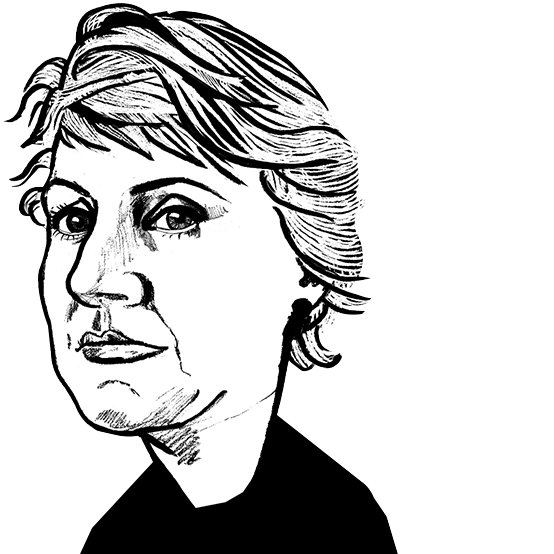 Conference discusses 3D and 4D scanning, digital simulation, soft avatars and more.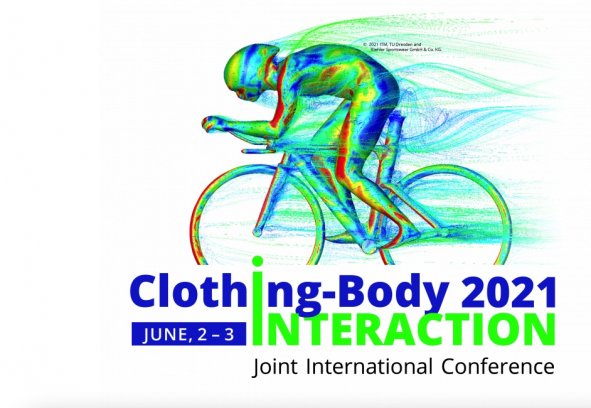 9th June 2021
Marie O'Mahony
| Online
The dynamic relation between human and clothing was the subject of the International Conference Clothing-Body Interaction 2021 held virtually and organised jointly by the Technical University Liberec and ITM, TU Dresden. The subjects under discussion ranged from 3D and 4D scanning and digital simulation, to soft avatars and new material developments in a biobased Dyneema as well as a novel carbon nanotube and aramid sensor.
New research and development in 3D and 4D scanning is providing the apparel and footwear industries with answers to many questions, but with this increase in knowledge comes a whole range of new tasks.

Conference co-chair, Prof. Dr.-Ing. habil. Yordan Kyosev sees these advances in scanning as being particularly important for highly engineered textile products as well as those where the functions and comfort have to be maximised in order to provide protection against mechanical, chemical, temperature influences.
In his presentation on high speed body scanning and FEM simulations as tools for investigating the interaction between the human body, clothing and environment Dr Kyosev acknowledges that although the goal is the knowledge of the interactions within and around a single body, such investigation is still at an early stage with multiple strands.
"We can record movement up to 180 3D frames/second now, but how can we analyse and integrate this data in the remaining engineering tools?" he asks.
The case study of stab-resistant vests shows that not all interactions can be scanned. When the knife penetrates the fabric, the process needs to move to full multiscale body and textile simulation. A not inconsiderable issue when dealing with the recording of human movement is the amount of data needed for even a few seconds and the memory that is required for storage. Resolving issues such as this are as important to the research as evaluating the behaviour of fabric after laundry or collecting broad data about the mechanical and thermal behaviour of the human body under different type of loads.
Fit is fundamental to the digital transformation of the apparel industry
Magdalena Mlynarczyk, National Research Institute, Poland further reinforced this point in speaking about air gaps in protective clothing as a means of evaluating ergonomics and comfort levels: "Air is a good insulator but only when it is enclosed in space – however the human always moves!"
Air gaps as well as the contact area between the body and clothing impact both the mechanical properties of the fabric as well as heat transfer. The heat exchange in the air gap can take place by thermal conductivity and radiation in the case of smaller air gaps with thermal insulation increasing with the size of gap.
Convective heat transfer can be caused by the air gap being too large, which weakens the insulating properties. The body in motion can cause a dynamic change in the air gaps, particularly for lower gap sizes. As part of the testing and evaluation process to examine the correlation between apparel air gaps and the mechanical properties of the fabric, nine different kinds of cotton, linen and silk were used in a series of prototype garments that were analysed using stepwise regression analysis.
In undertaking human motion analysis using instrumented treadmills and motion capture cameras there is a need to provide a greater level of comfort and flexibility in the wearable technology.
Amit Chaudhari and colleagues at the University of Delaware are using electrophoretic deposition (EPD) as a method of producing carbon nanotube sensors. An aramid is used for the core fibre because of its strength and low elasticity. The CNT is deposited on the aramid and once compressed the fibre contact points increases resulting in a decrease in electrical resistance. Incorporated into knitted garments the technology is proving ultrasensitive in detecting motion at areas of flex such as the elbow and knee.
In offering an alternative to force plates and video motion capture in a laboratory environment, the researchers are looking to offer a reduced cost and more realistic collection of data based on the subject's movements recorded during daily activities in the own environment.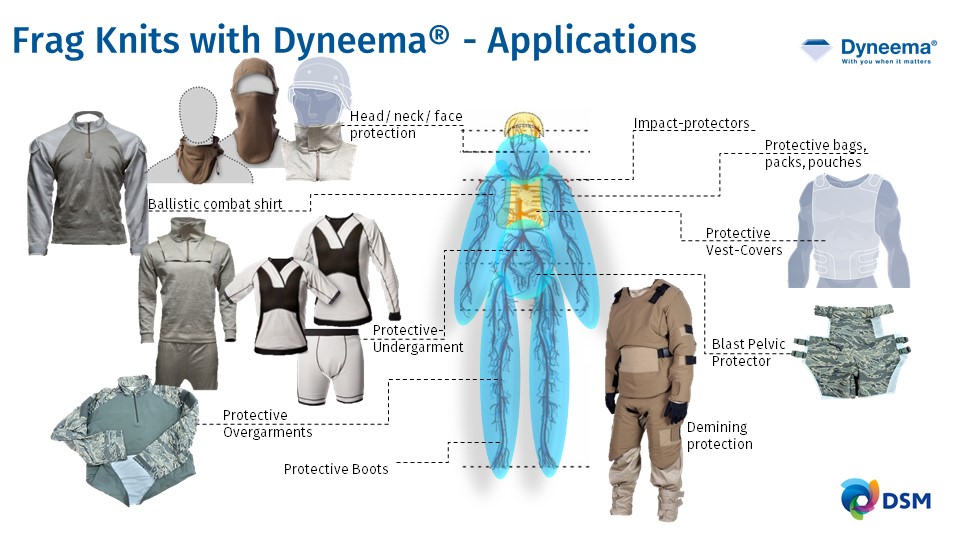 Improvised Explosive Devices (IEDs) kill or maim more people than any other type of weapon apart from firearms according to the United Nations (UN). Cheap, easy to make and access from 2011-2015 they have resulted in an estimated 105,000 casualties.
Conventional ballistic garments do not provide military personnel with sufficient protection caused by weaponised fragments penetrating garments to reach unprotected areas of the body. DSM estimate as much as 70% of the body is unprotected.
Looking to provide protection for humans and the environment, DSM have developed a biobased Dyneema using HMPE to provide the same weight to strength benefit of their conventional product, but with a carbon footprint reduction of 90%. The benefits of Frag Knits with Dyneema include greater comfort and moisture management, high tensile strength and lightweight. It can be integrated into the garment systems in a number of ways from removable inserts to liners and undergarment systems as hybrid, single or multiple layers.
While much of the focus of measuring garment size and fit is centred on movement, keynote speaker Dinesh K. Pai addressed the question of how we create trustworthy soft avatars. His company, Vital Mechanics is a spinoff with a group of his students from the Vital Mechanics Research & Sensorimotor Systems Lab at the University of British Columbia.
"Fit is fundamental to the digital transformation of the apparel industry," Pai comments, before going on to provide a compelling argument for the need to take better account, that is measurement, of human soft tissue.
Key to their solution is the use of their proprietary VitalProbe coupled with VitalFit software to provide a seamless integration of soft avatars into existing 3D workflows. In a Canadian study sponsored by DRDC Vital Mechanics simulated fit of body armour on both male and female soldiers using soft avatars constructed from 3D scans. Results showed a marked improvement in the prediction of shape, pressure and airgap. With Canada aiming to achieve a 25% female defence force by 2026 this is a potentially big market for them.
Fit, defined by Pai as the relationship between garment and body, is not entirely physical. A psychological lens also needs to be applied to take account of perception and preferences. This is the case whether a garment is worn by user selection as in the case of fashion and intimate apparel, or by demand such as workwear and military.
The diversity of garment types and application areas represented in the conference is a reminder of shared concern around proper size, fit, comfort and performance. With solutions offered ranging from fibre and fabric structures to soft avatar and high-speed body scanning this is proving for be a strong field for research, development and commercialisation.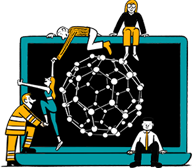 Business intelligence for the fibre, textiles and apparel industries: technologies, innovations, markets, investments, trade policy, sourcing, strategy...
Find out more