Cath Rogan reports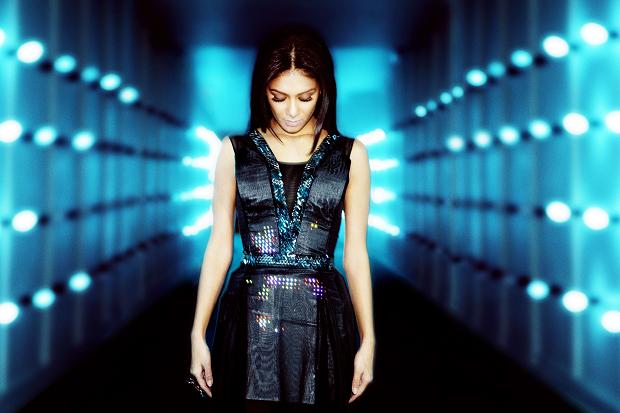 Twitter Dress by Cute Circuit
What's the collective noun for a group of Futurists? A "ponder" perhaps? I've never knowingly met one before but there were a whole bunch at London's wearable technology show, which took place at Olympia last month. Inevitably, there were also quite a few Google Glass explorers (a "gaggle" of glass…? No? OK. I'll stop that now).
Good technology isn't enough
Intel futurist and "chief evangelist", Steven P Brown opened the conference with a keynote pointing to 3 key trends helping to accelerate the development of wearable technology (or "wearables"): Computing is getting smaller (thanks to nano-scale transistors), computing is getting bigger (thanks to the giant remote cloud servers) and computing is getting more natural (or at least, our interactions with computers are). This means we can make almost anything a computer now and Steve had a few examples powered by Intel's own SD sized computer chip, Edison. Steve offered a note of caution, however, to counter the current hype surrounding wearables, good technology isn't enough. He argued that to be successful, wearables need to do things people really care about.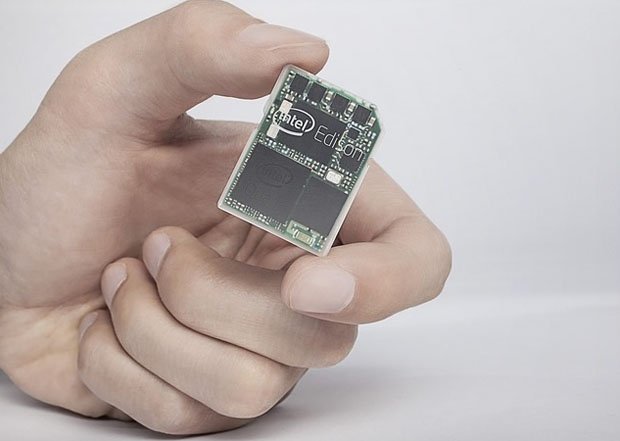 Intel Edison
With over 100 speakers, 40 exhibitors and 1,500 visitors/delegates at this inaugural show devoted to wearable technology, it seems that there's really quite a lot of stuff people really care about. On show was everything from smart watches, activity trackers and "life-logging" devices, to heads up displays (HUDs), new gaming devices, smart jewelry and of course, some smart clothing covering heating, health monitoring and lighting applications. Gadget heaven.
Packed agenda
With such a packed agenda, aside from some thought provoking keynotes and engaging panel discussions in the main auditorium, the remaining content was split into breakout workshop sessions. Workshop topics included Sports, Fitness & Wellbeing, Mobile Marketing & App Development, Lifestyle & Gaming, IoT (internet of things), Enterprise and Security, Digital Health and Smart Textiles & Fashion. There were also specific workshops covering business start-up & funding and Dragons' Den style "pitch" and product demonstration sessions for those looking to grab some funding or advice with their own wearable concepts. Running alongside all this was a hack-fest. It looked intriguing, but with so much else happening, I'm afraid I didn't ever figure out what was actually going on over there. There was a sudden buzz of excitement around midday of day one so I wandered over to see what great hacking breakthrough was behind it. False alarm. Turns out it was the pizza delivery.
Turnaround factor
An early panel discussion saw Sonny Vu of Misfits (makers of the "Shine" activity tracker) commenting on what is holding wearables back from success in mass markets. His response was that form and aesthetics are currently a big problem and that wearable technology needs to be "beautiful or invisible" to break this barrier. Misfits' own product is bucking the trend for chunky "plastic" wristbands and capturing a whole new audience of wearers because of it. Sonny also explained Misfits' aim to achieve "turnaround factor". That is; if you set off for work and realised you'd forgotten this item, you would turnaround and go back for it. So far, fitness/activity trackers aren't there yet.
The prize for the presentation that made me want to chew through my own arm (for clarification see http://www.innovationintextiles.com/smart-fabrics-europe-2013-conference-review/ ) went to one CEO who turned a "panel discussion" into one long infomercial about his own company's product. He seemed to forget for much of that time that there were other panelists on stage, which was a shame because most of the other discussions really stimulating and informative. Chairing a panel isn't the same as presenting your product and it showed. I'm sure they got all their product features and benefits across as planned, but it lacked the passion and enthusiasm you tend to get from business founders or the lively debate of other panels. Sadly, it was all a bit "meh".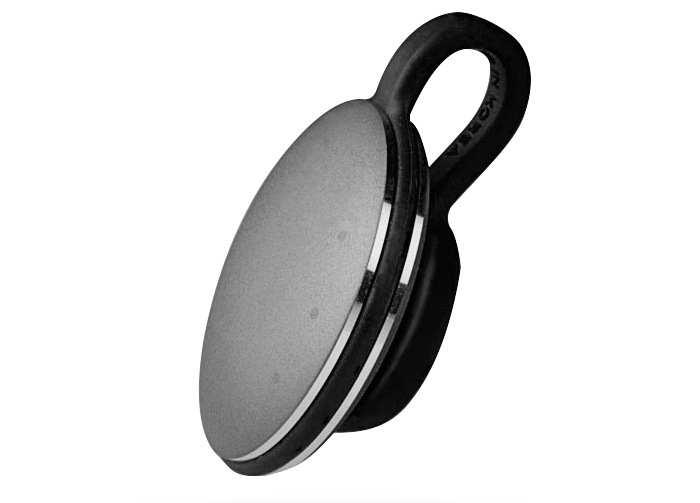 Misfit Shine
T-Shirt OS
Speaking of passionate founders, however, there were plenty at this show and all were truly inspiring. None more so than the effervescent and visionary founders of Cute Circuit, Francesca Rosella and Ryan Gentz, whose amazing creations had jaws dropping and whose Hollywood movie-style trailer for "T-shirt OS" had the audience laughing out loud (and wanting the T-shirt). Check out the video for yourself...
Whilst the current explosion in wearables has largely been driven and dominated by electronic hardware in the form of various body-worn accessories (activity bands, smart-watches, HUDs), it seems there is a growing consensus among that smart textiles and clothing represent some of the biggest opportunities for future growth and development. At the exhibition, AIQ, ClothingPlus and new start-up "Glowfaster" reflected a small, but growing presence of e-textiles and on stage, Reebok, Cute-circuit, Heapsylon, Smartlife, PDD and Footfalls and Heartbeats showed even more diversity and innovation across various presentations and panels. There was much more to see and hear in the conference than the exhibition alone, so if you are considering this show next time around, seriously consider buying a pass too.
The delegates included some major clothing brands, national retailers and at least one very large clothing manufacturer. However, delegate profile in general covered sports, health, telecoms and electronics brands, research institutions, designers, software and hardware developers, hackers, DIYers, start-ups, investors and even aerospace, automotive and military market representatives. For textile and clothing companies, this show is definitely not filled with the "usual suspects" and benefits considerably from that. These are still the early days of commercial collaborations between electronics and textile industries and this diversity of participants is where the value of these new connections lie.
Glowfaster running jacket
Useful products that people want to wear
I made some great new connections at the show, but also bumped into many I already knew, including a UK University who had their own e-textile innovation. If it works as they claim it does, it has incredible disruptive potential and will be of huge interest to the many technology investors who were present at the show. But here's the thing…they didn't bring it with them! Later that day, when asked by an audience member to comment on (yet another) newly announced activity tracker, Sonny Vu replied that he couldn't as it hadn't yet been released. He added "It's a lot easier to announce a product than to ship one."
In the world of wearables, there are lots of announcements and "launches", but when you try to track down the products behind the headlines…not so many. It's frustrating and all too common, so I share some of Sonny's skepticism when I see yet another product website still taking "pre-orders" a year after launch, or another glossy university brochure full of exaggerated claims for what turn out to be "lab-scale concepts". To make it in the long game, you could do better by cutting the hyperbole and focusing on making commercially viable products that are both useful and that people want to wear.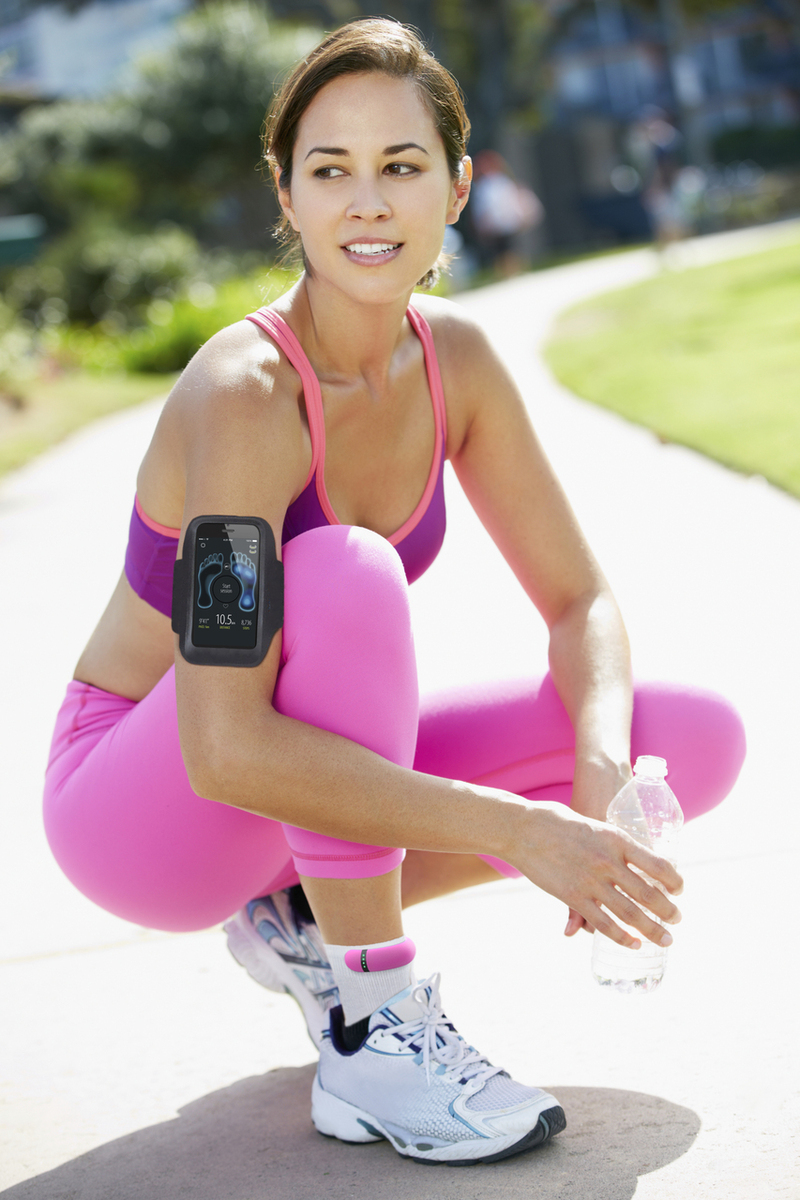 Heapsylon Sensoria Fitness Sock
The inaugural Wearable Technology Show was a big event, and it attracted a big audience; perhaps bigger than the organisers originally anticipated. Olympia's audio system struggled to cope with interference from all the smartphones. Likewise, the massive press interest caused a few moments of panic as organisers struggled (and occasionally failed) to pry speakers away from interviews to reach their stage slots on time. Despite these teething problems, however, the exceptional calibre and variety of speakers and exhibitors, combined with the mixed agenda of presentations, workshops and panel discussions, made this event stand out as something different. It already appears that next year's show will be at least twice as big and I predict it is set to become one of the cornerstone events in the future wearables calendar. Hanging out with all those Futurists must be rubbing off.
www.wearabletechnologyshow.net
About Cath Rogan

Cath Rogan is the Principal of Smart Garment People, a boutique consulting business that helps customers make clothing "smart" and technology wearable. Cath has spent over two decades developing technical fabrics and clothing for some of the world's leading outdoor and sports brands, including Karrimor, Berghaus, Barbour, Lowe Alpine, Henri Lloyd, TNF, Patagonia, Nike, Puma and Adidas. More recently, her work has taken her into specialist protective clothing for chemical, biological and ballistic protection, along with wearable health and fitness monitoring.