Industry Talk
VDMA discusses functional integration and sustainability
At ITMA 2015 VDMA member companies will demonstrate their new machinery technologies aimed at enabling sustainable textile production.
7th September 2015
Innovation in Textiles
| Frankfurt
In the run-up to this year's VDMA Textile Machinery forum, Nicolai Strauch from VDMA Textile Machinery discussed issues like functional integration, technologies, and sustainable production with member companies.
Dialogue partners were Jürgen Brockmann, Joint Director of Sales Thies; Wilhelm Langius, Head of Textile Machinery at Neuenhauser Maschinenbau; Benjamin Mayer, Managing Director, Mayer & Cie.; Steffen Müller-Probandt, Managing Partner, DIENES Apparatebau, and Thomas Waldmann, Managing Director, VDMA Textile Machinery.
The textile machinery association will be present at ITMA 2015 trade fair for textile machinery, which is set to take place from 12-19 November in Milan, where VDMA member companies will demonstrate their new machinery technologies aimed at enabling sustainable textile production.
NS: In this panel of industry experts we want to focus on the synergy effects of functional integration with regards to sustainability. Mr Waldmann, please let us know what significance the issue sustainability has for the textile machinery sector.
Waldmann: "For the VDMA member companies, sustainability is an integral part of their business. Already in 2011 we started the Blue Competence initiative. It aims to interconnect all of Germany's mechanical engineering industry, pooling the resources, know-how and strengths of VDMA members. Textile Machinery is one of 30 different mechanical engineering branches within Blue Competence. Altogether nearly 400 companies are participating."
"The textile machinery companies that are participating represent about two thirds of the branch's turnover. The initiative is also supporting the requirement of big client organisations. In March 2015 we agreed upon a co-operation with EURATEX, the European textile manufacturers association covering VDMA's Blue Competence initiative and the EURATEX-led Energy-Made-to-Measure campaign."
NS: What does functional integration mean?
Waldmann: "First of all, functional integration is a classic instrument of textile machinery engineering in order to shorten long processes or to make processes more efficient. There are numerous examples, just think of rotor spinning: Compared to ring spinning, the flyer step could be skipped. These kinds of functional integration are still important but more and more they are complemented by integrating functions for the customer's product development. In future even intelligence will be incorporated in machines and components."
NS: Mr Mayer, you are dealing intensively with the shortening of the process chain in textile production. What is it about and which economic and ecological benefits can a textile producer expect?
Mayer: "The normal sequence of events in circular knitting is that finished yarn runs into the circular knitting machine and is processed there. But our new technology Spinit starts working with the semi-finished "flyer" yarn, the yarn that has just left the pre-spinning machine, which is called the flyer. The innovative feature of this method consists of integrating a part of the spinning process in the machine, before or during the knitting process."
NS: What are the consequences for the production?
Mayer: "The semi-treated yarn is 3 to 5 mm thick, and now it passes straight into the circular knitting machine, where it is spun and knitted afterwards. The entire machine park involved in this process is then no longer part of the plan. A company that carries out the entire manufacturing chain from treating the cotton to the knitted product needs up to 40% less space to do the same job. We have also made some deliberate calculations: What does a kilogram of fabric cost normally, and what does it cost with Spinit technology? With Spinit, we can save as much as 25%."
NS: What does function integration mean to companies that build machinery and components for producing man-made fibres?
Müller-Probandt: "Firstly, Dienes has set itself the task of creating a modular pilot line in order to help research institutions in fibre technology in their efforts to develop new, innovative filaments. To this end, we ourselves have developed intelligent production modules that can be combined in a modular arrangement, so that the pilot line can be adapted to any new discoveries which are made during the development phase."
"Secondly, as the world of machine building becomes increasingly globalised, there is a constant requirement to increase efficiency and productivity levels. This is why integrated solutions with continuously improving efficiency are in such great demand. In our concept "Multimode®", the modules are sustainable because they can be operated very flexibly in the configuration of different process variants. In addition, the effort for software programming is minimised, which means that we ensure cost efficiency."
NS: Where is the biggest potential for function integration in the coming years?
Müller-Probandt: "End-to-end system concepts have potential. As is also revealed clearly in the large-scale Industry 4.0 project, the trend towards intelligent networking of production process data is becoming clear more and more. This means that also more and more powerful machine controllers are needed. On the other hand, of course, it is equally essential to be able to distil the important information from this welter of data, in order to generate real added value. This is why targeted function integration is becoming more important."
NS: Mr Brockmann, automation is very often mentioned in connection with function integration. For instance, integrated robotic that helps to manage hard manual labour. How do you help your customers to minimize the human error rate in dyeing plants dramatically and to diminish harmful work as well?
Brockmann: "In many factories, the dye is still brought to the preparation vessel in buckets by the operators – to ensure that the correct mixture is supplied for dyeing the next batch. We systematically continue to compress tasks in all production workflows as well as in the finished products."
NS: With the new machinery line, it is not only the actual dyeing that is carried out by robots?
Brockmann: "That is correct. They also take care of all upstream and downstream process steps. A robot system picks up the bobbins with the yarn, individually or in batches, and loads them onto a self-propelled bobbin carrier for transporting to the dyeing machine or the dryer. This means that the lids on the dyeing machine and dryer must open and close automatically at the right time as well. Unloading of the bobbin carrier after drying is also automated."
NS: What does this mean for your customers?
Brockmann: "Absolutely correct. With automation, the result of the dyeing process is unmistakeably better, of very high quality. Subsequent additions of dyes and chemicals to correct the result are significantly reduced. Making repairs after the run is very expensive for dyeing companies, and it seriously impacts the already very tight profit margins."
NS: Let's go back to the start of the textile chain. Mr Langius, which advantages does automation offer for spinning?
Langius: "As automation became increasingly widespread in natural and chemical fibre spinning mills, it gave rise to an enormous leap in productivity. It was then a logical progression to build apparatuses and systems that use technology to enable them to handle the heavy, delicate bobbins for natural, chemical and carbon fibres. In our vision, automation has a far more complex role than is generally thought."
NS: What does this mean exactly?
Langius: "The purpose is not just to lower payroll costs. In fact, our chief consideration in this undertaking is to reduce the need for manual handling of bobbins and the problems arising therefrom to the barest minimum. In this way, we help our users to improve the quality of their products. But automated handling systems also provide other advantages, such as a safe, high-performance product flow through the entire plant configuration, or a better use of factory space through compact machines and systems. They also help to maintain a clean, tidy and efficient manufacturing environment and a safe, ergonomically less burdensome workflow. Neuenhauser is already considering Industry 4.0 for its future developments. But we have only just started. I believe that the economy will only become fully digitised in a series of many, many small steps."
Waldmann: "Let me come back to the beginning of our discussion. Due to volatile prices for energy and resources as well as ecological requirements, sustainability is a main objective of technical developments. The solutions discussed by the member companies showed different aspects of function integration. They enable more efficiency, optimize production processes, reduce material consumption and make work flows easier for the operating staff – which means that they provide concrete examples of sustainability."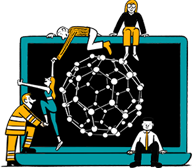 Business intelligence for the fibre, textiles and apparel industries: technologies, innovations, markets, investments, trade policy, sourcing, strategy...
Find out more