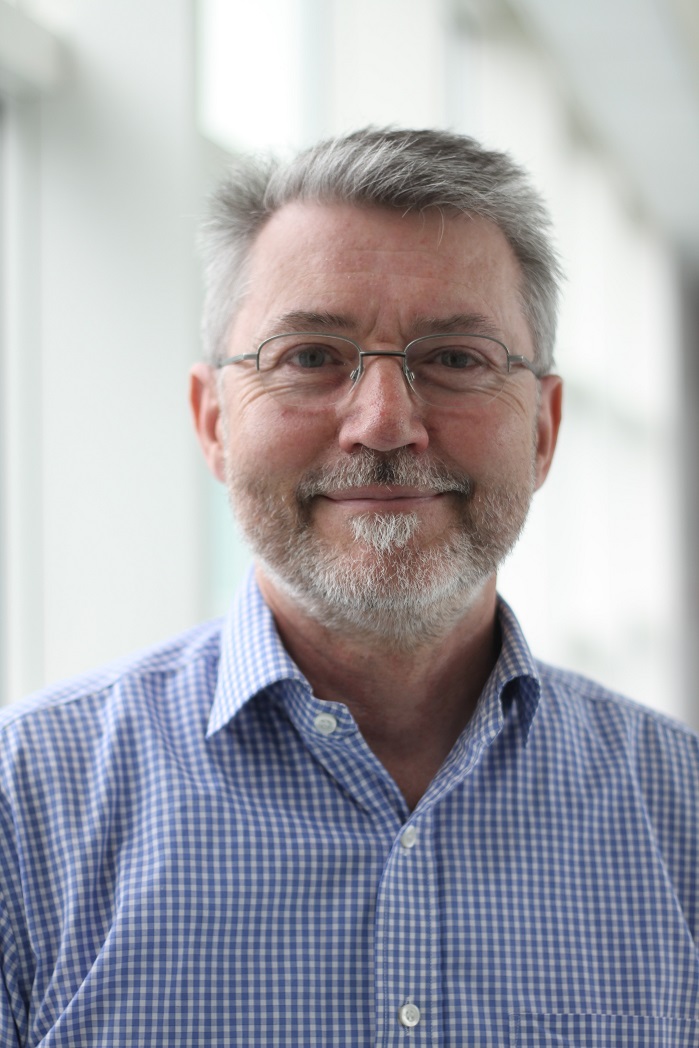 Pireta, the developer of wearable smart textile technology, was selected to exhibit at the IDTechEx Show! that took place in Santa Clara, CA, last month. The company exhibited as part of the IDTechEx Launchpad, an initiative that gives early-stage companies the opportunity to showcase their state-of-the-art technologies to over 3,500 attendees. As one of just ten companies selected, Pireta unveiled its innovative e-textile technology for the first time.
Chris Hunt is a Chartered Physicist that led the team that gave rise to Pireta's technology at the National Physical Laboratory. He is now the CTO and founder of Pireta. Innovation in Textiles spoke to Chris about the innovative process and its potential to transform the future of the wearables market.
How does Pireta's unique free-form process work?
Chris Hunt: Pireta's process works by selectively applying a thin metallic coating to the textile at the fibre level. The novel free-form process allows conductive patterns to be printed directly onto the textiles, yet has no impact on the handle, drape, stretch-ability or breathability of the fabric.
The threads or yarns in a fabric are typically made up of a bundle of fibres that have been spun together, and then knitted or woven to form the textile. The metallic coating added with the Pireta process is only a few microns thick – and it coats the individual fibres. As a result, the fibres retain their ability to move and deform, preventing any interference with feel, breathability or stretch of the fabric. The process adds negligible weight to the textile and allows conductivity to be added discretely, only where needed. Rather than adding a separate conductive layer or thread to the fabric, Pireta's process makes the textile itself conductive.
The overall process involves five steps. Firstly, the fabric is pre-treated. Then, it is activated by applying a chemical linker. A nanometal catalyst is then printed onto the fabric using a standard industry jetting printer. The metal layer is thickened using an electroless plating process. Finally, a metallic or organic passivation layer is applied.
What are Pireta's technology's main advantages over other processes?
CH: Up until now, two main technologies have been used for interconnecting electronic systems within e-textiles: conductive yarns and printed conductive inks. Although these technologies are functional, both have significant limitations.
Conductive yarns can be woven into textiles, but this approach does not allow free form patterning. Although it is possible to knit, stitch or embroider conductive yarns to create circuits, these processes are not scalable for mass production. Adding additional yarns via stitching or embroidering will also be detrimental to the handle, drape and stretch of the fabric.
Conductive inks are typically adhesives that have been loaded with silver particles. These compounds have a very limited ability to stretch without cracking. Textiles are generally not good substrates for adhesives, so conductive inks are not typically applied directly to the fabric. Rather, they generally need to be applied on a plastic interposer or base layer. This has a very detrimental affect on the feel of the fabric, and also on the breathability and stretch-ability of any resulting garment.
Neither technology is compatible with direct soldering – the method used almost-universally by the electronics industry for mounting and connecting components to circuits.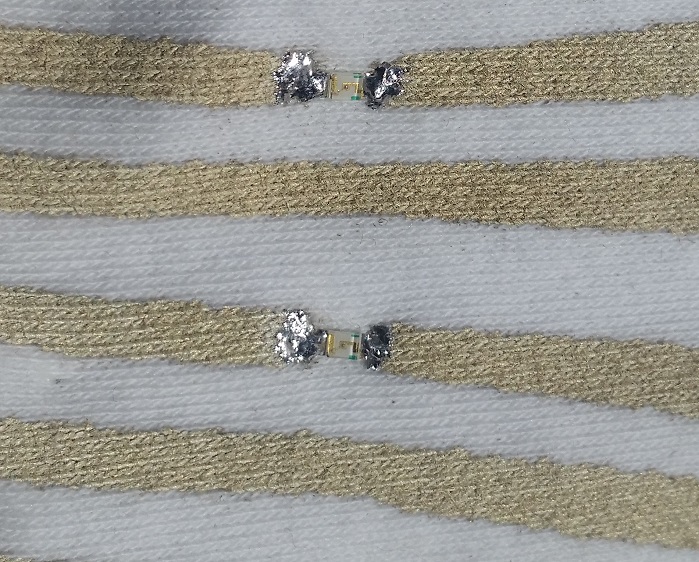 Pireta's technology offers the following advantages:
Comfort: Pireta's technology has no impact on the handle, drape, stretch-ability or breathability of the fabric.
Durability: Mechanically robust - conductor does not crack and the textile maintains shape and performance when washed or stretched. It has exceptional washability – functionality retained over 100+ washing cycles and conductivity is retained with stretching.
Flexibility: Pireta's technology can be added discretely to a textile with minimal impact, applying the conductive tracks where needed, and without restricting the choice of material for your garments.
Solderability: Because the conductive tracks are metallic, electronic components and connectors can be soldered directly to tracks produced with Pireta's process.
Compatibility: The process can be applied to a wide range of knitted, woven and nonwoven, natural, synthetic, glass and mineral-based yarns and textiles. Dyes and protective treatments can also be applied to the textiles that have been functionalised using the Pireta process. It is suitable for integration within the textile and garment manufacturing industry, as well as being compatible with existing electronic manufacturing.
Scalable: The process is highly scalable and can be operated roll-to-roll at a mill or applied later in the garment manufacturing process, either to cut fabric or to finished garments.
Economic: The process uses commercially available equipment and readily-available, non-environmentally hazardous and low-cost materials. It is also additive – meaning minimal waste.
Almost a year ago, the company secured £500,000 through Oxford Investment Opportunity Network. What have these few months been like?
CH: It has been a busy and very exciting period. We have got the business established and recruited a great team. The technology and the process has been successfully transferred out of NPL. We have won and been awarded a number of research grants. Pireta has also been working with the UK's Centre for Process Innovation in order to help us to mature and scale up the process for mass production. We have been busy preparing for our launch, which happened recently at the IDTechEx Show! in Santa Clara in November.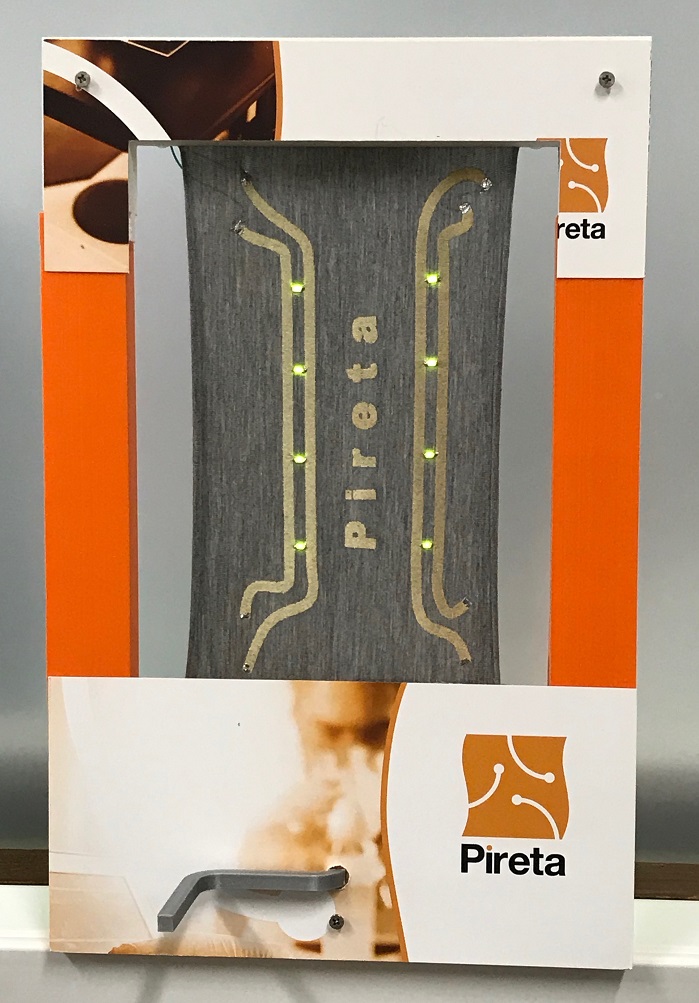 What did you think of the show? How did it go for you?
CH: The IDTechEx Show! covers the latest emerging technologies, with eight conference themes and an exhibition, on a set of related subjects including printed electronics and wearable technology. Pireta was one of a small number of early-stage businesses to win a place at the IDTechEx Launchpad. The IDTechEx Launchpad is an excellent initiative that gives selected early-stage companies the opportunity to showcase their state-of-the-art technologies to over 3,500 attendees. As one of just ten companies selected, we were excited to unveil our highly innovative e-textile technology for the first time.
The show was very successful for Pireta. Our booth was very busy, and it was very rewarding to see how well our technology proposition resonated with many of the attendees that we met.
What applications are you targeting, and which sectors are showing the most interest in e-textiles at the moment?
CH: Pireta's technology allows electronic systems to be assembled and interconnected directly on fabrics enabling a new generation of truly wearable smart garments and e-textiles. There are a wide range of applications across multiple sectors – including healthcare, wellness and fitness, defence, emergency services and elite sports. These applications will typically involve collecting data on various physiological or environmental parameters, such as ECG, pressure, movement, strain, temperature, respiration rate, etc. We've received interest from all of the sectors mentioned above, from companies ranging from new start-ups to multi-national organisations.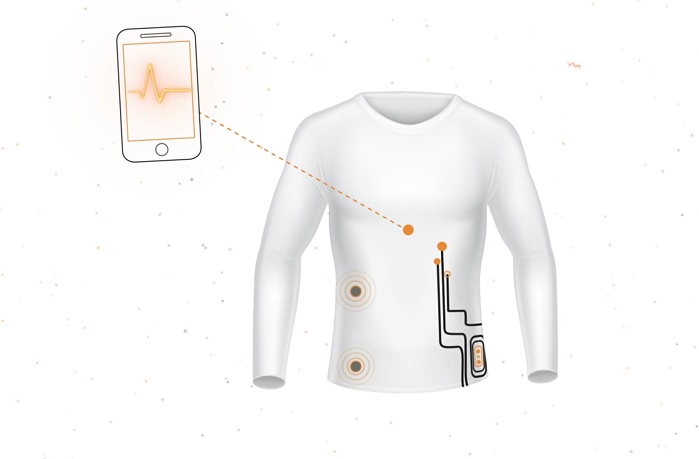 Do you think your technology will have an impact on the e-textiles industry in the future?
CH: Yes, absolutely. The wearables market is on the cusp of a major transformation. Wearable products are about to transition from rigid boxed devices towards truly wearable smart garments. This trend is being encouraged by the emergence of new flexible sensors and components developed with wearability in mind. However, major challenges remain in how to connect together these components on fabric substrates – a key requirement for e-textiles and smart garments.
Interconnects may appear simple. However, providing robust interconnects that do not interfere with the performance of a fabric is critical in enabling truly wearable e-textile-based applications. Finding a solution to this problem has been a significant block to innovation in this area.
Pireta's technology solves this recognised and critical industry challenge. By allowing electronic systems to be assembled and interconnected directly on fabrics, Pireta's technology will enable a new generation of truly wearable smart garments and e-textiles. Garments produced with the process will be comfortable, washable, durable, stretchable and breathable.