Opinion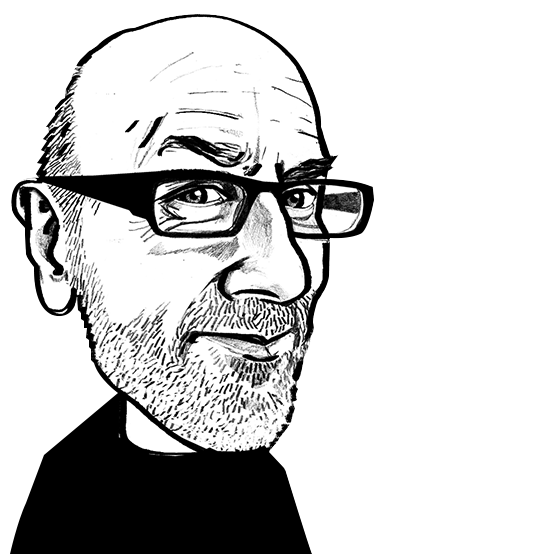 Robust response to PPE shortages in Germany
Adrian Wilson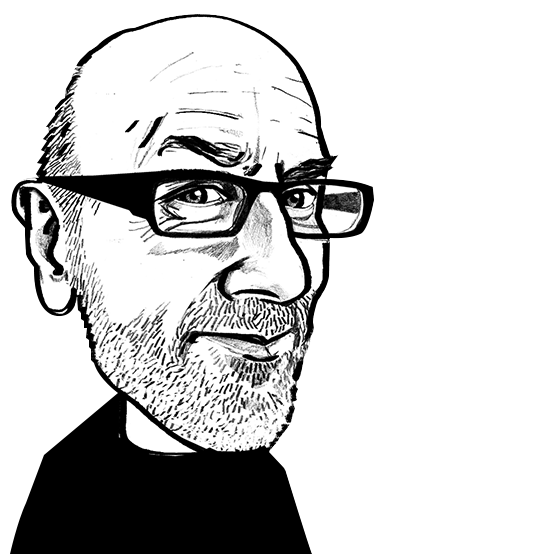 With the global demand for PPE showing few signs of slowing down any time soon, there was keen interest in the second webinar organised by Germany's VDMA on the production technologies for FFP2 standard and surgical facemasks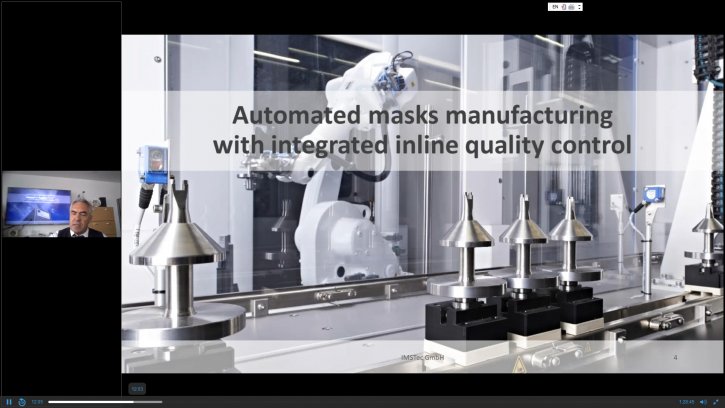 20th July 2020
Adrian Wilson
| Germany
With the global demand for PPE showing few signs of slowing down any time soon, there was keen interest – from companies in 35 countries and most notably India and Pakistan – in the second webinar organised by Germany's VDMA on the production technologies for FFP2 standard and surgical facemasks.
This was held on Thursday July 16th, following an earlier webinar on meltblown technologies held on June 22nd.
Germany's response to PPE shortages has been extremely robust, with its government putting the domestic manufacture of facemasks out to tender and guaranteeing prices for all that are produced until the end of 2021.
Around 50 German companies, including technology firms, raw materials suppliers, manufacturers and distributors, have secured a place on the government scheme to produce ten million specialised FFP3 masks and a further 40 million operating room standard masks a week from August 2020.
New focus
From the technology sector, IMSTec GmbH, based in Klein-Winternheim near Frankfurt, is a specialist in the development of customised manufacturing processes for the medical, pharmaceutical, cosmetics and precision control industries which this year has turned its focus to the development of facemask manufacturing machines with integrated inline quality control.
"We were asked by German officials to help with the supply of facemasks because in March and April there was a very severe shortage," said the company's general manager Edgar Mähringer-Kunz. "So we have so far set up eleven manufacturing lines here in Germany and developed independent products accordingly. Our BlueBec FFP2 facemask design is currently undergoing the validation process. To set up the lines and achieve certification and move to manufacturing in volume has been achieved in a very short time, because the demand is right now."
Both the machine process and product, Mähringer-Kunz stressed, have been developed based on extensive FMEA (failure mode and effects analysis) from project planning through to commissioning.
"The machines are fully automated, with only the loading and unloading carried out manually, which is a key requirement for high labour cost countries," he said. "This allows five lines to be overseen by a single operator. The lead time from order to delivery of a machine is currently between three and four months."
Auxilium FM
Bicma, based in Mayen, is a specialist in the design and manufacture of lines for diapers, femcare and incontinence products which since 2018 has belonged to Winkler and Dünnebier, which is itself part of the $3 billion Barry-Wehmiller Group.
The company has also developed its own facemask machine this year, the Auxilium FM, with the emphasis on high speed production and a number of simple and smart innovations that address potential shortages of individual mask components.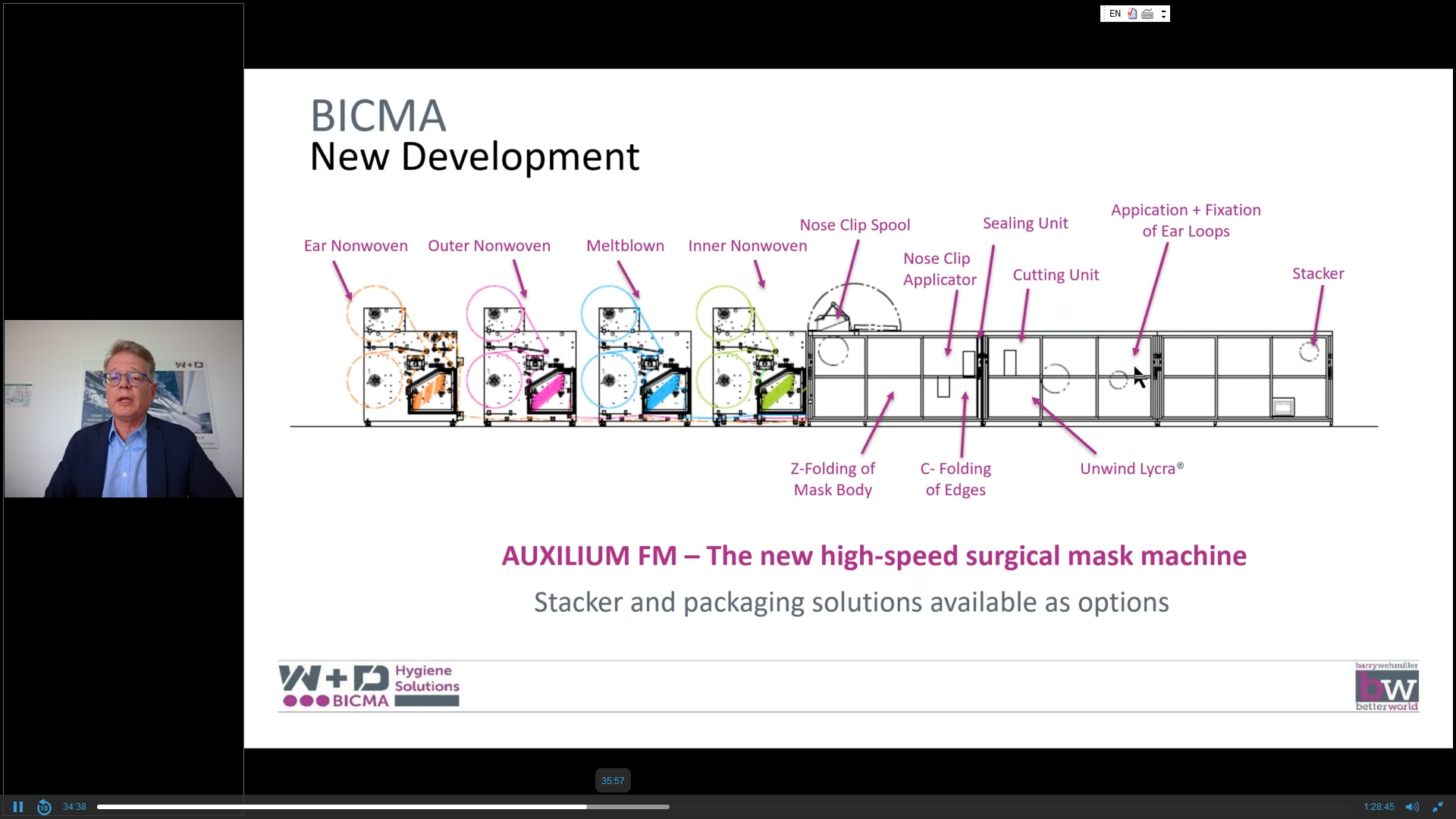 Typical mask-making machines, said the company's business area manager Sven Weissörtel, have operating speeds of around 120 masks per minute and require three operating staff at work stations positioned at the beginning and end of the line.
"They have simple unwinders and no web guiding or web tension control, so the machine needs to stop for nonwoven roll changes," he said.
In contrast, the Auxilium FM can produce 800 products a minute, based on Norm EN 14683 up to type IIR standard three layer nonwoven construction, with its essential meltblown core and integrated ear elastics and nose clip.
"This equates to a million products a day based on three-shift operation, making it the most productive mask machine in the world," Weissörtel said. "It can replace six typical low output machines and can optionally be equipped with a stacker and packaging solutions."
Innovation
In one small innovation that could make a significant difference, the ear loops for the masks are made of a standard nonwoven and Lycra and are integrated in line, as opposed to pre-made elastic strings which constitute a separate raw material need.
"This ensures there can be no shortages and the ear loops can be easily adapted to different face anatomies while being extremely comfortable and soft wearing," Weissörtel said. "Similarly, the nose clip is a standard aluminium wire as opposed to a pre-fabricated flat ribbon material, and again applied in line with similar benefits."
Bicma has its own lab machine which is available for material tests to assist in a customer's mask certification processes, which can save valuable time to market.
German-made facemask machines are also eligible for the government's current subvention programme which will provide funding of 40% of the cost of the machine, with an additional bonus of 10% if the end-product manufacturer commits to purchasing 70% of its raw materials within the EU.
"We have received many orders for the machine throughout Europe and anticipate strong future demand, especially from manufacturers taking advantage of the government support," Weissörtel said. "Currently we should be able to deliver new machines by November to December, with the MMD certification process taking approximately six months."
Certification
Peter Stieffenhoffer of MSG Industry Advisors outlined the certification and approval procedures necessary to market masks in Europe, with a distinction between surgical masks and those intended for PPE. The benefit of the former is seen as protecting others from contamination by the user, and the latter to protect the wearer from the contamination of others. Certification is understandably more stringent if PPE products are the intended end use.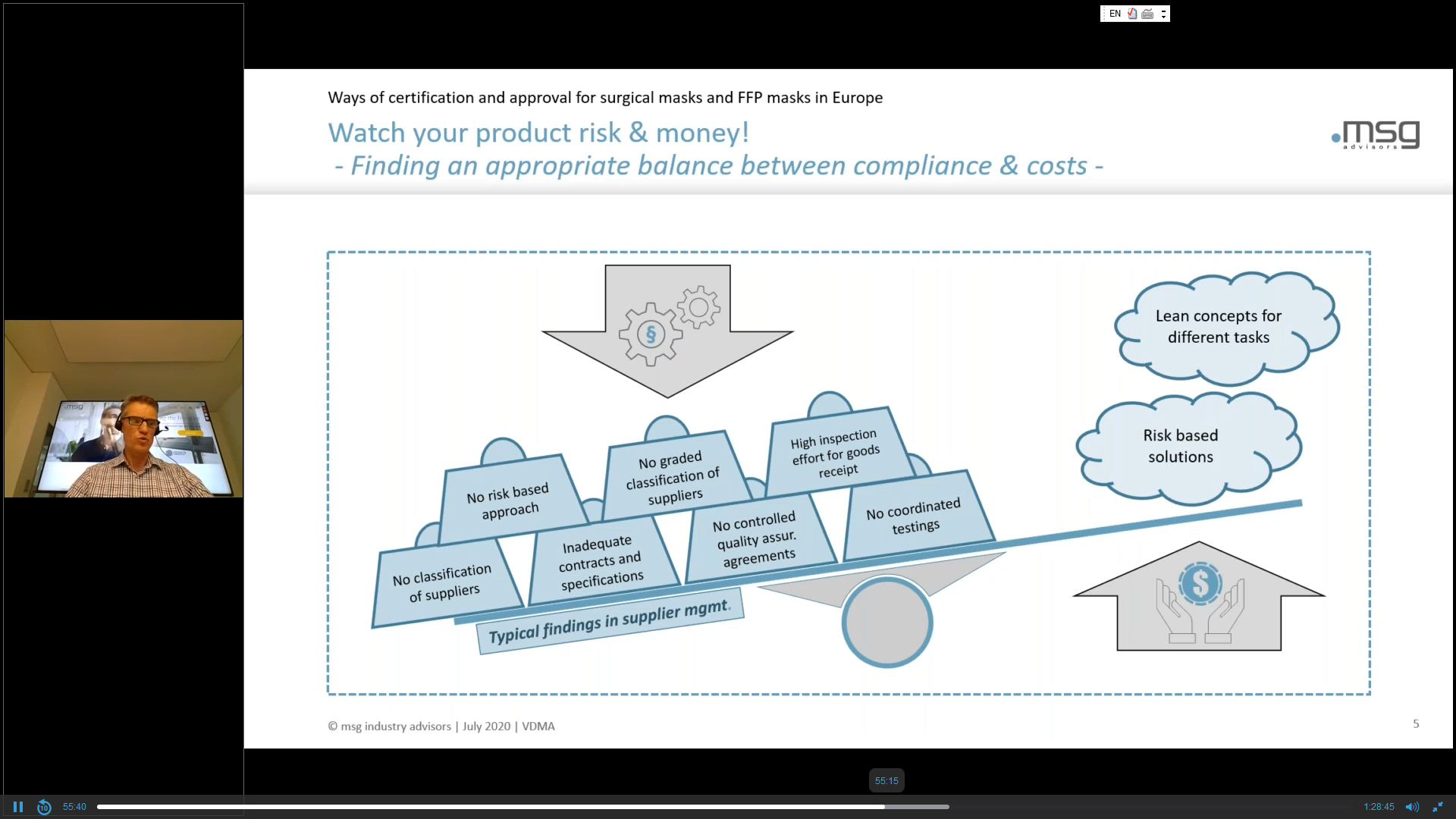 "Only the manufacturer is responsible for conformity with the necessary certification," Stieffenhoffer stressed. "An appropriate balance has to be made between compliance and costs."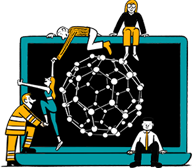 Business intelligence for the fibre, textiles and apparel industries: technologies, innovations, markets, investments, trade policy, sourcing, strategy...
Find out more