1st October 2019, Frankfurt
Techtextil and Texprocess 2021 registrations open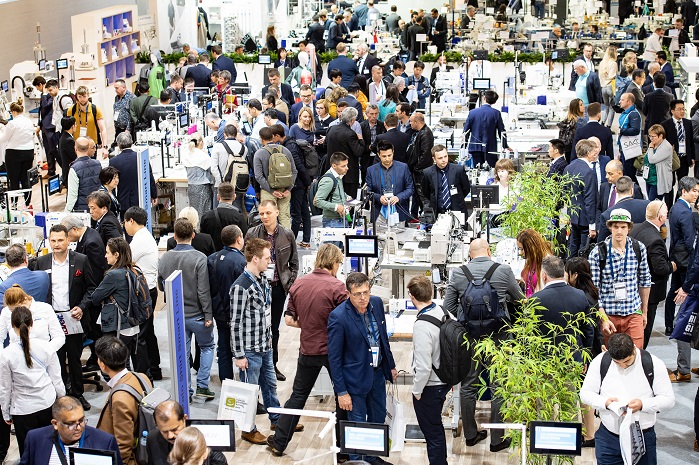 This year's Techtextil and Texprocess were the biggest editions ever. Messe Frankfurt GmbH / Pietro Sutera
Exhibitors can now register immediately for the two leading international trade fairs Techtextil and Texprocess 2021. Once again, from 4-7 May 2021, Techtextil and Texprocess, the leading international trade fairs for technical textiles and nonwovens and for the processing of textile and flexible materials, will be attracting exhibitors and visitors from all over the world to Frankfurt.
Companies, which book a stand at one of the two fairs by no later than 21 February 2020, will benefit from an early-bird price. And another new feature: for the first time Techtextil and Texprocess will be occupying a total of seven halls in the western section of Frankfurt Fair and Exhibition Centre.
Techtextil showcases technical textiles for architecture, the automotive industry, construction, clothing, hazard protection, aviation and aerospace, medicine, the furniture industry and sports. Half of the trade visitors who attend make purchasing decisions for their companies are international top decision-makers.
With 1,818 exhibitors jointly from 59 countries and a total of some 47,000 trade visitors from 116 countries, May 2019 saw the biggest Techtextil and Texprocess ever held so far in Frankfurt.
"Four days, a full programme and an impressive variety of textile materials for all applications. I am repeatedly impressed at how innovative, creative and successful the technical textiles sector is. And the world knows, too, that this sector exhibits in Frankfurt every two years, in all its concentrated dynamism and energy. Nor has there ever before been such international participation," commented Detlef Braun, Member of the Executive Board of Messe Frankfurt.
With some 63 percent of visitors coming from outside Germany, Techtextil 2019 has recorded its most international show ever. The leading five countries of origin for visitors were, after Germany, Italy, France, Turkey, the Netherlands and Spain.
www.techtextil.messefrankfurt.com
www.texprocess.messefrankfurt.com
Further reading