Interview
Bringing sustainability and fibre transparency to consumers
Innovation in Textiles spoke to Jürgen Eizinger, Vice President of Global Business Management Nonwovens.

21st October 2019
Innovation in Textiles
| Lenzing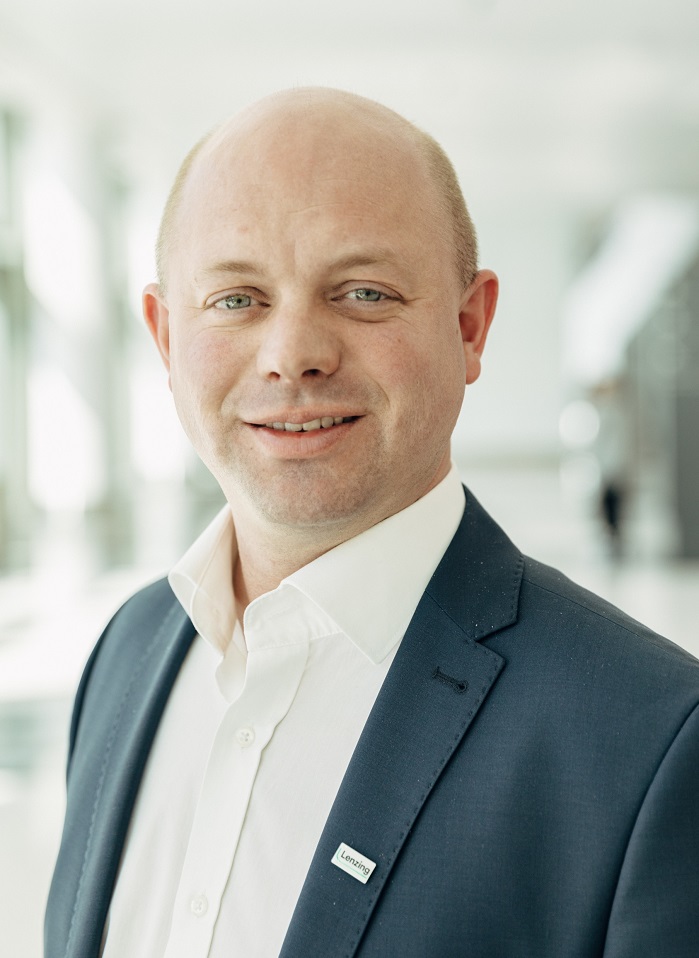 Last month, Lenzing announced the introduction of Eco Care technology, designed to enhance the production of eco-friendly viscose fibres for the nonwovens industry. It is said to generate up to 50% lower emissions and water impact, compared to generic viscose.
Innovation in Textiles spoke to Jürgen Eizinger, Vice President of Global Business Management Nonwovens, Lenzing, about the new technology.
Can you tell our readers more about how the process works and how it was developed?
Jürgen Eizinger: With over 80 years of viscose production experience, Lenzing has always took the initiative to improve the eco-footprint of fibre products and open up eco-friendly alternatives for the market. In view of this, Veocel brand team developed a solution for the nonwovens viscose market, presenting a certified and clean production technology for viscose fibres in order to widen the sustainable offerings for nonwovens raw materials.
Veocel branded specialty viscose fibres produced in Lenzing's Austrian and Chinese plants are certified with the EU Ecolabel – a label of environmental excellence awarded to products and services meeting high environmental standards throughout their life cycle.
According to the Higg MSI tools, the amount of CO2 emissions and fossil resource used to produce Veocel Specialty Viscose are half of the industry average. Through the use of biomass and renewable energy during the Eco Care technology production process, the use of fossil fuels can be cut significantly. Moreover, most of the ingredient used during the process is recovered, thus creating a low carbon dioxide emission.
The rising concerns over climate change and plastic and microplastic pollution have made an irreversible effect on the way various industries operate; it especially applies to the technical textiles industry, heavily reliant on synthetic materials and a strong demand for single-use products. What are the main sustainability-driven trends in the nonwovens industry? How effective are they?
JE: Flushability and biodegradability have been two hot topics surrounding the nonwovens industry following the fatberg issue, as well as the introduction of the European Union (EU) Single-Use Plastics Directive. The industry now faces the challenge to educate the broader public on flushability of their products, as well as upgrade to achieve being biodegradable to meet various environmental standards.
More specifically, when it comes to personal care products, fibre transparency becomes an imperative benchmark in determining the sustainability of products such as wipes and facial sheet masks. The European Commission has identified wipes as one of the ten most polluting items found on European beaches, and calls for clearer marking requirements which disclose the presence of plastic materials in wipes and disposal options on product packaging.
Fibre transparency is an imperative benchmark in determining the sustainability of products such as wipes. © Lenzing
These trends have raised eco-awareness across the industry, urging different stakeholders to make a difference in their field of expertise. For example, the 2019 United Nations Environmental Assembly commenced in a Ministerial Declaration to significantly reduce single-use plastic products by 2030 and move closer to environmentally friendly alternatives.
In this regard, the Veocel brand offers fibres that are 100% biodegradable, meaning they would not contribute to the plastic and micro-plastic pollution problem. There are also specialty fibres under the Veocel brand that are designed for the production of flushable wipes, to offer a solution to the growing fatberg problem.
Lenzing introduced its nonwoven specialty brand Veocel just over a year ago as part of its strategy of becoming a business-to-business-to-consumer (B2B2C) brand. How would you describe the journey so far? What makes Veocel and its production so sustainable?
JE: The past year had been an incredibly exciting year for Veocel, with ongoing co-branding, joint marketing and brand education initiatives conducted with customers and brands around the world.
Key milestones in 2019 include the introduction of the brand's new certification criteria - the Veocel logo can only be featured on personal care and beauty products made from 100% cellulosic and biodegradable fibre materials, and the most recent Eco Care technology development. The Veocel team also participated in the development of the Pull Factor Project – joining hands with other industry leaders to create an actionable toolkit for marketeers and brand leaders for communications that drive business growth.
In the meantime, Veocel branded fibres have been recognised by the Organic Waste Systems (OWS), a world-leading laboratory for biodegradability and compostability testing, as biodegradable in fresh and marine water, strengthening the brand's commitment to drive circular economy.
Despite facing multiple challenges in the nonwovens sector, there are positive changes across the industry and consumers are becoming more eco-conscious on the products they choose. Riding on this momentum, we are taking a further step to transform our nonwovens brand into a label of trust that is stemmed from our decades-long sustainability leadership and biodegradability promise.
The company also recently presented the new co-branding certification criteria for Veocel to reinforce the importance of fibre transparency. Has there been any feedback from brands and retailers? Do you expect it will help raise awareness with consumers?
JE: Through the introduction of the new co-branding certification criteria in July 2019, Veocel has taken on an industry-first initiative to establish a label of trust for consumers that enables them to identify sustainable convenience products at a glance.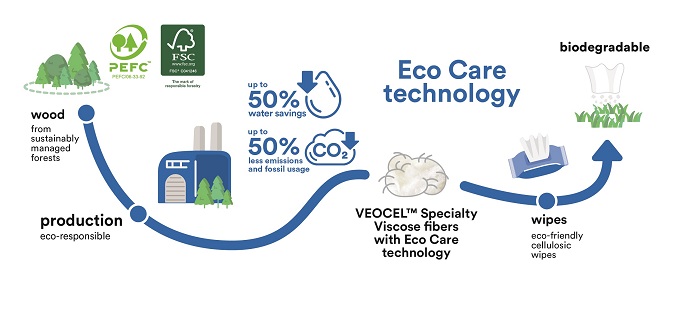 With the Eco Care technology production process, the use of fossil fuels can be cut significantly. © Lenzing
To help customer understand and meet the new certification criteria, we have also gotten in touch with them to offer support in developing a 100% cellulosic and biodegradable product.
We have been receiving positive feedback from brands and retailers, especially because of how Veocel guarantees 100% cellulosic materials. This was particularly important for the Europe market, under the background of the implementation of the EU Single Use Plastics Directive. In addition, we are also witnessing more demands from the US market for raw materials transparency for nonwovens products.
As a label of trust, our commitment to uphold ecological responsibility for Veocel goes beyond just offering fibres. We are also devoted to participate in different initiatives that supports sustainability, such as the Pull Factor Project (as mentioned above). In addition, Veocel will also be unveiling details of the brand-new #ItsInOurHands initiative at the Sustainable Retail Summit in Berlin from 24-25 October 2019. By hosting this initiative, Veocel provides a platform for experts and opinion leaders who guide consumers to enjoy convenience with a clear conscience by opting for green materials and biodegradable solutions.
Why is it important for the nonwovens industry to seek alternatives to fossil-based materials and bioplastics?
JE: A 2018 Nielsen research report on global consumers' perceptions of sustainable shopping reflected a staggering 81% of consumers, who felt strongly that companies should act responsibly for the environment. This is a strong signal for the nonwovens industry that the eco-friendliness of personal care items will soon rise in consumer demands. Relying on fossil sources, which has a finite supply, is naturally worrisome to consumers.
Even for bio-plastics that are claimed to be "compostable" or "biodegradable", research has shown that they could also worsen marine pollution, under the lack of infrastructures which ensures how these materials break down properly, causing problem at the end of product life. In this sense, the industry should seek for alternatives starting from the raw materials sourcing stage of production – replacing synthetic fibres (such as polypropylene, polyester) with wood-based fibres that are naturally biodegradable. To foster such industry momentum, Veocel will continue to actively launch natural-friendly solutions and offer sustainable alternatives to replace plastic materials for nonwoven products.
Further reading
Veocel introduces Eco Care technology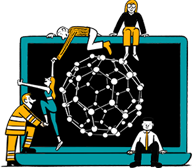 Business intelligence for the fibre, textiles and apparel industries: technologies, innovations, markets, investments, trade policy, sourcing, strategy...
Find out more