Technology/Machinery
Virtual advice from Europe's machine builders
Both the textile machinery branch of Germany's VDMA and Swissmem, the Swiss textile machinery association, held separate online webinars on aspects of the latest advanced technologies on 9 September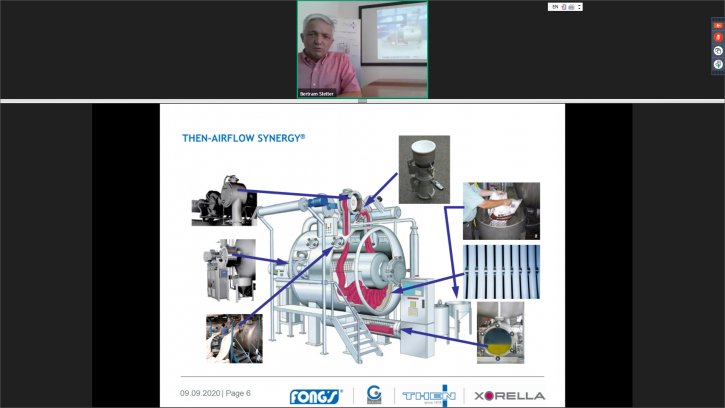 11th September 2020
Innovation in Textiles
| Frankfurt & Zurich
Both the textile machinery branch of Germany's VDMA and Swissmem – the Swiss textile machinery association which celebrates its 80th anniversary this year – held separate online webinars on aspects of the latest advanced technologies on 9 September.
Wastewater treatment
The VDMA seminar – the fourth in a series which has so far examined the growth in meltblown production, best practice for making face masks and energy saving processing – this time looked at wastewater reduction and treatment.
Fong's International, which celebrated the 100th anniversary of its THEN brand and also became part of the Sinomach group in 2019, has recently introduced two new machines with which significant water savings can be made.
The company's head of applied technology Bertram Stetter said the keyways to reduce water and effluent in textile dying were to reduce all inputs to the minimum required with automatic dosing systems and to use yarn with less or no fibre linting.
"High quality auxiliaries and dyes with high amount of active ingredients and high fixation rate and salt with low amount of impurities when reactive dyeing are also important," he added.
Dyeing machines achieving low liquor ratios can further boost savings.
Milestone
The first THEN Airflow dyeing system, introduced back in 1983, represented a milestone in the development of dyeing machines. Prior to this, the dyeing of just one kilo of fabric required around 150 litres of water and the Airflow drastically reduced the requirement to between just 35-40 litres. Instead of the traditional dye liquor used for hydraulic fabric transport it efficiently distributed much smaller amounts of dye liquor via aerosol. This technology has subsequently been further developed in successive machine models and has made an enormous impact on sustainable dyeing operations.
The latest THEN Smartflow TSF hydraulic high temperature dyeing machine is designed to achieve the lowest possible energy and water consumption rates available on the market for jet dyeing.
The company has a number of patents pending on the new features of this machine, including its transport design. This is based on a smart, winchless fabric transport system which eliminates the need for a loading rope, and a circular plaiter with programmable rotation speeds which provides full filling of the drop zone.
The THEN Supratec LTM is distinguished by the ability to vary the angle of the Then Flexkier for either dry (jet) or wet (overflow) mode dyeing, in order to optimise the dye liquor ratio – from 1:15 down to 1:4 – depending on the materials being dyed. This translates into considerable savings in auxiliaries, water and energy.
Mercerising
Karl Hesse, senior project engineer for Körting Hannover, presented impressive costings for the savings to be made with his company's solutions for caustic recovery in the mercerisation process.
Mercerisation is a treatment which improves the properties of cotton in terms of fibre strength, lustre and affinity to dyestuffs. The textiles are treated with a caustic (NaOH) solution which rearranges the cellulose molecules in the fibres to achieve this.
Recovering the lye solution after the treatment results in an 85% overall reduction of the total used, which in combination with the reduced use of hot water, steam, electricity, labour and hydrogen peroxide for cleaning equates to a payback time for the investment of just seven months.
Disposal
Norbert Müller-Blanke, CEO of TIA, outlined the many options now available to textile dyeing and finishing plants for wastewater treatment.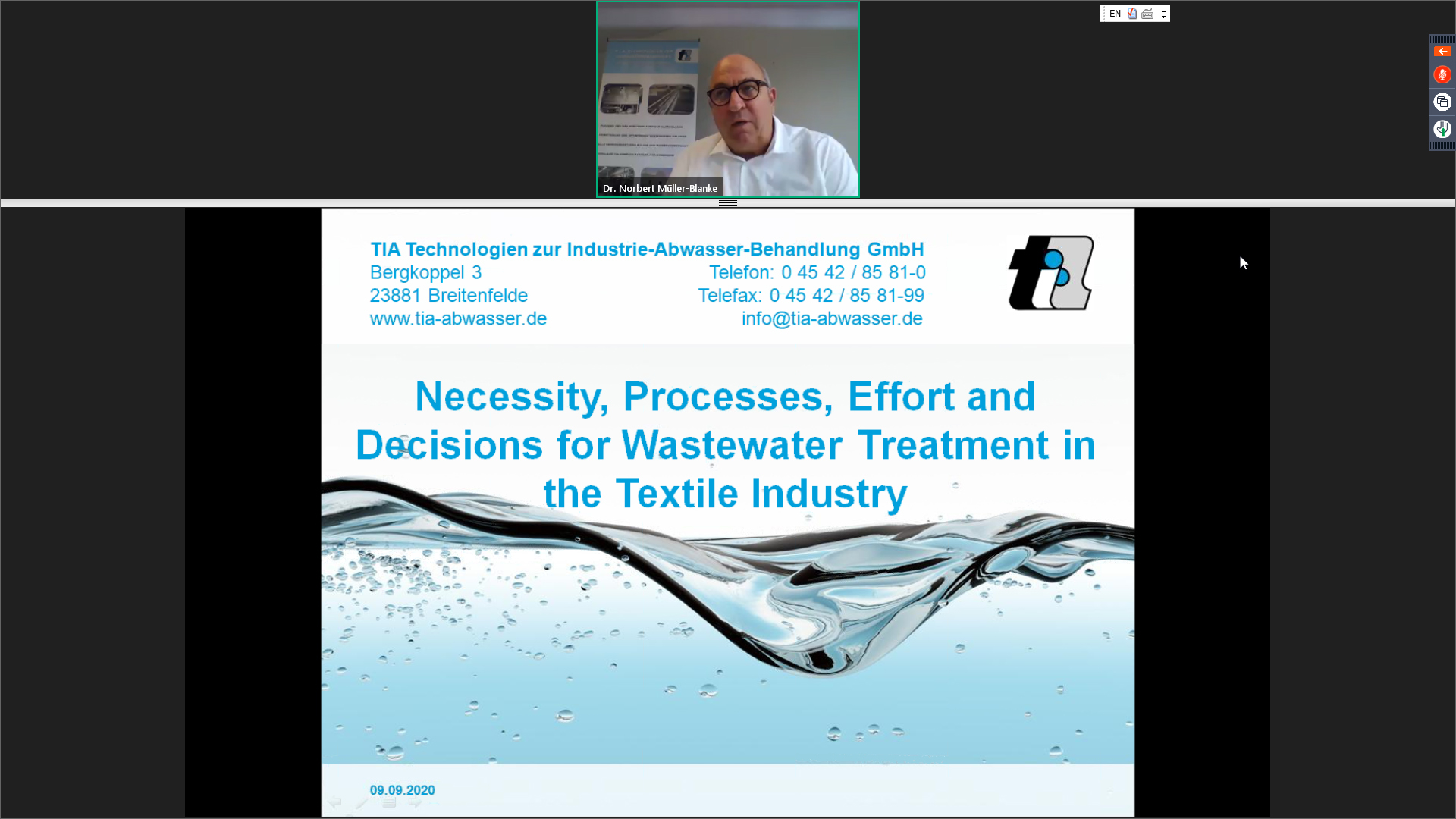 These can include pre-treatments by screens, precipitation, lamella separators, dissolved air flotation or filters.
Biological treatments can be carried out involving activated sludge, aerobic/anaerobic, biofilm carriers, membrane bioreactors, biological adsorption or chemical oxidation.
Tertiary treatments include filtration, membrane filtration, reverse osmosis or adsorption technol.
These treatments have to be combined based entirely on the local situation of the individual mill in respect of local fees and charges, and whether direct or indirect discharge or recycling is the aim.
Spunlacing
The Swissmem presentation was focused on the Indian market, with an emphasis on the growing opportunities in technical textiles and nonwovens for the country's manufacturers.
Amar Surve, sales manager for Autefa in India said that spunlacing was the fastest growing technology for the production of nonwovens, with India's wipes market in particular showing growth of 20% annually and representing a key opportunity.
"India produced just 475,000 tons of nonwovens in 2018, although growth is an annual 15.9%," he said. "This, however, is still just a fraction of what China, with a similar population size, produces."
For spunlacing, Autefa offers two lines configurations based on double injection cards. For low weight products of between 20-90gsm, a line without a crosslapper will produce around 2,500kg per hour. With a crosslapper – required for the production of heavier weight products of up to 140gsm – production of 1,200kg can be achieved.
Autefa leads the field with its Topliner crosslapper, having installed more than 500 over the past 20 years. Designed for gentle carding action, the machine can achieve speeds of 200 m/min.
The key innovation with Autefa's V-Jet hydroentanglement injector is a reduction of the distance between nozzle and injector bottom from 15-25mm down to just 0.5 mm. As a consequence, energy losses due to friction with the air, air turbulence and jet expansion are all reduced to a minimum.
Autefa's SQ-V square drum dryer meanwhile combines the small footprint of a drum dryer with the superior performance of a belt dryer to ensure energy reduction of up to 50%. The SQ-V's nozzle ensures the temperature and speed of the airflow are distributed uniformly throughout the working width of the unit, for superior web and surface quality results.
The company has also recently opened its spunlace pilot line at its research centre in Linz, Austria.
"It is now available for customer trials but for those unable to travel Autefa can also provide remote services," Surve said.
More than 30 Autefa spunlace lines have been installed since the company announced its intention to start producing them at ITMA 2015 in Milan.
Consistent inspection
Uster Technologies now has around 800 of its fabric inspection systems in operation at major manufacturers of technical textiles and nonwovens around the world.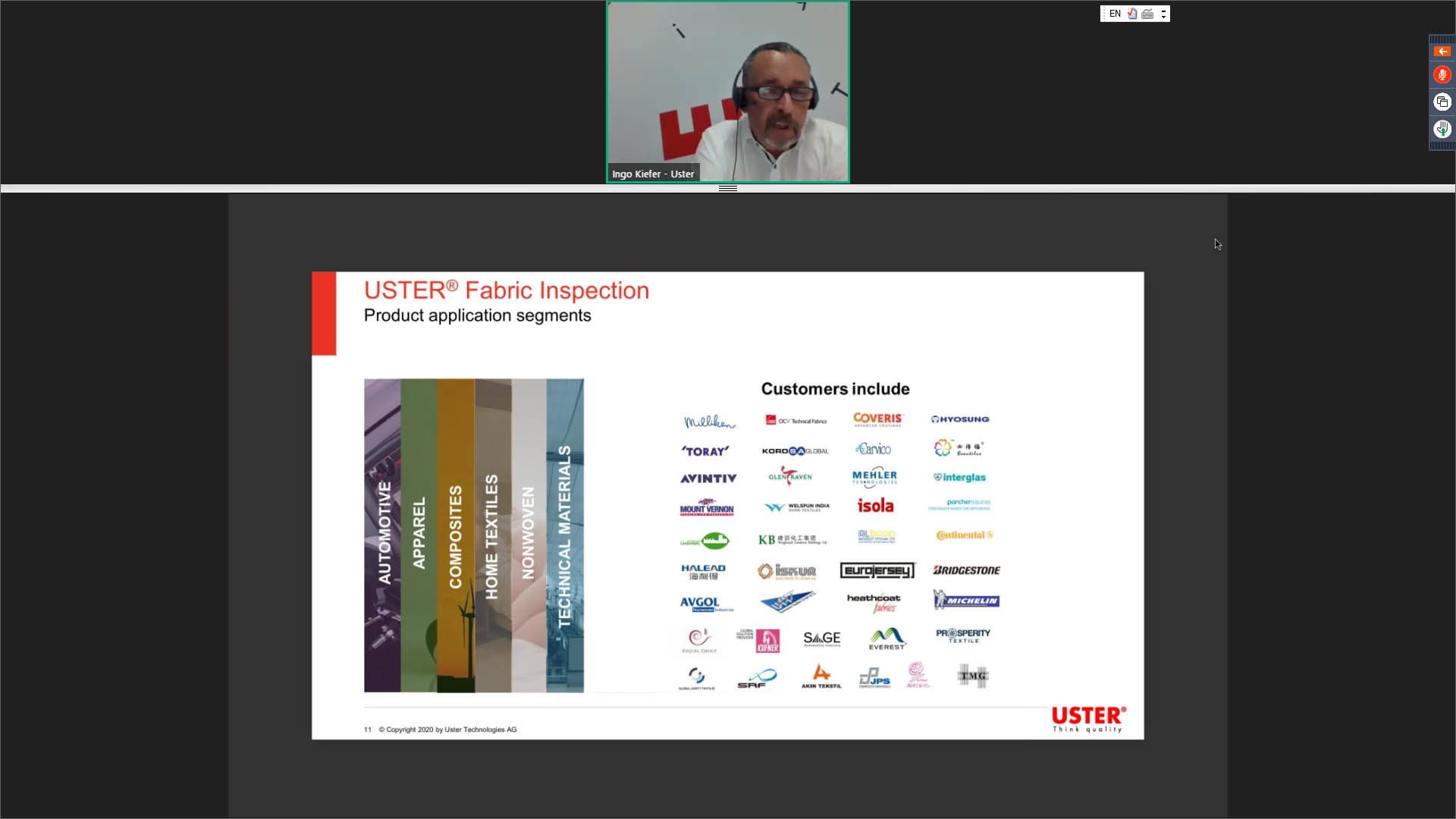 The key benefits of the company's latest Q-Bar 2 technology for woven fabrics – launched at ITMA 2019 in Barcelona – are the ability to capture any visible defect via consistent inspection regardless of the line speed, said Uster product manager Ingo Kiefer. The technology employs a series of smart cameras at different angles and specially developed light sources and is fitted over a loom.
Via data analytics from the company's Fabriq Expert software, machine settings can be fully optimised, and second quality products minimised.
Technical market
Stäubli enjoys leadership positions in many woven technical markets with its Safir-branded automatic drawing-in systems and LXL electronic jacquard machines for all all types of air-jet, rapier and water jet looms.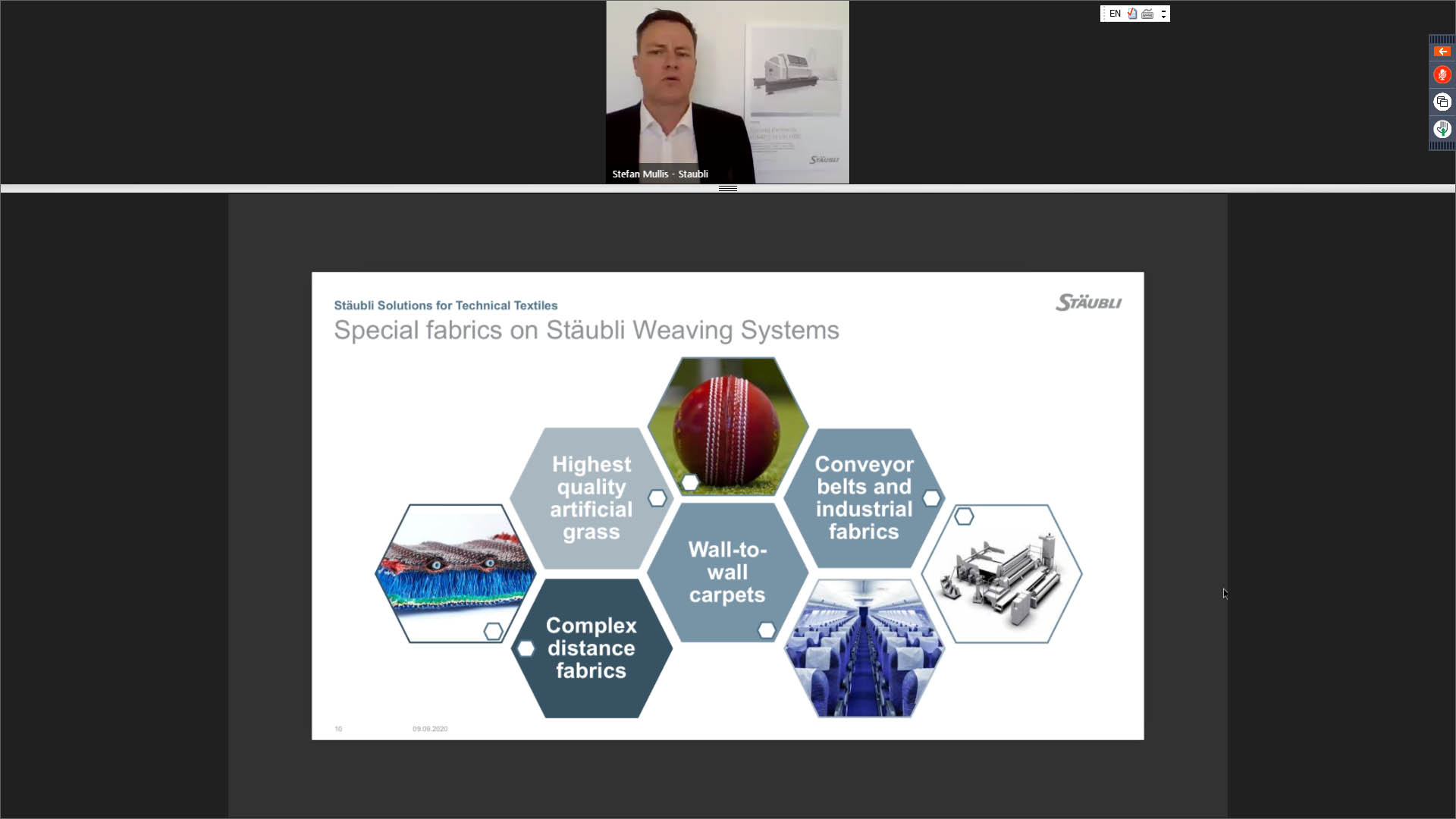 It commands, for example, up to 90% of the jacquard market for the production of one-piece woven airbags, where its jacquards can be equipped with up to 14,366 hooks.
Another important market for the company's Safir drawing-in systems is in the production of e-Glass fabrics for printed circuit boards (PCBs). In this application, yarns of between 7 and 1,500 denier can be employed.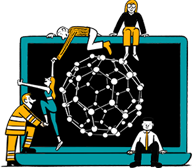 Business intelligence for the fibre, textiles and apparel industries: technologies, innovations, markets, investments, trade policy, sourcing, strategy...
Find out more